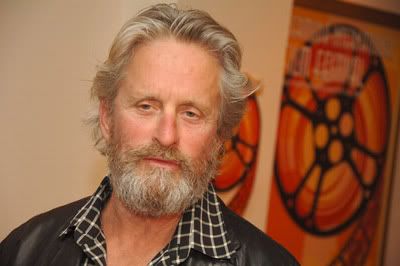 Michael Douglas talks trash about Brad Pitt after leaving his own wife for 25 year-younger Catherine "the Zeta is for cosmetic purposes" Jones. He gets a lot of plastic surgery to stay young-looking in youth-obsessed Hollywood, but decides to say screw it by growing a long beard. He's probably just trying to hide the evidence.
Michael Douglas was at the Bermuda International Film Festival today to receive the "Prospero" award for excellence in film. Bermuda has another reason to kiss Douglas' ass. He has entered into a partnership with Hilton to redo a hotel he owns on the island:
Ariel Sands, the Devonshire cottage colony owned by film star Michael Douglas's family is going to be razed and rebuilt in a massive $100m makeover.
The actor attended a press conference today, Wednesday, with Tourism Minister Ewart Brown and new partners Hilton Grand Vacations Club to announce the plans, which will see the existing 47-room property transformed into a 214 room oasis…
Representative Bruce Sonneborn Jnr said the project would unfurl in phases. Once completed, it will be the ultimate in luxury living.
Here's Douglas the hotel mogul and grumpy washed-up film star in all his plaid-shirted glory.