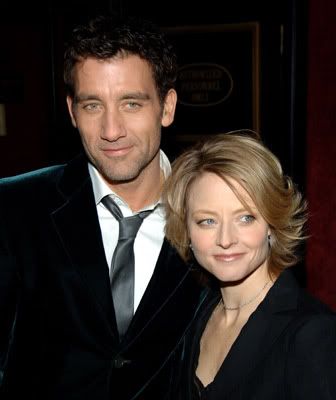 "Inside Man" starring Denzel Washington, Jodie Foster and Clive Owen premiered last night in NY. The film is an action movie featuring Washington as cop negotiating with a bank robber who has taken hostages:
"Inside Man" is the story of a tough cop, Detective Frazier (Denzel Washington), who matches withs with a clever bank robber, Dalton (Clive Owen). As the dangerous cat-and-mouse game unfolds, a wild card emerges: Madaline (Jodie Foster), a power broker with a hidden agenda, who injects even more instability into an already volatile situation.
Initial reviews are positive despite the familiar plot, and with such a talented cast it should be a great film.
Foster, Owen, and Washington attended last night's premiere. Other celebrities pictured include featured stars Willem Dafoe, Chiwetel Ejiofor, Darryl Mitchell, and Kim Director. Well known names in attendance were Wesley Snipes, Jill Hennessy, Mariska Hargitay, Lynn Whitfield, the Reverend Al Sharpton, and Russell Simmons – without his annoying wife.
12 more pictures after the jump.