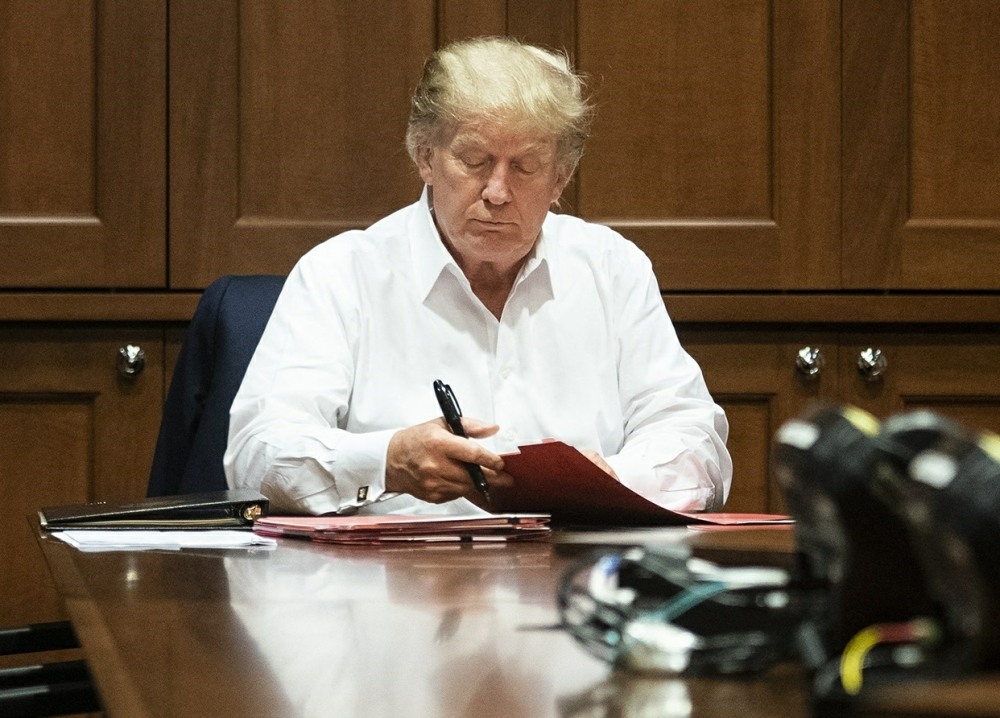 One of the weirdest things about last night's VP debate is that it was almost… traditional. Like, it was just a somewhat normal VP debate about old-school economic issues and culture wars and such. Like everyone else, Pence and Harris managed to suspend the absolute bonkers reality of "Donald Trump is actually president" for 90 minutes. Sure, Trump was mentioned a lot. But at no point did Kamala Harris look into the camera and say "real talk, Donald Trump should have been removed through the 25th amendment, he is clearly ill and insane and a traitor." It's even weirder because just a few hours before the debate, Trump released this video on his social media:
A MESSAGE FROM THE PRESIDENT! pic.twitter.com/uhLIcknAjT

— Donald J. Trump (@realDonaldTrump) October 7, 2020
First of all, the orange-bronze foundation has been shoveled on to a crazy degree. Is… is Trump just roid-raging and he shoved on his makeup and no one double-checked it? Or did his normal makeup artist not want to get near him? After those staged photos at Walter Reed where Trump appears makeup-free, seeing him all bronzed is so strange.
But of course, everything he says here is also bonkers. This was released Wednesday evening, two days after he returned to the White House. He says it's been a day. Hm. He quickly goes into infomercial mode, like that's a normal thing for a sitting president to do in a video from the White House. He was selling Regeneron, one of the many drugs they gave him: "I feel great. I feel, like, perfect. I think this was a blessing from God, that I caught it. This was a blessing in disguise. I caught it, I heard about this drug, I said let me take it. It was my suggestion." He says Regeneron is a "cure" for Covid. It is not. He says he will give it to people free of charge. He will not.
Meanwhile, the number of White House staffers and personnel who have now tested positive for the virus: 34. And the White House refuses to allow the CDC to do contact tracing. Trump actively wants all of his people to contract the virus. And there's this too: NO ONE will say or can say when Trump last tested negative for the virus before his positive tests last week. Strange, huh.
Since getting sick with the virus, President Trump's makeup has been more dramatic than usual, as if he's trying to appear healthier with a darker shade of foundation or bronzer. Notice the stark contrast between his face and his ears and hands. pic.twitter.com/ab1CLIVVkh

— Olivia Nuzzi (@Olivianuzzi) October 7, 2020
Photos courtesy of Backgrid.