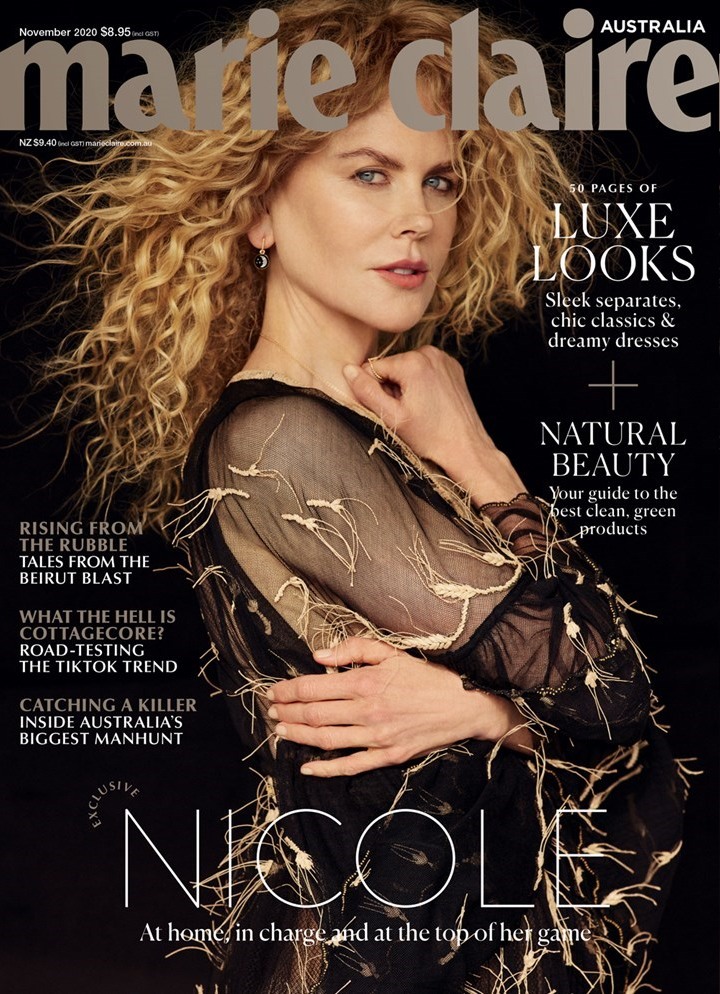 Nicole Kidman covers the latest issue of Marie Claire Australia to promote her work in The Undoing, an HBO miniseries. But really, she's got a million things going on, and I think she just agreed to this Australian fashion magazine because she was in town. During the lockdown, she was supposed to do Nine Perfect Strangers in America. Everything got screwed up, so they switched the locale (physically, changed the production) to Byron Bay, Australia. So she ends up talking a lot about how happy she is to be back "home" for several months for the film, and there's a lot about her life and family. You can read the full piece here. Some highlights:
Coming back to Oz during the pandemic: "We're just so grateful. The whole time during COVID, I couldn't pop home and see my family, which was really tough. I missed my mum's 80th and her knee operation, so now I'm just trying to be here. Last night, I dropped the kids at a sleepover, and then visited Mum. Friends are asking, "What did you do last night?" and I'm like, "I watched a documentary with my mum!" That's my big Saturday night.

Being separated from Keith for a few weeks because of quarantine: "We've never been away from each other this long before; it's hard, so we're constantly on FaceTime. That's our world now – and thank god for it. What would we have done without it?

On Hugh Grant, her costar in The Undoing: "He's great to hang out with, so naughty. I've known Hugh since my early twenties. My sister and I remember going to dinner with Hugh and Liz Hurley at The Ivy in London and she and I would talk in our secret sister language. Hugh was always like, "What the hell are you saying?"… We just get along. I think having that British-Australian connection helped, and I already knew his wit, so we have an ease, which is great for an on-screen marriage. We went on this intense journey together. There were days when he'd go, "I'm just buggered. Are you?" And I'd go, "I'm wrecked, too. This is harrowing."

The female energy in her home: "[It's just] Keith and [the dog] Julian. At times, he just needs to escape with his guitar. Sometimes I'll find him in his closet playing guitar. That's when I know we really need to give him space. Oh, and he googles cars. I'll know when he's stressed 'cause he's googling cars. I couldn't care less what car I'm driving; you can pick me up in any old thing. But Keith and Faith love cars.

On Keith saying he "married up": "Honestly though, I married into my heart. He just came along and protected me. He's loved me, given me confidence, and made me so much more comfortable. He knows who I am and he's opened me up. We have an interesting balance because I'm an introvert and he's an extrovert. I'm deeply introverted. Not when I'm with a small number of people, but I'm not comfortable in crowds. I have trouble public speaking.
I'm not sure that I would consider Nicole Kidman a "high maintenance" person in general, but I feel like she's definitely a person who needs a lot of "maintenance" in a relationship or marriage. Like, she needs to be the one being taken care of, the one who is nurtured and protected. A lot of people, men and women, are like that – the gardens in need of a gardener. I also love what she says about the female energy in her house – she talked a lot about how important her sister and mother are in her life, and now she has two little girls… and an adult daughter she rarely sees. And cats. She's got three cats now.
Cover and IG courtesy of Marie Claire Australia.