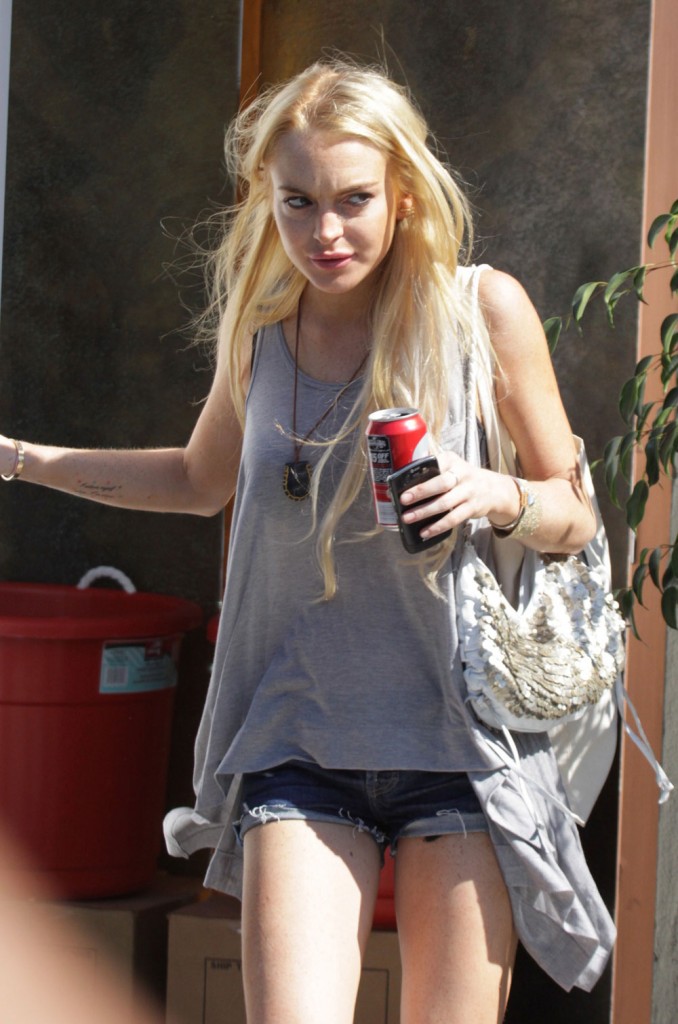 Would you like to know what I find endlessly amusing? The fact that people still want to interview Lindsay Lohan. Seriously, why do you want to sit around and ask Lindsay questions? What is she even doing these days? Yes, she got that part in Machete, directed by Robert Rodriguez. But when someone put the mic in front of her dumb, orange, cracked-out face, Lindsay wouldn't even confirm that she's going to be in Machete, only saying, "Maybe. I didn't say I was part of it yet." Oh, so coy! Bitch, please. Who else is trying to hire you? But she did try to milk her "friendship" with Tina Fey (Mean Girls' screenwriter) by saying, "I would love to be on 30 Rock." And here's one comment that will make CB nauseous – Lindsay Lohan is obsessed with True Blood too! Lindsay says, "Nobody can speak when True Blood is on… Everything about that show is brilliant." Oh noes. This is horrible.
Anyhoodle, it seems last week's sketchy burglary at La Lohan's Hollywood Hills home was a minor blessing in disguise. Not only did Lindsay get some extra publicity, but she had a built-in excuse for why $2 million worth of jewelry is now "missing". Now that Lindsay is moving out of her burgled crack den, her neighbors have gone to Radar to complain and celebrate in equal measure. It appears her neighbors are very concerned that Lindsay is breaking her lease – on the other hand, the neighbors are no longer muttering "There goes the neighborhood" every time Lindsay needed a fix and began snorting the azaleas:
Lindsay Lohan is clearing out of her Hollywood Hills home but the moving trucks won't be able to clear up one mess she's leaving behind according to sources – the unpaid remaining months on her lease.

RadarOnline.com has learned exclusively that according to neighbors, who claim they have talked to the owner of the residence, the actress has skipped out on her lease, leaving a potential $50,000 unpaid bill.

"Lindsay has five months left on her lease," one neighbor tells RadarOnline.com. "She's breaking her lease by moving on at this time. The property was up for rental at $15,000 per month but she got a special deal of $10,000 per month, meaning she's going to owe $50,000 on the remainder of her lease."

"Plus there's going to be damages, the property is in total disrepair since she's moved in, it's not able to be shown in it's current state, it's going to take some serious work to get it back to it's original condition."

A second neighbor confirms that Lindsay is leaving before the end of her lease, although the amount of time outstanding differs, "Lindsay still has around three months left on her lease, she's moving out before the end of it."

"Lindsay used the excuse of the burglary as the reason for her moving out," the first neighbor tells RadarOnline.com. "She told the owners the property wasn't safe enough for her and that she was being hounded by the paparazzi, but that's not the owners concern."

"If she doesn't pay up on the remainder of her lease, and pay up for the damages she has caused the property owner is going to sue her. They are not happy at all about the situation."

Some people are happy about Lindsay suddenly moving on though – those living near her!

"Lindsay has been the neighbor from hell," a source living close by tells RadarOnline.com. "The police would be called on her three times a night sometimes. She would have these constant parties and her music would be blaring all times of the night – 2am, 3am, 6am – Monday though Sunday."

"There were cars parked all over the place, and I'm not talking about the paparazzi. Lindsay's friends would just abandon their cars where they saw fit. This is the Hollywood Hills, parking is a nightmare at the best of times, these fools made it even worse. We were constantly getting cars towed, it was just a total mess."

"The only time it was quiet around here was when she was up the road causing chaos outside of Sam Ronson's house. I can tell you that everyone in this neighborhood is unbelievably relieved that Lindsay has moved on. I just feel sorry for her next neighbors."

Calls to Lindsay's rep were not returned. The owner of Lindsay's property had no comment.
[From Radar]
Yes, let's call it a "win" for the neighborhood and be done with it. Although I think it's hilarious/tragic that Sam Ronson lives "up the road" and Lindsay will still be hanging around this poor neighborhood. Think about it – what would you do if Linds was your neighbor? I would rent out my driveway to the paparazzi. And I would call the cops frequently.
Lindsay Lohan is shown on 8/29/09. Pictures of moving vans outside her home are from 8/31/09. Credit: Fame Pictures