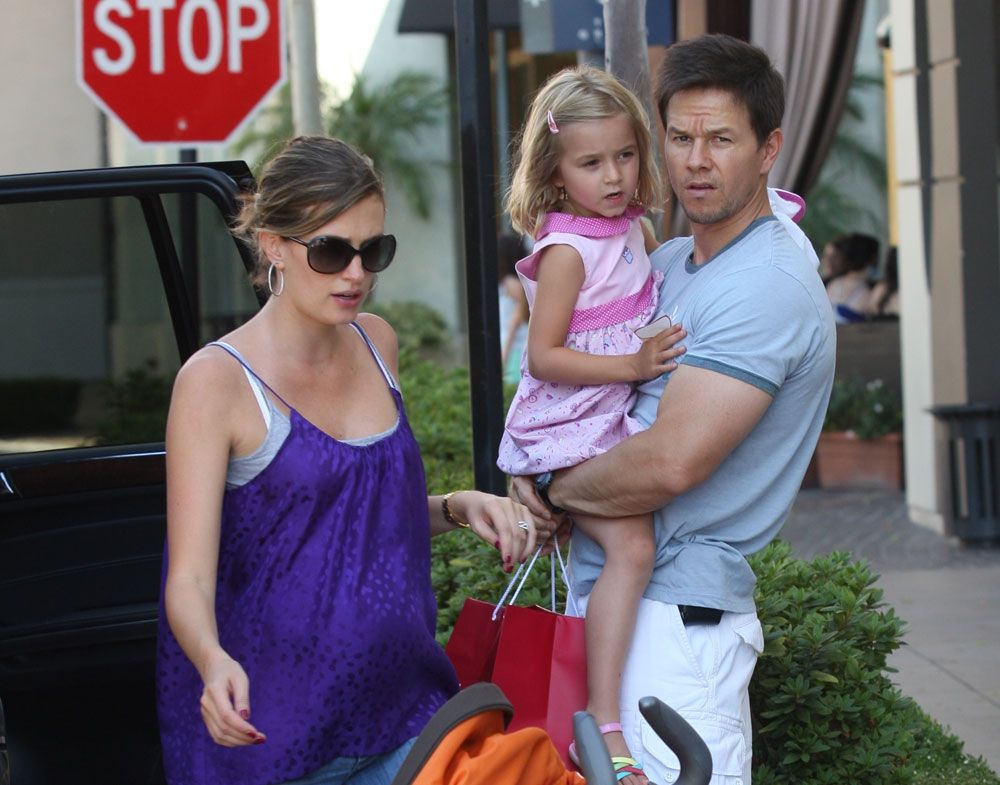 Not to be crass, but I really think Mark Wahlberg is one of those Catholics who takes that whole "no birth control" thing really, really seriously. My other theory is that Rhea just loves having sex with Mark. If that's their thing… well, more power to her. He looks like he would be good in bed. Quiet, but intense. Mm… sorry, I lost my train of thought. In case you didn't guess it, People Magazine is wondering aloud if Rhea Dunham (Rhea Wahlberg?) is knocked up again, based on these pictures. We've said it before – if People Magazine is running with the story, it's like they're holding the Clear Blue Easy in their hands as they're typing. Rhea and Mark already have three children together – Ella Rae, 5, Michael, 3, and Brendan Joseph, 11 months – and they just got married in early August. It's not beyond the realm of possibility that it was a shot-gun wedding, although can it still be called that is she's pregnant for the fourth time?
It appears as though there are no shortage of reasons for Mark Wahlberg and Rhea Durham to celebrate.

Fresh on the heels of their Aug. 1 wedding, Durham was spotted on Sunday at The Grove in Los Angeles sporting quite the baby bump. Though no official announcement has been made, a source says the couple are expecting their fourth child.

Already parents to Ella Rae, who is about to turn 6, Michael, 3, and Brendan Joseph, 11 months, the couple have made no secret of their desire for a big family.

Last summer, Wahlberg – 38-year-old executive producer of HBO's Entourage – joked that "when the kids are good, we want eight or nine." He went on to call life in a full house "hectic … but a lot of fun."

The actor's rep did not respond to requests for comment.

Next up for Wahlberg is the Peter Jackson-directed feature film The Lovely Bones opposite Rachel Weisz, in theaters on Dec. 11.
[From People]
In these pictures, Rhea does look pregnant – like, second trimester pregnant. It's not just a weird shirt, bad posture, gas or a food baby. Knocked up again! Well, congratulations to the happy family if it's true. This also might explain something that was nagging at me about Mark and Rhea's wedding – I was bothered by her shapeless empire-waist wedding gown. I think a lot of Rhea's beauty – she's totally gorgeous – but that dress and her styling was not very good. The answer might be that she didn't want to announce she was knocked up again, and was trying to hide a small baby bump with a bad dress.
Mark and Rhea are shown out with their children in LA on 8/29/09. Credit: WENN.com