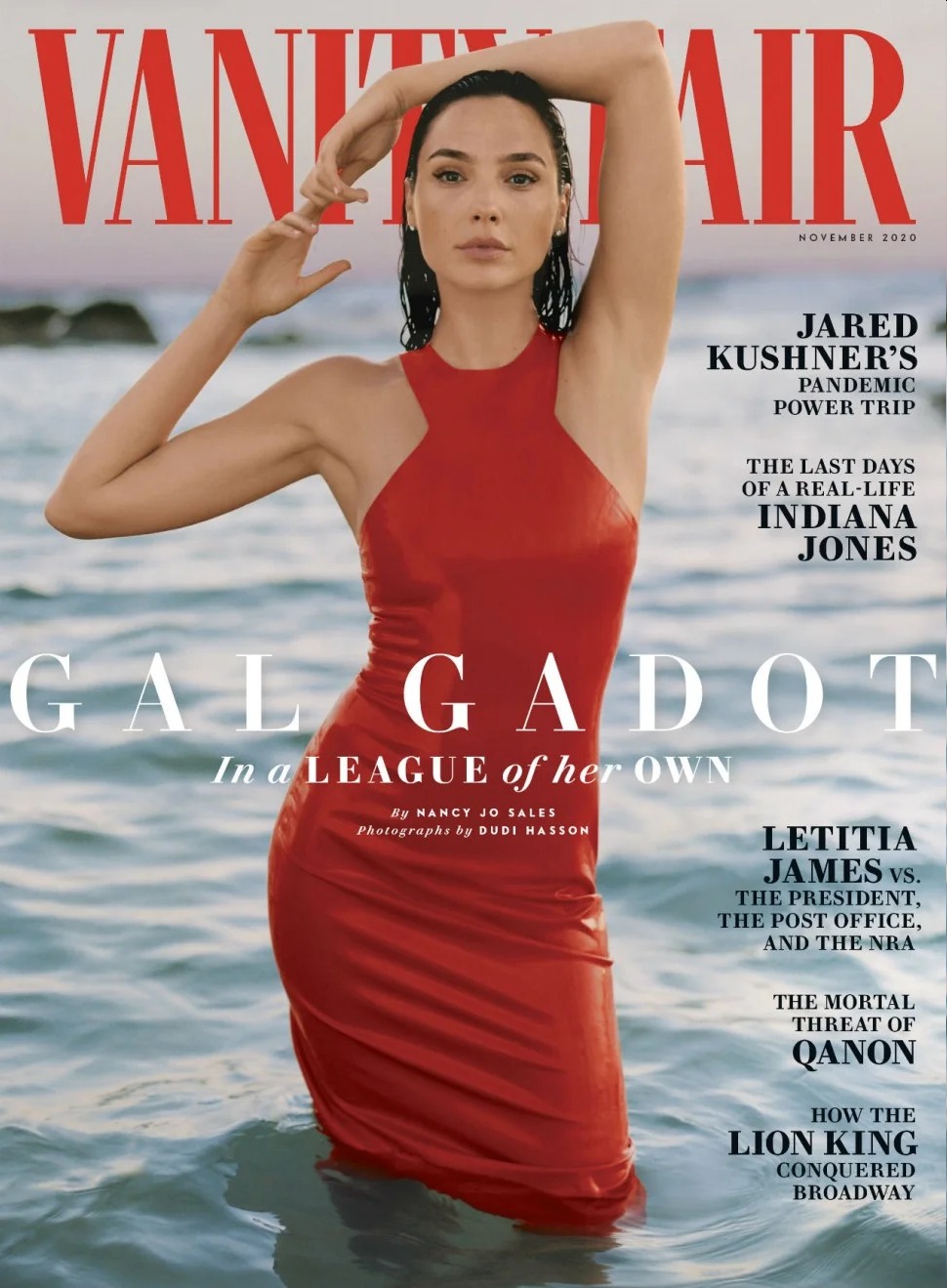 Gal Gadot covers the latest issue of Vanity Fair to promote Wonder Woman 1984 and her role in Death on the Nile, which is also (allegedly) supposed to come out in December. We'll see on both of those release dates. While I know *some* people believe that Gal can't act her way out of a paper bag, I enjoy her on-screen. She actually reminds me of an old Hollywood movie star, and you can't deny that she's very watchable on-screen. Now, in interviews? She is rather… uncomplicated. That's not an insult – I get tired of rich, beautiful women complaining and creating drama for no reason. Gal is just a happy person. You can read her interview here. Some highlights:
On Wonder Woman 1984: "I think the first film was the birth of a hero, and this time around we wanted to go deeper in a way. It's more about the danger in greed, and I think that it's very relevant to the era that we're living in nowadays. It feels like everyone is in a race for more, and when you get what you wanted there's a new bar—and what's the price? And do we lose ourselves in this crazy marathon?"

When she sees the messages of WW: "One of the biggest things that I believe is that you can only dream about becoming someone or something after you've seen it visually. And for boys—lucky them—they got to experience, since the beginning of the movies, that they were the protagonist, they were the strong ones, they saved the day. But we didn't get this representation. And I think it's so important—and of course it's ultra-important for me because I'm a mother of two girls—to show them the potential of what they can be. And it doesn't necessarily mean that they have to be athletic or physically strong—that too—but that they can be bigger than life."

Her husband is a feminist: "Jaron was the one to say, You can do whatever you want to do. He's the one who really gave me the strength to follow this dream… On our second date, he announced, I'm breaking it off with all the other girls that I used to date and I'm gonna ask you to marry me in two years, and he did—a man of his word… We are really, equally partners. We have a group of friends here and all of the wives have careers, and we always joke that the husbands are the 'new man'—very involved in the household and in taking care of the kids and everything. Jaron is literally the wind beneath my wings. We travel together. We're the circus family. I love what I do, but first and foremost is my family and I won't travel for long periods of time without them."

On motherhood: She calls being a mother "the best thing I've ever done, the project of my life."

That stupid "Imagine" video in March: "Sometimes, you know, you try and do a good deed and it's just not the right good deed. I had nothing but good intentions and it came from the best place, and I just wanted to send light and love to the world. I started with a few friends, and then I spoke to Kristen [Wiig]. Kristen is like the mayor of Hollywood. Everyone loves her, and she brought a bunch of people to the game. But yeah, I started it, and I can only say that I meant to do something good and pure, and it didn't transcend."
Yeah, in retrospect, I don't even hate the "Imagine" video. It wasn't the right thing or the right moment, but it wasn't disgusting or offensive, to me at least. It was just kind of tone-deaf in general. As for her husband… he sounds like a really nice guy. But once again, how low is the bar? He helps with the kids, he supports her career, he believes they're equal partners. Shouldn't ALL men do that? She's making a big deal about it because Jaron really is a f–king unicorn.
"We are in this together, we will get through it together."

Gal Gadot just posted a video of her and other artists (who are also quarantined because of the COVID-19) singing Imagine by John Lennon on Instagram. pic.twitter.com/fRV6GhAF92

— best of gal (@bestofgaI) March 19, 2020
Cover & IG courtesy of Vanity Fair.