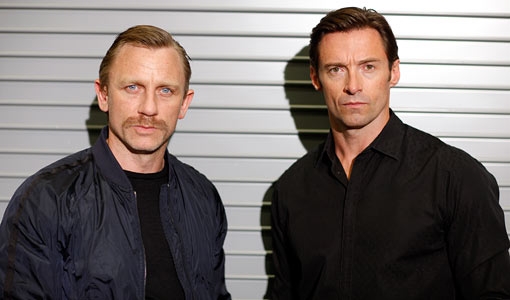 There's some nasty/funny gossip coming out of Broadway as Daniel Craig and Hugh Jackman finish their preparations for A Steady Rain. The hot-cop casting announcement was made back in May, and Daniel and Hugh have spent the last month rehearsing and researching their roles as angsty Chicago cops. According to Entertainment Weekly – which got the first promotional image of Hugh and Daniel in character – Hugh plays Denny, "a patrolman with a racist streak and violent temper." Daniel plays Joey, "a recovering alcoholic and gentler soul who may not be as docile as he first seems." The play opens on September 10, and people are already talking about the sketchy Village People-esque handlebar mustache Daniel is sporting. While I love Daniel… this is not his best look.
Meanwhile, Page Six is reporting that Daniel Craig is behaving a bit like a diva in the run-up to the play's debut. Apparently, Daniel has "demanded" personal security while in New York, even though he "rarely" gets approached by anyone. They actually use the word "wimp". Uh-oh.
HE showed off his muscles as he emerged from the water wearing a pair of tight-fitting trunks as James Bond in "Casino Royale." But despite his macho image, Daniel Craig seems both shaken and stirred by New York as he prepares for his Broadway debut in "A Steady Rain."

Craig, 41, has demanded personal security be available to shadow him at all times while his equally famous co-star, Hugh Jackman, hasn't asked for any protection at all, sources told Page Six.

The Hollywood actors play Chicago cops whose friendship is put to the test in the much-anticipated drama, which starts previews next week and opens Sept. 29.

"Everybody thinks it's funny because the truth is, Daniel rarely gets approached by the public in the street and at restaurants — especially now that he has the huge handlebar moustache for this role," a production source said.

Another Broadway insider said, "Security and secrecy around the show are so tight that Jackman and Craig are rehearsing at a secret location outside the city."

This isn't the first time that Craig — who's rented a lavish, $38,000-a-month apartment with top security as his safe haven in town — has been accused of being a wimp. In 2005, he made a splash in London when he was unveiled as the new James Bond on a Royal Marine commando boat — looking seasick and wearing a life jacket. Craig even admitted the ride had scared "the [bleep] out of me."

His dad, Tim Wroughton-Craig, was forced to jump to his defense following claims the star was scared of guns. He said at the time, "It is all cobblers. Daniel is a hard lad — you wouldn't want to meet him in a dark street. Is he a wimp? No, I wouldn't like to call him that to his face. He can look after himself all right."

Craig's publicist couldn't be reached.
[From Page Six]
I'll buy that Daniel asked for private bodyguards and that he's probably treating himself to a really fabulous New York apartment (wouldn't you?). But I don't think that makes him a wimp. I think that makes him smart. There are a lot of crazies out there, and I can't even imagine the kind of people who might come up to Daniel Craig shouting "James Bond! Double-O! Hit me, hit me like you're Bond!" And I thought it was cute that Daniel seemed seasick for his big James Bond announcement – it's not something that can be helped, you know. It's not like he barfed on anyone. He just looked a little green.