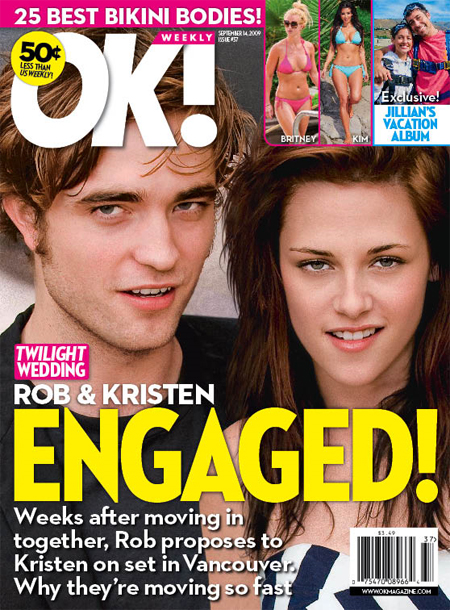 OK! Magazine's cover story this week is "Twilight Wedding: Rob & Kristen Engaged!". It's a total waste, though. The cover promises that "weeks" after Robert Pattinson and Kristen Stewart "moved in together" Pattz proposed. Unfortunately, the actual story is based on the theory that "life might just imitate art." Because SPOILER Sparkles wants to marry Bella or whatever. Oh, and apparently Kristen has been joking around on the set of Eclipse, calling Pattz her "husband". Dude… she's 19 years old! And she's hardcore! Kristen's not going to marry Sparkles, hand to God:
Devoted readers of Stephenie Meyer's Twilight saga know that Eclipse is the volume in which conflicted vampire Edward Cullen and reluctant virgin Bella Swan finally get engaged.

That means, of course, that at some point on the Vancouver set of the novel's big-screen incarnation, Robert Pattinson will whip out a ring and ask real-life love Kristen Stewart, "Will you marry me?"

Life might just imitate art.

As if their millions of fans collectively willed it — the blistering-hot young actors are truly, madly, deeply in love. So much so that, as OK! reported last week, they're spending nights together in Rob's suite at the Sheraton Vancouver Wall Centre. And things have gotten so serious that on-set sources say the young superstars are even playing up their romance on set.

"If Kristen is looking for Rob, she'll say, 'Has anyone seen my husband?'''an insider tells OK!. "And Rob loves to say, 'Have you met my lovely wife, Kristen?' It's cute. They're like a couple of love-struck teenagers."

Amid intense are-they-or-aren't-they speculation, Robsten had kept their relationship under the radar in recent weeks — but then burst out of the closet with an unabashed make-out session among legions of fans at the Aug. 15 Kings of Leon concert held in Vancouver's GM Place arena.

But since that public PDA, they've been sneaking around after dark like — well, like a couple of vampires. "There are those subtle pats and glances on set, but they save the real kisses for after the sun goes down, late at night, when you see them disappear into their hotel," another source tells OK!.

Why so shy all of a sudden? To paraphrase another sprawling screen saga (The Godfather): It's business. Twilight's producers have told Robsten to keep their love on the down low — at least until after the November release of New Moon, the second film of Stephenie Meyer's series, in which Bella gets involved with hunky werewolf Jacob Black, played by Taylor Lautner.

It's all about suspension of disbelief. The studio bosses "fear that if a romance between Rob and Kristen is confirmed," the insider says, "Twilight fans won't buy into the screen chemistry between Taylor and Kris."
[From OK! Magazine]
Uh… yeah. I don't think Kristen really gives a crap what the studio bosses want. I think she's trying to keep her relationship with Pattz on the downlow because she feels that he's beneath her, I really do. She seems slightly embarrassed about the whole thing, in my opinion. And besides that, if Kristen and Robert were truly and totally in love (it could happen), neither of them are the shouting-from-the-rooftops kind of kids. My guess is that they're keeping their relationship as quiet as possible because they don't want to be attacked by roaming gangs of hormonal Twihards.