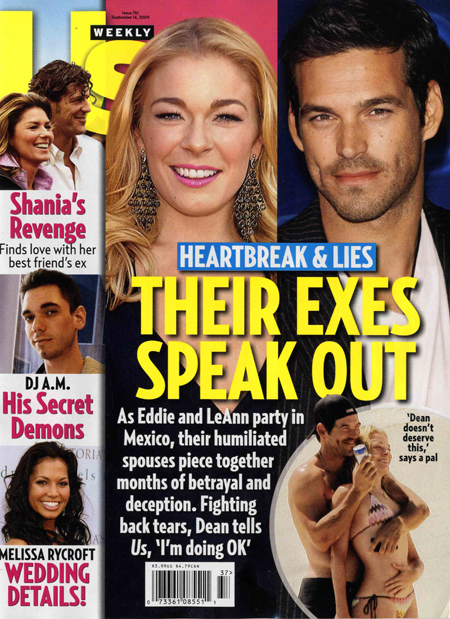 Surprising no one, LeAnn Rimes has officially filed for divorce from her estranged husband Dean Sheremet. The couple married in 2002 when LeAnn was 19 years old and Dean was 21 – and her backup dancer. The couple officially separated back in July, after months of rumors that LeAnn and Eddie Cibrian had been engaged in a full-fledged affair. This comes one week after Eddie officially filed for divorce from his wife, Brandi Glanville.
Meanwhile, Eddie and LeAnn have been going on public "dates" for several weeks now. They've been out golfing, attending Kings of Leon concerts, and the rumor is that Eddie is now living with LeAnn, in her Los Angeles home. Us Weekly points out that LeAnn filed for divorce after returning from a "romantic" vacation with Eddie in Cabo San Lucas, Mexico. Us Weekly has also put the drama on this week's cover – it shows LeAnn Rimes and Eddie Cibrian looking happy with the headline: "Heartbreak & Lies: Their Exes Speak Out". There's a promise of "their spurned spouses become angry allies" and "Fighting back tears, Dean Sheremet tells Us, 'I'm doing OK.'" Us hasn't released anything online yet, but here's LeAnn's divorce announcement:
It's over for LeAnn Rimes and husband Dean Sheremet.

"After much thoughtful mutual consideration, Deane and I have agreed to move forward with dissolving our marriage," the country star says on her Web site using the spelling of her husband's given name. "This decision was amicable and we remain committed and caring friends with great admiration for one another. Thank you so much for all of your continued love and support – it is deeply appreciated."

Rimes, who turned 27 on Friday, married Sheremet in 2002 when she was 19 and he was 21. They separated amid allegations of an affair with actor Eddie Cibrian after the two met while filming the Lifetime movie Northern Lights last fall. Cibrian, meanwhile, filed for divorce from wife Brandi Glanville last week.

Cibrian's ex has called him "somebody I just don't know" and claims she sensed the attraction between the two when they filmed their Lifetime movie Northern Lights last fall.

Rimes's longtime friend, Dope Den Productions founder Jeff Berger, says that Rimes and Sheremet, a songwriter and former dancer, are "doing their best to handle it as mature adults."

"Dean's her best friend and that's the crux of the issue; when you love and care about somebody who's your best friend – how not to cause them pain," he says. "Le and Dean are both great people and, unfortunately, going through a tough situation. But they're doing what needs to be done in as amicable a way as possible."

Sheremet, a former professional dancer, is attending culinary school in New York. He posted a message on his Twitter page Tuesday: "Back to school kids, first time in 10 years."
[From People]
Sources claim that LeAnn is completely paying Dean off with a nice apartment in New York, and most likely a sweet divorce settlement. Dean hasn't said much for or against LeAnn so far, and I suspect he'll continue to keep his mouth shut and wait for the payday. As for LeAnn's future plans, there were some reports last week that she's already planning on marrying Eddie. Even though those reports came from Star Magazine and In Touch, I tend to believe them. I think LeAnn has fallen for Eddie, and she thinks he's some kind of "catch". When you look at it that way, it's kind of sad.
Header image via Cover Awards. LeAnn Rimes is shown outside Shutters Hotel in Santa Monica on 9/1/09. Credit: Fame Pictures