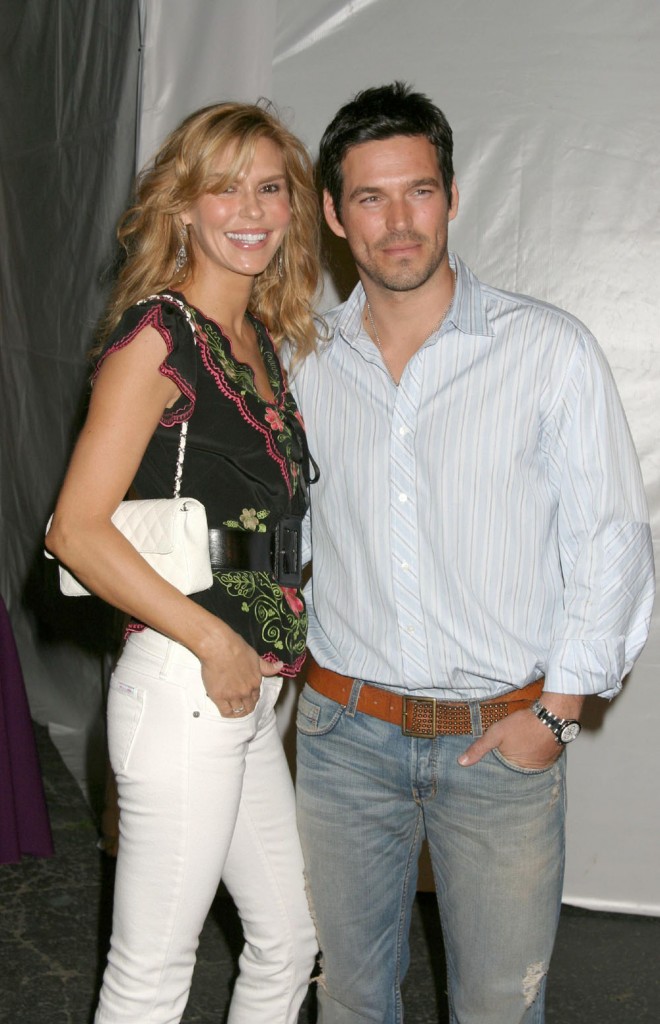 Eddie Cibrian has officially filed for divorce from his wife, Brandi Glanville, according to E!. Eddie filed earlier this week, and Brandi went straight to E! and People Magazine to dish the dirt and get out a few more bitchy statements. Which is totally her right, and I hope she keeps it coming. First, here's E!'s report – Brandi jokes that she's "looking forward" to seeing pictures of Eddie and LeAnn Rimes on vacation:
Eddie Cibrian, who is finally romancing LeAnn Rimes out in public (sort of), has filed for divorce from his wife of eight years, Brandi Glanville, E! News confirmed Tuesday.

"He filed yesterday and I accepted it," Glanville told E! exclusively. "We're getting a divorce. We talked to each other yesterday."

Which was just in time, apparently, because it turns out that Cibrian is already planning a romantic getaway with his "new" girlfriend, according to his soon-to-be ex-wife.

"They're going on vacation this weekend to Mexico," Glanville, who has made no secret of her feelings toward the recently separated Rimes, told E! "I'm looking forward to seeing those pictures."

A rep for Cibrian had "no comment" at this time.

Glanville and Cibrian, who have two children together, confirmed about a month ago that they had separated—a good four months after rumors arose of an affair between the 36-year-old hunk and Rimes, his costar in the Lifetime movie Northern Lights. Rimes and estranged hubby Dean Sheremet revealed just days later that they had been living apart "for quite some time."

Which apparently didn't come as a surprise to Glanville, who says in the latest issue of Us Weekly that Cibrian is "a compulsive liar, cheater and a home wrecker."

"Eddie's displays of poor taste have hurt our two children," she said. "Eddie may just end up drowning himself in that 'unfair fishbowl.'"

But now that divorce proceedings are under way, Glanville is seeing things in a more positive light.

"It's just over for me," she told E! News. "We're both happy. This is going to be good."
[From E! Online]
Brandi also gave a good interview to People yesterday, where she talked about how she met LeAnn when she and Eddie were working on Northern Lights. Brandi noticed how LeAnn and Eddie flirted with each other, but she also noticed how close LeAnn and then-husband Dean Sheremet seemed. Brandi pulls a fast one and says that she's been trying to contact Dean – I bet she has!
Long before Eddie Cibrian and LeAnn Rimes took their relationship public last week, Cibrian's wife Brandi Glanville had an inkling that her husband was attracted to the singer.

Recalling when she and Cibrian went on double dates with Rimes and husband Dean Sheremet in Canada during the filming of Lifetime's Northern Lights, Glanville says she noticed a little flirting between the costars.

"We went to play pool, went for sushi, dancing," Glanville tells PEOPLE, adding that although she's used to woman fawning over her husband, "it was different this time. It was a little more reciprocated."

At the same time, Glanville noticed how affectionate Rimes, 27, was with Sheremet, 28. "They were very touchy-feely," she says. "They seemed happy. [But] I felt like it was almost like 'I love my husband. I'm not after your husband.'"

After reports of an affair surfaced in March, Glanville, 36, says she and Cibrian, 36, sought counseling to try and salvage their marriage, and she publicly stood by in him in April.

"We were in therapy, but he never stopped talking to [LeAnn] so how could that have worked?" asks Glanville, who says she plans to file for divorce.

Cibrian and Rimes took their relationship public last week – one month after Rimes and Sheremet announced their separation – at a public golf date Thursday and a Kings of Leon concert Saturday.

Now, Glanville says she's been "trying to get a hold of" Sheremet. "I feel bad for Dean. It's a horrible situation for him. I don't think he's ready to have a conversation about not being with her."
[From People]
Brandi is the nagging reminder to all of those people who are all "Oh, LeAnn and Eddie make such a cute couple!" No – they do not make a cute couple. Eddie is a douchey womanizer who cheated on his wife, and will cheat on LeAnn because that's his nature. When you look at it that way, Brandi seems to be right – they do deserve each other.
Here are Brandi and Eddie in happier times; 2006. Images thanks to WENN.com .