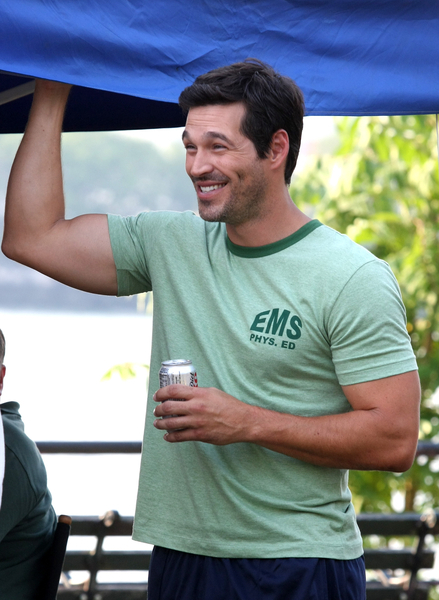 Oh, snap! Sorry for the outdated excited utterance, but it seems apropos for this utterly B-List scandal. Eddie Cibrian has released his first statement since officially filing for divorce from his estranged wife Brandi Glanville. He had previously released a couple of statements and one now-classic interview (referencing the infamous "unfair fishbowl") before he filed for divorce. Meanwhile, Brandi has People and Us Weekly on speed dial, basically issuing one bitchy interview a day for the past week.
Previously, Brandi had said "Eddie and LeAnn deserve each other." Then she told Us Weekly, "Eddie is a compulsive liar, cheater and a home wrecker, and he has been an absentee father. Eddie may just end up drowning himself in that 'unfair fishbowl'." After that, Eddie and LeAnn made several public outings, then Eddie officially filed for divorce. Brandi did another round of interviews ('atta girl), but Eddie has been silent. Until now! Let me tell you… Eddie brings his inner bitch out:
Actor Eddie Cibrian is breaking his silence in wake of his bitter divorce from his estranged wife Brandi Glanville and scandalous affair with country pop star LeAnn Rimes. This past Monday, the CSI: Miami star filed papers in Los Angeles Superior Court to end his seven year marriage to the former model.

Now, in a statement released by Cibrian Thursday, the actor says: "From the outset I have made a conscious decision to try and keep this matter private and not discuss it in the press. While my wife and I are dissolving our marriage, we will work together to parent our two children," Cibrian continued. "I love my boys very much. I want only the best for them and am committed to being a devoted father. I will continue to be respectful and sensitive to this issue by not doing interviews about this ongoing private matter. I wish everyone would do the same."

Cibrian and Glanville have two boys, 6-year-old Mason and 2-year-old Jake.
In the past several days, Cibrian and Rimes have gone public with their relationship: playing golf and attending a concert in Los Angeles.

Rimes is currently separated from her husband, 28-year old Dean Sheremet.

Cibrian, 35, and Rimes, 26, reportedly starting having an affair after meeting on the set of the Lifetime movie, Northern Lights.
[From Radar]
So he's basically telling his ex-wife to shut the hell up already. I'm sure Brandi will take that under advisement. Here's the thing – I know that Eddie is a womanizing douche, a liar, and a pretty disgusting man. But I'm not so sure he's a bad father. I don't have enough information on that, so I think his positioning as the wounded, victimized man who is separated from his kids might work in his favor. Meh.
The tabloids are all over this story this week. Most of them are highlighting a very LeAnn Rimes-friendly version for some reason. Every source points out that Eddie has been spending most of his nights at LeAnn's house in Brentwood. In Touch Weekly takes a more judicious point of view, calling in an "expert" to tut-tut that Eddie and LeAnn are "acting like teenagers instead of adults." In Touch also points out that Dean Sheremet is moving into a New York apartment that LeAnn is paying for, but Dean still tweeted "Dishonesty is the most deplorable quality" the day after LeAnn and Eddie's outing to a Kings of Leon concert.
Star Magazine has a source who claims "LeAnn knows she found true love with Eddie… Now she wants the rest of the world to know it too! She wants to be able to go everywhere with him… She feels like the worst is behind them and now they can be happy together." Star points out that LeAnn is – wait for it – already making wedding plans. LeAnn has "already subscribed to Brides Magazine and talks about getting married in Las Vegas… as soon as both their divorces are done, they're heading to Sin City! She's dying to be his wife and call herself Mrs. Cibrian. She even wants to give him more kids!" Oh, barf. She and Eddie really do deserve each other… just wait until he gets another Lifetime movie, honey.
Eddie Cibrian is shown filming Ugly Betty on 7/18/08. Credit: PRPhotos. LeAnn Rimes is shown getting gas on 8/22/09. Credit: Fame Pictures