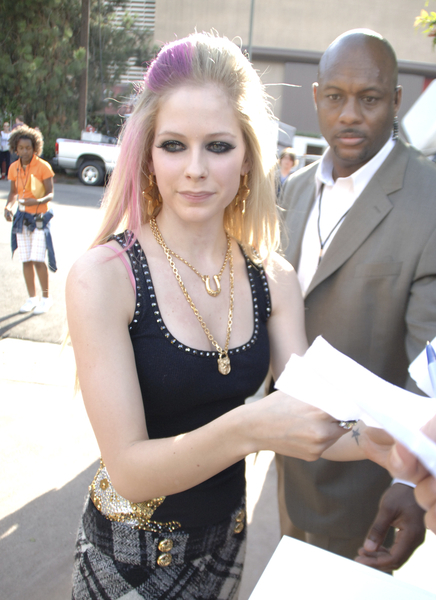 Avril Lavigne always manages to up the ante on the amount of arrogance and conceited behavior possible from a bland singer best known for popularizing the bubble gum punk genre. This time she's managed to outdo herself by acting mean and dismissive towards an eight-year-old girl at a wedding she was attending, making the little girl cry:
As [Avril Lavigne] chatted with attendees at a friend's wedding, she was approached by an invited guest's 8-year-old daughter, who – bright-eyed with excitement – gushed that she was a huge fan and asked the singer if she'd pose for a photo she could show her little pals. Eyewitnesses recoiled as Wicked Witch of the North screwed up her face and snarled: "NO! I don't want to!" – then abruptly jetted off on her broom, leaving the red-faced tyke sobbing.
[From The National Enquirer, print edition, Mike Walker's column, October 29, 2007]
I could understand if the girl went up to Avril on the street and she was in a hurry and couldn't stop, but she was at a wedding! It's not like she had to go somewhere else at that point. Maybe didn't want any pictures taken that day because she had a giant zit. The least she could have done is given the poor girl an autograph and talked to her for a minute.
Other exemplary behavior from Avril includes spitting at paparazzi cameras on three separate occasions and then blaming them for it, and bragging in an interview about kneeing a guy in the nuts for harassing her. She also claims to be the best thing that ever happened to her husband, Sum 41 frontman Deryck Whibley.
I wish there was a way for celebrities and musicians to get sliding scale pay based on how gracious and decent they are to fans. I know it's not always possible, especially with the paparazzi in their face all the time, but surely people like Johnny Depp, Matt Damon and Jennifer Garner should get paid extra just for putting up with everyone and signing autographs with a smile. Avril Lavigne, Cameron Diaz, and Tobey Maguire should get a pay cut whenever they're grumpy or mean to fans. That way, maybe they'll realize how they're able to make millions of dollars for just a few months' work.
Avril Lavigne is shown on 8/26/07 backstage at the Teen Choice Awards, thanks to PRPhotos.