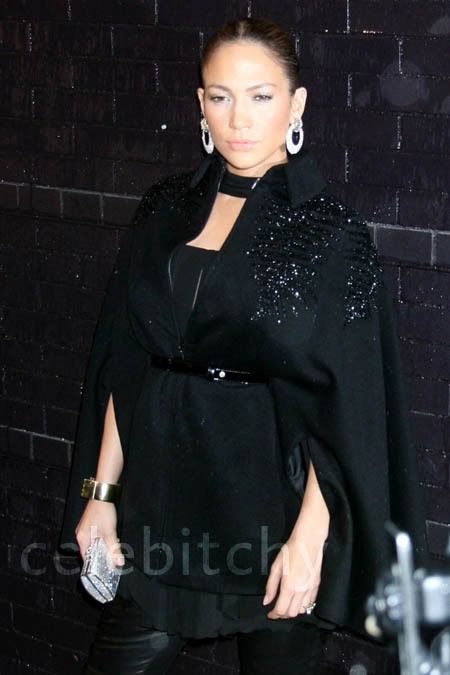 Jennifer Lopez is so adverse to spending time in ex Ben Affleck's hometown of Boston that she refuses to perform there. The Northeastern city has too many bad memories for her after her broken engagement to Ben and she's not about to go back voluntarily:
Jennifer Lopez is touring cities from Los Angeles to Miami to promote her latest CD, Brave. But there's one city where she won't be performing – Boston! "Jennifer has very bad memories of the city," a friend tells Star. It's where [ex-boyfriend] Ben Affleck proposed to her and where Ben is from." Since their 2004 split, J.Lo and Ben "have not been friends," adds the pal. "She's mad that he continues to trash her and their relationship in the media."
[From Star Magazine, print edition, October 29, 2007]
Affleck told Details Magazine recently that dating J.Lo "was probably bad for my career," and that the tabloids made up a lot of crap about them. It's possible this story is made up too, and that Lopez isn't playing Boston because she couldn't fit it into her schedule or something and that it has nothing to do with Ben.
Lopez is definitely pregnant despite not making a public statement or confirming the rumors. Her stomach is clearly visible, even in the loose fug outfits she's been wearing on tour. At a joint gig on Friday in LA, Lopez's husband Marc Anthony sang the Journey hit "Faithfully," dedicating it to her and saying that "[the] song has a whole new significance." It includes the lyrics "They say that the road ain't no place to start a family." Isn't that song about an impoverished musician being separated from his wife? It doesn't really seem to apply to a multi-millionaire couple that gives detailed requests of how the room should be stocked before they stay in five star hotels.
Lopez is shown on 10/11/07 celebrating the release of her new album, Brave. Thanks to Splash News and WENN.