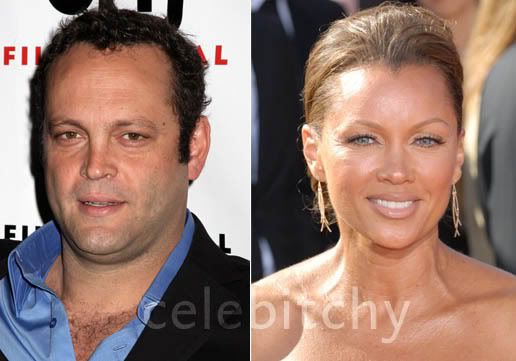 The word on the street is that Vanessa Williams has snagged herself a new man. The new man in question is Vince Vaughn. The two have reportedly been stealth dating to avoid press.
"According to one of our most trusted Hollywood snitches, Vanessa and Vince have been sneaking around Los Angeles together – all in an attempt to avoid the paparazzi. The insider tells, "Vanessa's really trying to keep this a secret … She feels that the press helped ruin her relationship with Rick [Fox], so she's trying to keep what she has with Vince private."
Vince was also spotted out and about with Jennifer Aniston again. Also, a few nights ago he enjoyed the company of a group of ladies that couldn't keep their hands off of him. However, Vanessa is rumored to be a steady date for Vaughn as they have been reportedly seen out and about in LA. There may only be a 7 year difference between the two, but the rumored couple alert may ruin their private rendezvous.
Note by Celebitchy: The source is Media Take Out, which is pretty notorious for making up shit wholesale, so I doubt this is true. Plus, can you imagine Vince Vaughn being able to land Vanessa Williams? It doesn't seem likely to me.
Vince Vaughn is shown at the CMJ Festival on 10/19/07 with Justin Long. Vanessa Williams is shown at the Primetime Emmy awards on 9/16/07. Thanks to PRPhotos.