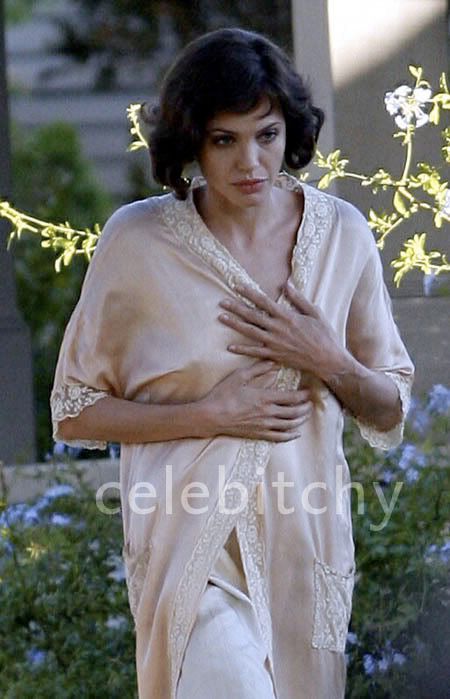 The level of Angelina Jolie and Brad Pitt's snobbery has just been elevated. The two are practically making a bio pic in a new HBO series about humanitarian workers helping the needy. Their aim is to explore the seedy political underbelly of working in a international aid organization. Jolie is no stranger to countries ravaged by warlords and political regimes. Brad gets to tag along this time too. Both members of the power couple share the title of executive producer with Scott Burns.
"Angelina Jolie and Brad Pitt are making their first joint producing effort with an HBO series about aid workers.

The untitled drama will explore the behind-the scenes politics of an international aid organization, and chronicle the lives of humanitarian workers assigned to dangerous zones and the needy people they assist.

Jolie and Pitt will serve as executive producers, along with Scott Burns, who will write the pilot. Burns co-wrote "The Bourne Ultimatum" and was a producer of "An Inconvenient Truth."

The series has been a passion project for Jolie since she did the 2003 feature "Beyond Borders," a drama about disaster-relief workers in war-torn countries.

It marks Jolie's return to HBO 10 years after her breakthrough starring role in the cable network's biopic "Gia," which earned her a Golden Globe.

Pitt already is in business with HBO. Along with Edward Norton, he is executive producing the HBO/National Geographic miniseries "Undaunted Courage," now in development. The 10-hour miniseries, based on the book by Stephen F. Ambrose, retraces the legendary journey across the Western U.S. by explorers Meriwether Lewis and William Clark in the early 1800s.

Jolie most recently starred in the feature "A Mighty Heart," about the kidnapping and murder of Wall Street Journal reporter Daniel Pearl. Pitt was a producer on "Heart."
[From Reuters]
Jolie has dragged the entire family around the world on goodwill missions due to her Ambassador status for the United Nations' refugee agency. The Jolie-Pitts spent last Thanksgiving in Vietnam and trips to Cambodia replace visits to Disney World. This may be the first joint film production effort, but they have a year old foundation that support organizations that have received millions of dollars. The Jolie-Pitt foundation favors Doctors Without Borders and Global Action for Children.
Angelina is all about the less fortunate and the touchy subject dramatics. While I am not discouraging her good-doing, I just really wish to see her step outside the box. Maybe let her hair down and do a guest star appearance on "Family Guy" or become one of the plucky interns on "Grey's Anatomy" for an episode or two.
Note by Celebitchy: Please welcome our new writer, Cara. She's into fashion and gossip and has written for some of our favorite blogs including Socialite's Life, I'm Not Obsessed and Glitterati. Helen had her baby this weekend and may be out of commission for a while.
Angelina Jolie is shown on the set of The Changeling on 10/20/07, thanks to Splash News.