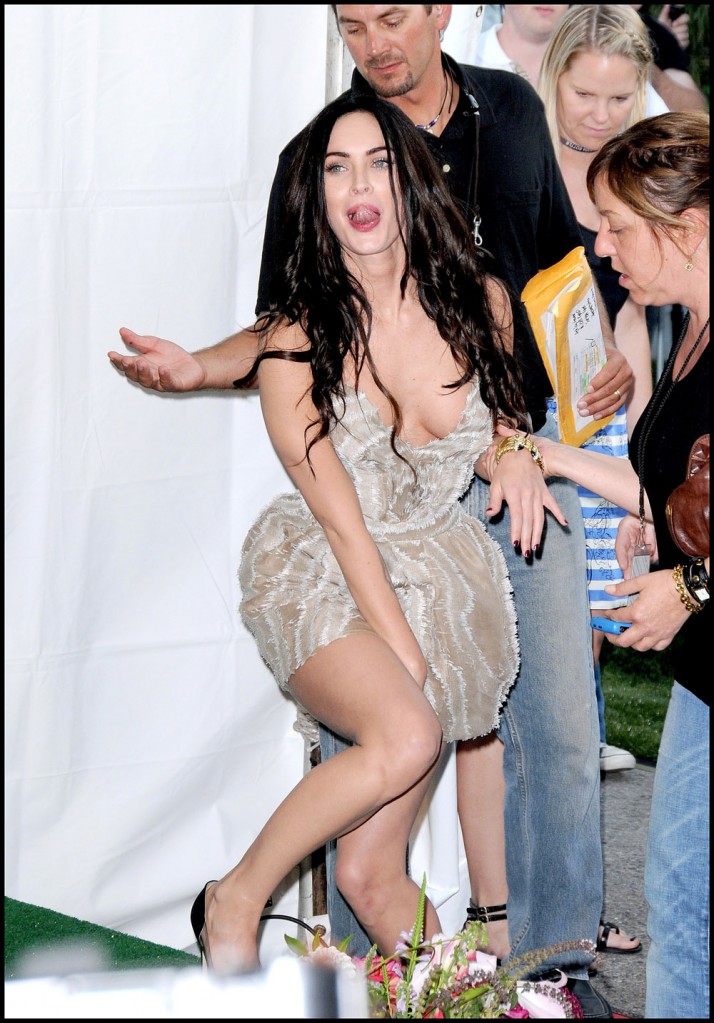 So, a lot of dumb sh*t comes out of Megan Fox's mouth. Actually, only dumb sh*t comes out of Megan Fox's mouth. Megan has this tendency to just ramble on and on, totally unchecked by the boundaries of common sense, decency, or reality. And while you're probably thinking I just phrased it that way to be cute, it turns out I'm totally right. You see, Megan says she has schizophrenia. Not "admits" she has it. "Says" she has it. She's spent weeks reading every book ever written about Marilyn Monroe, but hasn't bothered to spend a few hours with a shrink to get an official diagnosis. But she knows something is wrong.
The Transformers star admits she has struggled with mental health problems since her youth, and, although she hasn't been officially diagnosed, she is convinced she shows symptoms of the serious psychiatric condition, which often torments suffers with auditory hallucinations, paranoid delusions and social dysfunction.

The 23 year old reveals she has spent years meticulously studying the life of movie legend Marilyn Monroe, who died of a drug overdose at the age of 36 – because she fears her own problems may lead her to a similar end.

She tells Wonderland magazine, "I basically read every book ever written about Marilyn Monroe. I could end up like that because I constantly struggle with the idea that I think I'm a borderline personality – or that I have bouts of mild schizophrenia.

"I definitely have some kind of mental problem and I haven't pinpointed what it is."
[From Yahoo]
Megan forgot the third and most likely cause of her mental issues: stupidity. Now I don't think that's an official classification until you get to Forrest Gump level, but Megan's only about 7 points off. Remember, the average current adult's IQ is 100. Forrest Gump was 90. That's what 10 points difference means. Just want to be clear about how much I'm insulting Megan. (And before I get hollered at in the comments, I specified "current adult" because the average IQ of a child born in 2001 is 110 – it doesn't normally go up by such dramatic leaps and bounds but apparently all the stimulation that current children are exposed to has led to rising IQs).
I'm sure no one's going to argue with Megan in terms of her having something seriously, seriously wrong.. Here's the thing: schizophrenia and borderline personality disorder are very different animals. And while there are a wide variety of shapes and sizes of both, they're generally not easily confused. And I'd say for the most part, schizophrenia would be far more damaging to one's life than borderline. She's like that really stupid middle schooler who wants a lot of attention and claims to have whatever disease or disorder she's just read about. At least Megan's not claiming to have a diagnosis. But here's a little pearl of wisdom for you: stupidity is not the disease, it's the cause. Yeah, let that wiggle around the old noodle for a bit. Vaguely deep thoughts brought to you by JayBird.
Either way we know she's stupid as hell. She's just so stupid that she's using a 14-year-old's strategy of trying to find a reason she can't be blamed for.
Thanks to Hollywood Rag for the lead!
Here's Megan at the Teen Choice Awards in Los Angeles on August 9th. Images thanks to WENN.com .