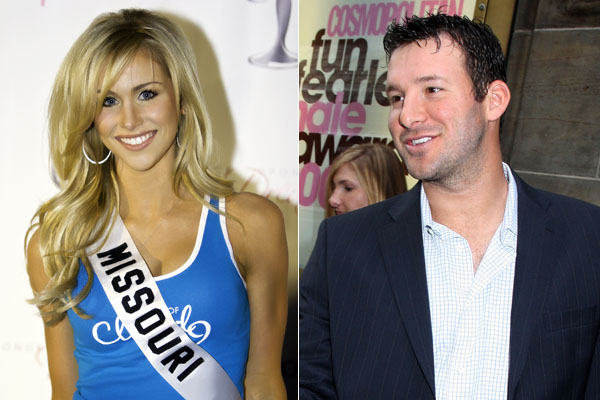 Well, no one ever claimed that Tony Romo did not have a type. He likes them with "the bigger the hair, the closer to God" blonde hair, he likes them busty, he likes them with a lacquered-on, beauty-queen smile and he likes them with some kind of Southern twang. Oh, did I mention? Tony Romo has a new girlfriend. Second verse, same as the first!
Her name is Candice Crawford. She's Chace "Man Bangs" Crawford's little sister. Candice was also the 2008 Miss Missouri. Apparently, Candice and Tony have been friends for a while, even hanging out together while Tony and Jessica Simpson were dating. For all we know, Candice may even be one of Jessica Simpson's "friends" who admitted to hooking up with Tony.
Tony Romo has another hot new blonde.

The Dallas Cowboys quarterback, 29, is dating Chace Crawford's little sister, Candice, a 22-year-old beauty queen who looks strikingly similar to Romo's ex Jessica Simpson, a source close to Romo confirms to Usmagazine.com.

"She's not happy that it's out [in the media], but they weren't trying to hide," a source close to Candice tells Us the day after CelebTV.com first reported the coupling. "They've gone out to dinner in Dallas a bunch."

Candice, who was Miss Missouri 2008, isn't the first younger, skinnier version of Simpson that Romo has hooked up with.

Months before he dumped Simpson on the eve of her 29th birthday in July, Us Weekly reported he was sending flirty texts to 22-year-old Natalie Smith, the daughter of the associate athletic director at Romo's alma mater, Eastern Illinois University.

He even brought Smith to one of Simpson's concerts.

"They're not officially dating, but they are having an intimate relationship," a source told Us at the time.
[From Us Weekly]
Candice has a website too! Candice tells us: "I am currently completing my senior year at the University of Missouri in Columbia. I have a broadcast journalism major and a minor in business. My goal is to establish a career as a reputatable journalist upon graduation in May." Emphasis mine – I'm leaving the spelling error there, just to show all of the other aspiring professionals out there how easily it is lose "reputatability". I'm not trying to put myself out there as the most professional person or anything – my filthy dog is leaning on my sweatpant-clad legs as I type, but you know what? At least I'm wearing a bra. That's my stab at professionalism, because I'm not a great speller either, or a beauty queen who created my own glossy website to promote my "reputatable journalist" career. Spell-check, please, at least for the important stuff.
Candice Crawford is shown on 4/3/08, 4/5/08, 4/10/08, and with her brother, Chace, on 9/18/07. Tony Romo is shown on 3/3/08. Credit: WENN.com