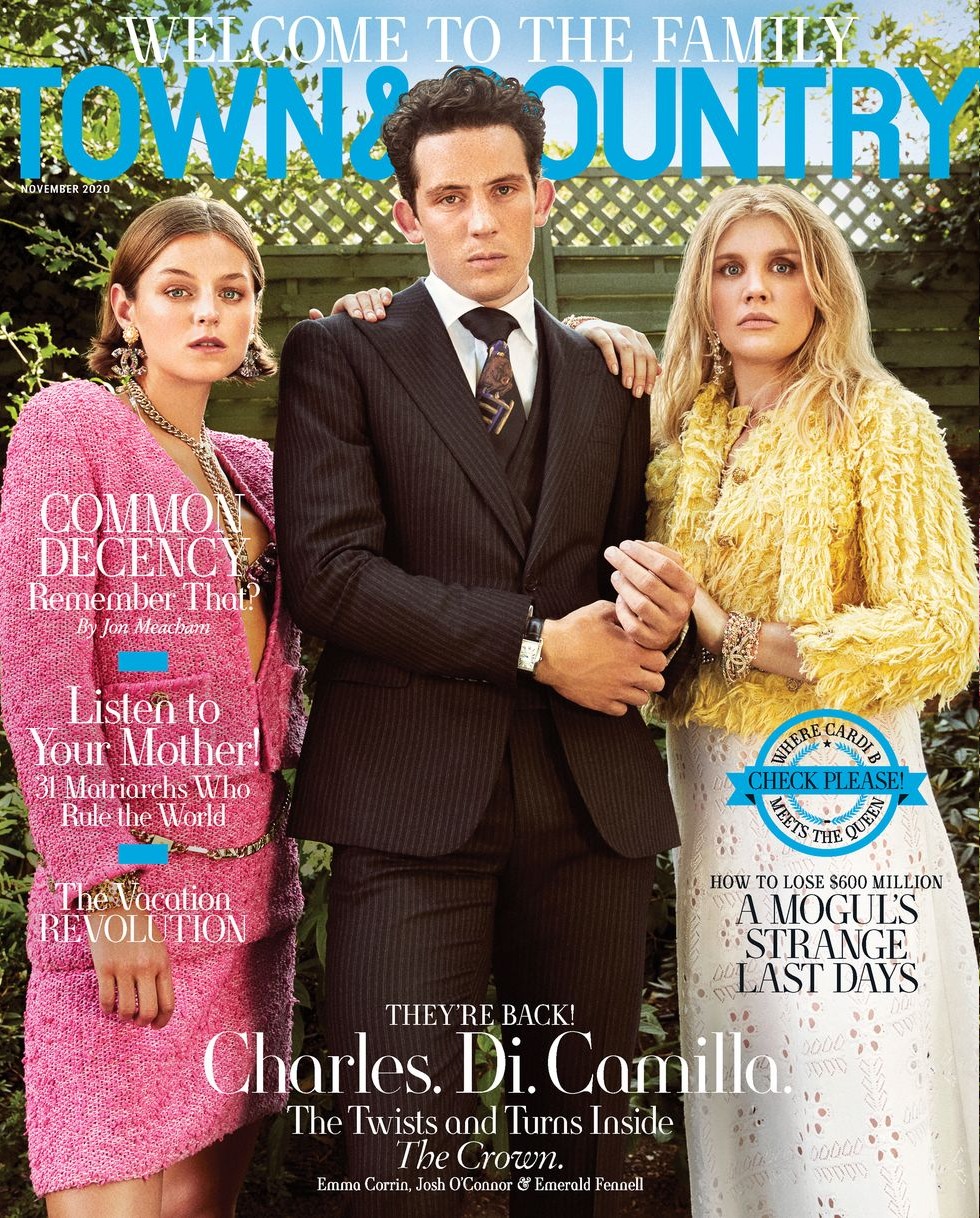 Emma Corrin, Josh O'Connor, and Emerald Fennell cover the latest issue of Town & Country. They are (in order): Lady Diana Spencer, Prince Charles and Camilla Parker-Bowles in Season 4 of The Crown. I was expecting a sort of hazy, sugary joint interview with them, considering this is an American publication and Americans, by and large, still have such a great deal of affection for all things royal and all things Diana. But there were some shady comments about the Windsors, and some truths told about how poorly Diana was treated by everyone, from the Queen to Charles to Camilla and beyond. Showrunner/creator Peter Morgan also speaks about Prince Harry and Meghan and the parallel to Diana. Some highlights:
Emma worked with her speech therapist mother to get Diana's voice: She analyzed Diana's speech patterns with the help of her mother, a speech therapist. "No matter what Diana is saying, it kind of goes down at the end," Corrin says, slipping into the hauntingly similar imitation that makes her so believable. "It's like a sadness."

Emma on playing an iconic figure: "I hate being asked what it's like to play someone iconic. It makes her untouchable—the whole point was that she was touchable."

How Diana was treated by the Windsors: "The coldness, the traditions, and the expectations of behavior…I don't think she expected that. I think she expected to join a family." As for the situation today, the actress sees some parallels. "You just want to shake these tabloids and say, can't you see history repeating itself?"

Oh, this is good: Margaret Thatcher lends her own perspective on the Windsors during a disastrous weekend of shooting at Balmoral. "What am I doing here?" snarls the sublime Gillian Anderson, in full Thatcher garb. "They aren't sophisticated or cultured or elegant or anything close to an ideal. They're—" "Boorish, snobbish, and rude?" her husband offers.

Emerald Fennell on playing Camilla: When she got the part, she returned to smoking. "There's a personality type I think that goes with it," she says, describing Camilla as "languid, but actively so." Camilla is, according to Fennell, "the only person who didn't want it and wasn't impressed by it."

Peter Morgan on the Sussexes: "The Meghan and Harry story is nowhere near over yet. And I'm happy that I'm never going to write it."

Emma on the Sussexes: But that doesn't mean that The Crown won't touch on some of the themes that run through the Duke and Duchess of Sussex's ongoing tale. Emma Corrin, the newcomer who plays Princess Diana, definitely sees similarities between her character's plight and Meghan's. "You just want to shake these tabloids and say, can't you see history repeating itself?"
Boorish, snobbish, and rude? Kitty can scratch! I love where Peter Morgan is going with this! Honestly though, what if The Crown is actually just an elaborate takedown of the British monarchy, a factual dramatization in which this family's thin veneer of respectability, duty and honor is stripped away and we see them for who they really are: a group of backstabbing, petty, rude a–holes? Hm.
Photos courtesy of Town & Country.