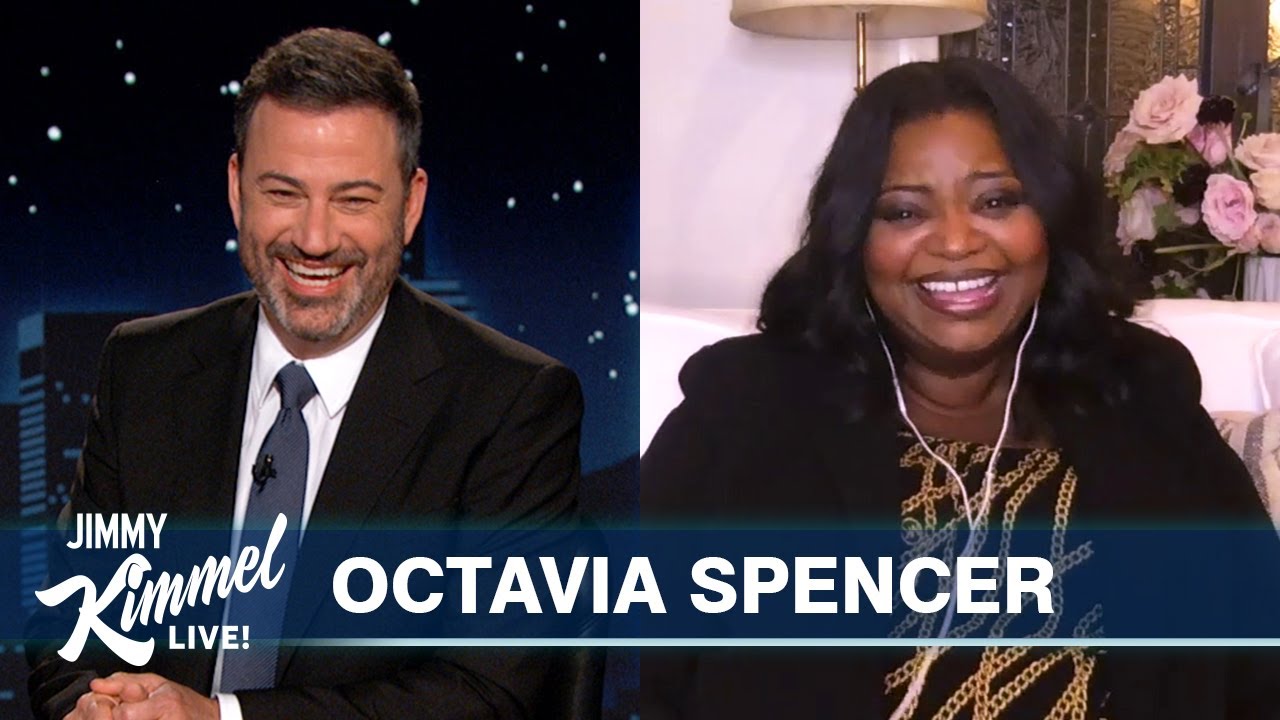 Octavia Spencer was on Jimmy Kimmel to promote the remake of The Witches on HBO, which just premiered. It's directed and co-written by Robert Zemeckis (Death Becomes Her, Forrest Gump) and is based on a novel by Roald Dahl. It co-stars Anne Hathaway and Stanley Tucci. Octavia plays the grandmother to a little boy hunted by witches who eat little children. I watched the first half hour and found it cute and entertaining. Octavia is excellent, Anne and Stanley play weird characters so I'm not sure about them yet, but the real star is her on screen grandson, played by Jahzir Bruno.
I know she doesn't get a lot of comments but I love covering Octavia's interviews as she's funny and matter-of-fact. Octavia turned 50 earlier in lockdown and she told Kimmel she was disappointed to have to cancel a trip she paid for to Hawaii for her friends. (She's said in the past she's practical with money and yet she splurged on this and didn't get a refund!) Instead they recorded a video for her with other celebrities, some of whom she knows and some she just admires. The one she was most excited about was Keanu! Here's more of what she said, and you can see her interview below.
On her corded headphones
I think I would lose the little ones that aren't attached to anything. This way I always know where they are.

On the second debate
It was better than the last one but we also now have a very low standard.

On the safety measures on set
I appreciate it so much because I feel like our industry really is taking this seriously toprotect everybody on set. It's crazy that the film industry is more secure than The White House

She was going to take her friends to Hawaii for her birthday
None of that happened and I didn't get any of the airline tickets money back. I ate the airline tickets for 10 people. The big five oh and I ate five oh.

Her friends made her a happy birthday video instead
It was not the birthday that I had wanted but my friends put together this surprise for me. They got a lot of people that I worked with and that I liked to do a special video for me. Chris Evans, Katie Perry, [both] friends, and then Keanu Reeves. Of course I started crying like a baby 'Keanu!' He's somebody I liked and my friends know that.
[From Jimmy Kimmel Live on Youtube]
The rest of the interview is well worth watching. She told this really cute story about sneaking in to Senator Ted Kennedy's office when she was a teenager touring Congress as part of a youth group. She also talked about her love of Marvel movies, particularly Captain America, and how bummed she was to have to miss the Endgame premiere inApril, 2019 when she was in London filming. That's a perk you don't hear about often from celebrities – getting to go to other friend's premieres!
As for her birthday video, she didn't tell this story on Kimmel but Keanu stopped to help Octavia, years ago before she was famous, when her car broke down in LA! He stopped, on his motorcycle, and pushed her car for her. Ever since she's gone to his movies opening weekend to support him. I love that story! Also, it means a lot that Octavia's friends organized this birthday video for her and that they chose to let her decide whether to share it, at least that's how I imagine it happened. She was like "no, I'll keep this to myself and just talk about it." Plus I forgot to mention that Octavia admitted earlier this year that she's been shaving two years off her real birth date! I think her thought process went something like this: "I'm 50 now! F'ck it."
When lockdown is over we need an Octavia and Keanu photoshoot. Better than that they should be in a movie together!