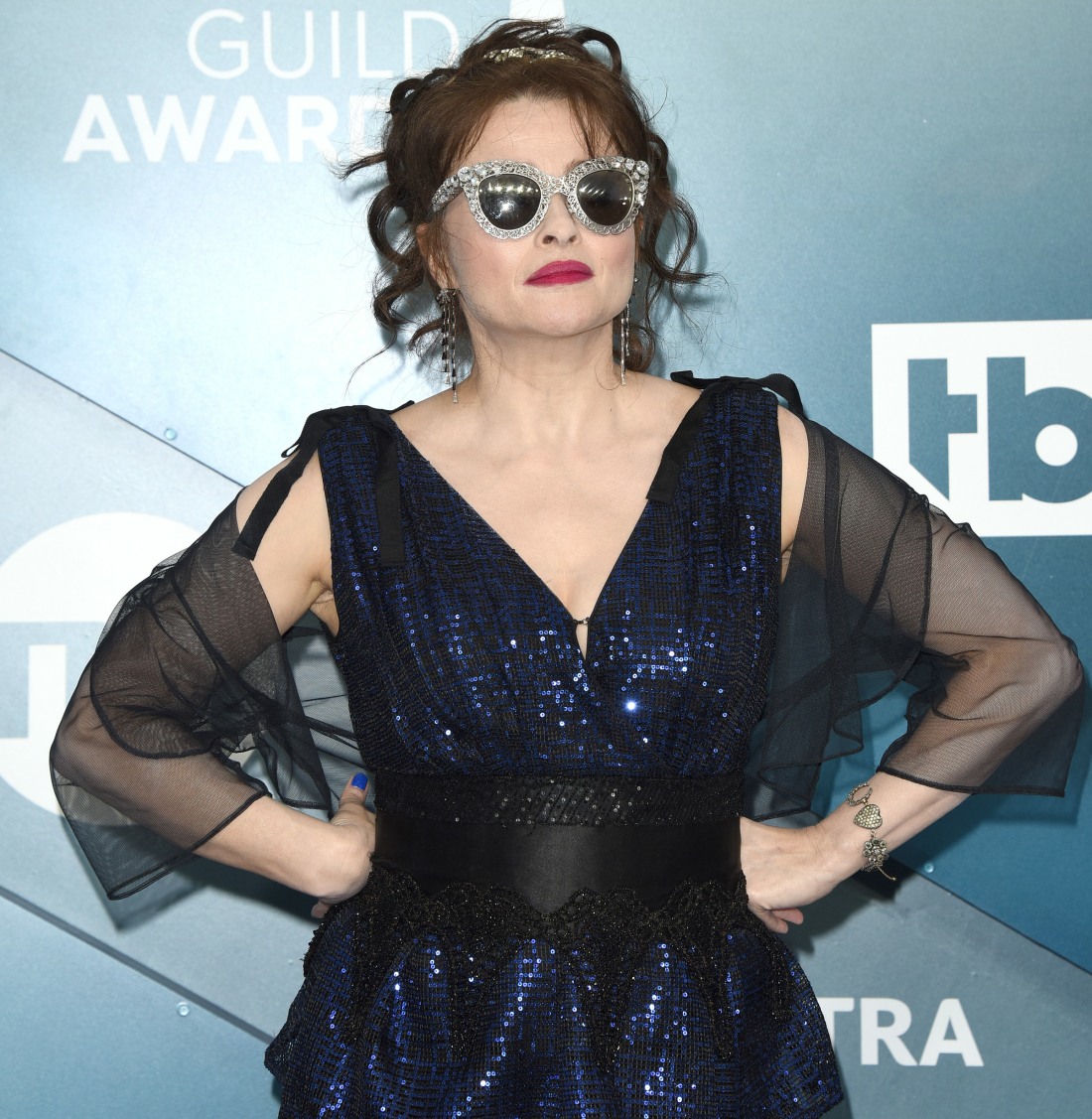 Helena Bonham Carter had a recent interview in the Guardian to promote her work as Princess Margaret in The Crown's Season 4. Margaret's story is somewhat marginalized in this part of royal history – she's boozy and blousy and her marriage is in tatters and on and on. But HBC really fits that role, doesn't she? That sort of worn-out aristocratic life-in-tatters. Helena is actually quite different than that though – she seems very upbeat, chatty and generally optimistic about life. In this interview, she mostly talks about her personal life, her divorce from Tim Burton, her coworkers and stuff like that. It's very interesting – you can read the full piece here.
On her wacky fashion: "I love dressing up and creating myself, as it were, according to the day and the mood. But it's an illusion, because then the Daily Mail photographs you, and you see it and think, that wasn't what I meant at all… I promise you, even when I think I'm being normal, somehow it comes out wrong. It really does! I later see the photos and think, what was I thinking?"

On her children, who are 16 & 12: "Ah, children. It does get easier, I promise. But until then, work is the holiday." Her children with Burton, Billy and Nell, are 16 and 12. "There suddenly came a point when they could look after each other, and it was like magic."

She loves costume dramas because of the clothes: "Put it this way, when I see it all afterwards I think, 'Why did I do that? I look exactly the same as I've done before [in other period dramas], with mad curly hair.' But I do have a nostalgia for that time, and I love period dress. And the corset, as punishing as it is, if you know how to wear it, exhaling after they put it on, does sort out your posture. There's a lot to be said for it, really."

On Harvey Weinstein: "I never see anything in black and white. I believe people are multicoloured, they're almost never all good or all bad. Weinstein was a bully, full stop. But also, not full stop, really. He was a bully, possible sociopath and fantastically effective producer of films," she says. Is she saying that, just as being famous doesn't excuse his crimes, so his crimes don't cancel out his work? "Yes, exactly. It's not about excusing him, but seeing the whole picture to understand him."

Whether she's surprised at Johnny Depp's dramas: "Oh, totally. There's something quite old-fashioned about Johnny, with these manners – none of it makes sense. But the man's not stupid. He wouldn't have gone to this length if he thought he was in the wrong."

Being married to a power player: "For years people have chosen to sleep with powerful people, and that's their prerogative. After all, I got two children out of it…Although, I never got a free ride with Tim because I was sleeping with him. I was always auditioning. And I gave him two kids and everything!"

Splitting from Tim Burton: "It's taken us some time to adjust, but I think it's really very good now. And the kids are fine, they get to have a dual life. At first it's a horrible thing to get used to, not having your children around [when you share custody]. The cruelty of divorce is extraordinary. But then you get to a point where you're like, Oh, I get this week off! Some parts are very much to be recommended."

Why she & Burton split: "Oh, I can't talk about that… I have a responsibility to the children not to talk about it. As well as to Tim, I respect him. But I didn't leave, put it that way. Although I will say this in the positive sense: I do think there's a point where people fit for a certain time, sometimes, and if you can, you recognise that you've given what you can, and you're going to stop each other from evolving, and if you can afford it, well…"

On Kenneth Branagh: "Oh, Ken. I didn't really live with Ken. Did I work with Ken? I can't remember anything, although there's a reason the memory goes…Me and Ken was very different from me and Tim. You know, Ken avoided directing me once we were together because it can be complicated and I think he didn't want – anyway, that's all blood under the bridge," she says. By coincidence, or maybe not, when Thompson was asked about their affair in 2013 she also described it as "blood under the bridge".
From the way she talks about Tim throughout the interview, they're still very much in each other's lives on a daily basis. She doesn't even blink at one point when she takes a photo of her interviewer's dog to send to Tim. She sprinkles the conversation with references to him. I think she still very much adores him and perhaps if certain things had been different, she still could see herself married to him. I think he cheated and walked away, but they figured out a way to coparent and all of that. And I chuckled at "I do think there's a point where people fit for a certain time, sometimes, and if you can, you recognise that you've given what you can, and you're going to stop each other from evolving, and if you can afford it, well…" The "if you can afford it" is so posh, I screamed!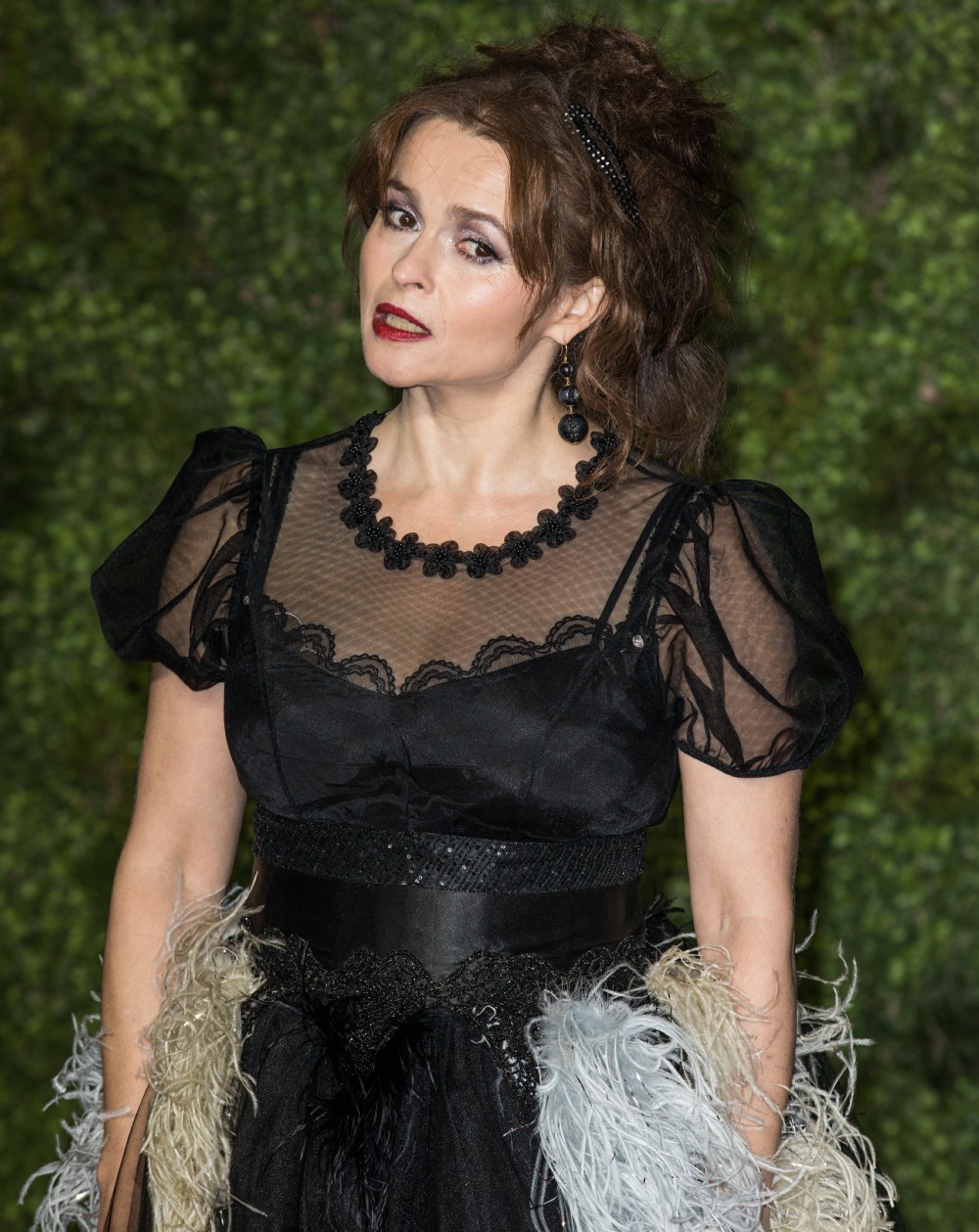 Photos courtesy of WENN.