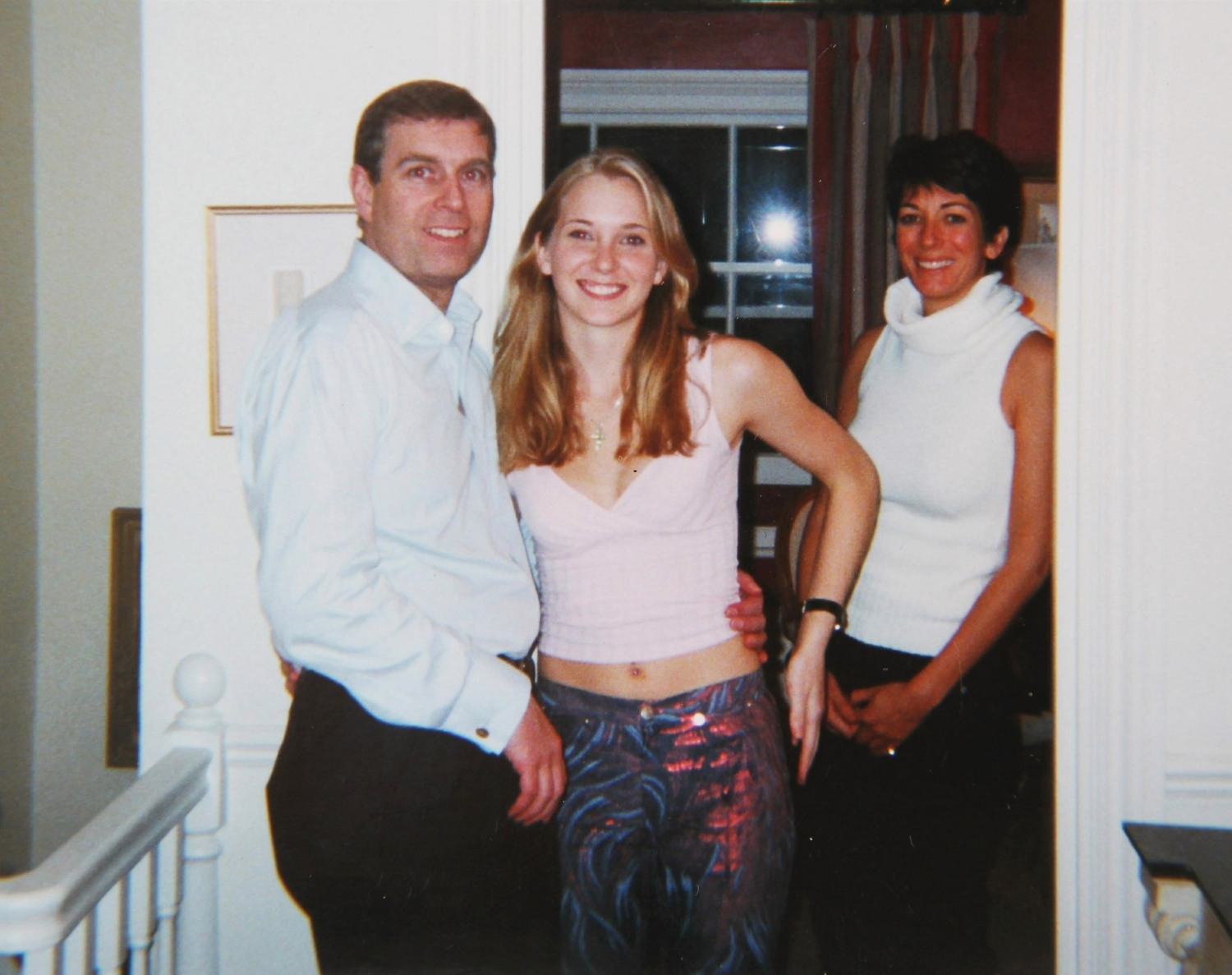 A few days ago, I wondered why so many British media outlets were making a big deal about Princess Eugenie's due date. We've known for months that she was due in late January/early February, and that was confirmed, yet again, by Hello Mag and the Daily Mail: Eugenie is officially due in mid-February. It's her first kid and I bet she'll be overdue though! Anyway, I've come to the conclusion that the renewed interest in Eugenie's due date was a massive deflection from this complicated story about Prince Andrew and his ex-wife, Sarah Ferguson. As you may remember, Andrew has tried to play the "I don't know her" game with Virginia Roberts Giuffre, who has said that Andrew raped her when she was trafficked to him by Jeffrey Epstein and Ghislaine Maxwell. Andrew claims that the photo of himself, Virginia and Ghislaine is somehow a product of Photoshop. No one bought Andrew's explanation. So it looks like Andrew and Fergie arranged to have an online troll attack the validity of Virginia's story and the photo.
Prince Andrew has always strenuously denied all the allegations against him made by Virginia Roberts Giuffre, a woman who claims she was forced to have sex with the royal while being kept as a teenage 'sex slave' for his former friend, the late paedophile Jeffrey Epstein. The Duke of York maintains that he has no recollection of ever having met Giuffre, née Roberts; a claim that has become a point of contention, with Giuffre citing a photo she has of herself and the Prince at Ghislaine Maxwell's London home in 2001. Now, reports have emerged alleging that aides to the Yorks have been in touch with a woman who's accused Giuffre of doctoring the image.

According to the Mail on Sunday, the royal's advisers contacted Molly Skye Brown, who they hoped may have proof that the photo in question (in which Andrew apparently has his arm around a young Giuffre) was manipulated. Experts have largely stated that there's no clear evidence suggesting the image was manipulated.

Brown, 42, alleges that Epstein's former girlfriend, Ghislaine Maxwell, sought to recruit her as a masseuse when she was 14. Maxwell is currently being held on remand in a Brooklyn jail, while awaiting trial for charges relating to her alleged complicity in Epstein's crimes, including the sex-trafficking of underage girls. Maxwell has denied any wrongdoing.

The incident with Brown is said to have taken place at a children's gym in Palm Beach, Florida, near where Epstein had one of his properties. Brown has made online criticisms of Giuffre in recent months, accusing her of being an 'enabler'. Giuffre (who claims that she was made to have sex with Andrew three times in 2001 and 2002, with the first taking place when she was 17) has since blocked Brown on Twitter, calling her comments 'widespread lies'.

Antonia Marshall, part of Business Development for the Yorks, allegedly wrote an email to Brown last month seeking a conversation. It reportedly stated: 'Hi Molly… I wondered if you had time at some point for a quick chat re your tweet about the photo of the Duke being edited/doctored. Thank you so much for your online support!'

Marshall reportedly suggested a meeting with her boss, adding that she could pass on well wishes to the Queen, 'as we are all one big family and see each other all the time'. Brown said that she had provided 'some evidence the photo was doctored' but turned down the request for further help, adding that the FBI had been informed of details of the exchanges. Marshall and Brown were in touch via WhatsApp messages and email, before reportedly talking on the phone, during a conversation in which Brown restated her allegations about the image.

Neither adviser commented on the allegations, but the Mail on Sunday cited an unnamed source close to the Prince as stating: 'The exchange with Ms Brown was not out of the ordinary. It would be very easy to over-interpret the subsequent conversations. The plain fact of the matter is none of this went further than an initial discussion.'
Wow, that "unnamed source close to the Prince" isn't even denying that contact was made, which means that this story is probably a lot worse than what's even being reported. To be clear – because this is stupidly confusing – Molly Skye Brown was already attacking Virginia Roberts Giuffre and questioning the validity of Virginia's story. Brown was also questioning the photo of Virginia and Prince Andrew before Andrew's office got in touch. But the fact that Andrew and Fergie got in touch says a lot, and this sh-t is recent too. Most people wrote off Andrew and rejected all of his asinine "explanations" for his Epstein association. But Andrew and Fergie are still sitting around, plotting half-assed comebacks and contacting internet trolls to help them "prove" that Andrew isn't a pervert and a rapist.
Photos courtesy of Backgrid, Avalon Red, social media.