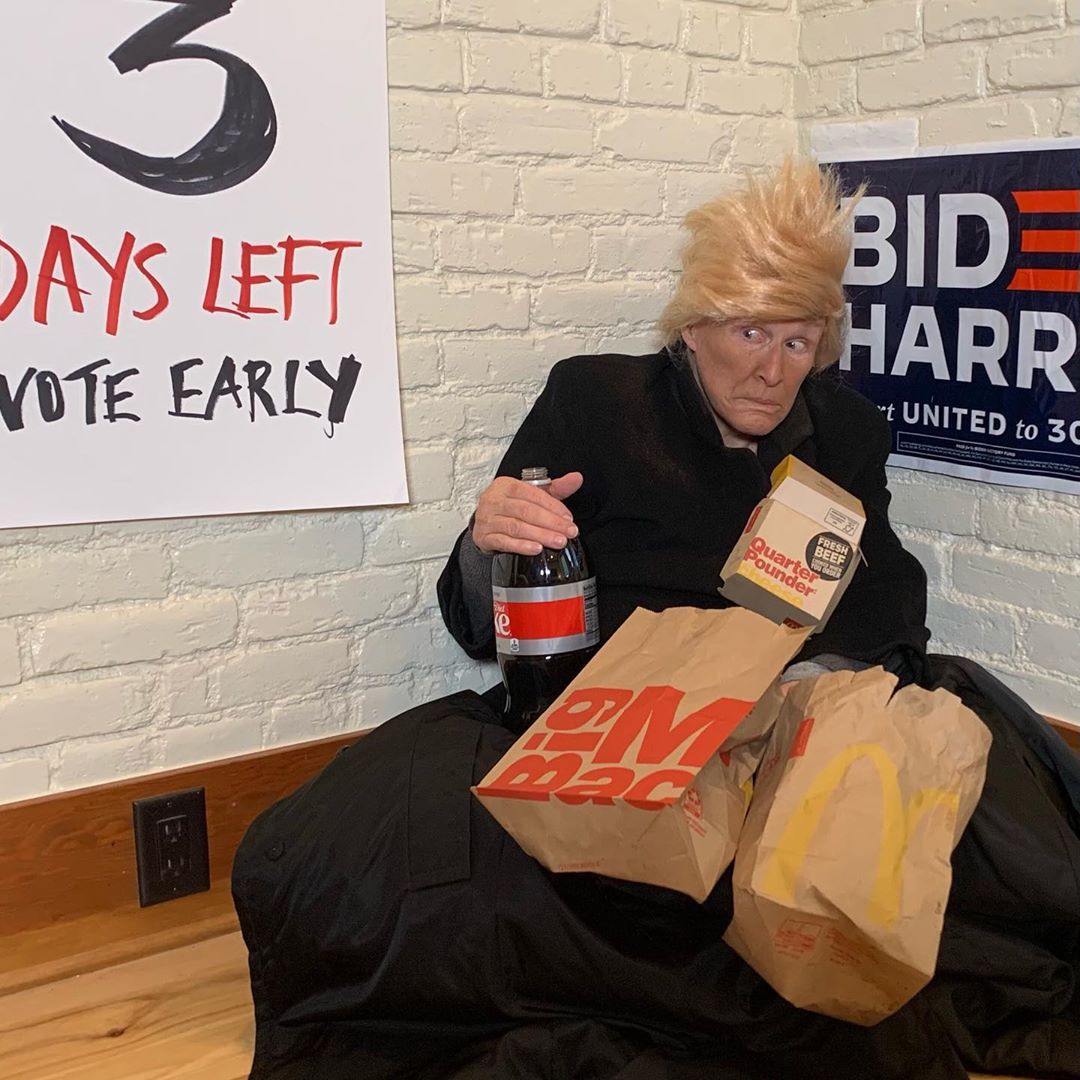 Halloween is my favorite holiday. It involves my two favorite things, candy and costumes. This year I got zero trick or treaters partly because I moved outside town, but also of course due to Halloween being canceled. My son gave out candy, masked, to kids outside at an event at his school. I had two Halloween events over Zoom, a party where we had amazing gossip trivia, and a murder mystery event. So I got to do some events, even if they were much different than usual. I missed seeing kids dressed up and it felt like a waste of Halloween on a Saturday, but I just checked and it falls on Sunday next year! That's something to look forward to. Here are some celebrity Halloween costumes, shared over social media. I'm only talking about my favorites and am skipping the people phoning it in. You know what I mean, the ones dressed up as cute bees or cats. Thanks to People for compiling most of these.

Glenn Close did Trump binging McDonalds and Diet Coke. This wins for me because of her facial expressions. I also like how she's telegraphing him losing and freaking out.

Lizzo was the fly on Mike Pence's head and this cracked me up so much. It's dumb but so funny. This is better than an SNL skit.

The Weeknd's Nutty Professor is amazing! I absolutely love this. He must have had a whole team.

Sarah Michelle Gellar did Effie Trinket. This is a great costume too because you know immediately who she is.

Lil Nas X cosplayed Nicki Minaj!

Ciara was Nicki Minaj too! She also did Megan Thee Stallion, Cardi B and Janet Jackson just this year and Russell Wilson was Busta Rhymes. Last year they were Beyonce and Jay-Z.

Saweetie recreated the 2002 Bootylicious single cover from Destiny's Child! I like how she acknowledged her team.

Bella Hadid had pop art makeup and her caption has a whole weird backstory about trapping you in an art piece. My friend Ameerah did pop art makeup too. This is pretty inventive and it's a look that's especially good for video chatting because you can see it on camera.

January Jones was Miss Hannigan from Annie. This is so on brand for her.

Celine Dion was Nanny McPhee! Love an ugly Halloween look.

Speaking of that, Jennifer Garner did the old lady emoji and she turned it into a sponcon for Neutrogena! Respect.

Courteney Cox made fun of her Scream bangs.

Gabrielle Union, Dwayne Wade and their family were s'mores components. This is adorable.

Neil Patrick Harris and his family did Willy Wonka and the Chocolate Factory. I bet they hired someone to Photoshop this perfectly for them. The photoshoot must have taken about an hour to get those poses right too.
Hope you had a good Halloween and ate all the best candy! Fingers crossed that we'll have a normal-ish Halloween next year – on Sunday!