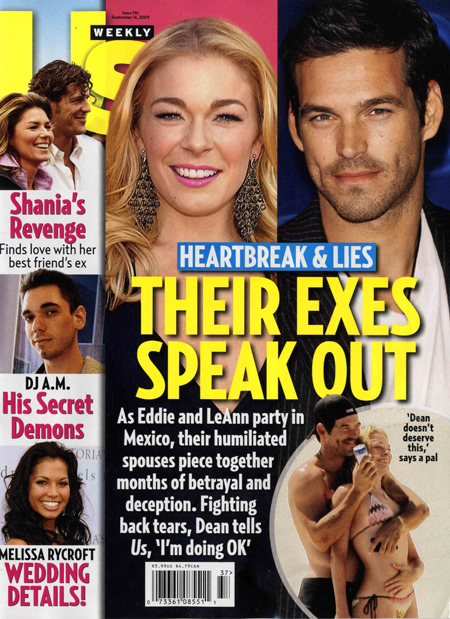 Yesterday, we had some early coverage on Us Weekly's cover story this week, which is about LeAnn Rimes and Eddie Cibrian, and how their exes are "speaking out". Unfortunately, the online version of the story does not have some of Brandi Glanville's patented hilarious, bitchy comments. It's just a story about how Brandi and Dean Sheremt are becoming friends, "supporting each other" and how they've slowly been putting the pieces together of their spouses' infidelities. Dean is quoted as saying the situation he's in is "bizarre" and "surreal" – but I think that interview was done before LeAnn filed for divorce yesterday.
As LeAnn Rimes and Eddie Cibrian began going public with their relationship in August, her ex Dean Sheremet quietly reached out to Cibrian's ex Brandi Glanville, Us Weekly reports in its latest issue (on newsstands now).

"They have been supporting each other," an insider says of the pair, who first met last fall while visiting their spouses on the Calgary, Alberta, set of the Lifetime romance Northern Light.

At the time, they didn't know an affair had begun. Now, the source tells Us Weekly, "They've put the pieces together about the last few months, and they're developing a good friendship through this."

Adds a Sheremet pal, "They're the ones who understand what the other is feeling."

How is Sheremet 28, feeling?

Pals tell Us Weekly he's struggling. On Tuesday, Rimes announced on her website that she and Sheremet are divorcing — days after taking a PDA-packed vacation with Cibrian, 36, to Cabo San Lucas, Mexico, to celebrate her 27th birthday.

Asked how it feels to see his ex with Cibrian, Sheremet fought back tears before telling Us Weekly: "I don't really know what to say. It's bizarre. It's surreal. But I'm doing OK."

For more on Rimes and Cibrian – including how Cibrian skipped his kids' first day of school to vacation with Rimes, how Rimes lied to Dean "the whole time" about her relationship with Cibrian and how she secretly likes all "the attention" — pick up the new issue of Us Weekly today!
[From Us Weekly]
It will be interesting to read the full text of this story, because I'm really curious to see if Dean has more to say. My thoughts were always that Dean was going to keep his mouth shut and hope for a generous settlement from LeAnn – she's already buying him off with a new apartment and life in New York, and I'm sure she's not so big of a bitch as to try to cut him off in the divorce proceedings. But if Dean goes out there and tries to play the victim, the sad, cuckolded (totally heterosexual) husband, it could be war. Now, Brandi Glanville is another story. She's been giving interviews all over the place, and I'm sure she's going to try to get everything she can out of Eddie and his future earnings… as she should.