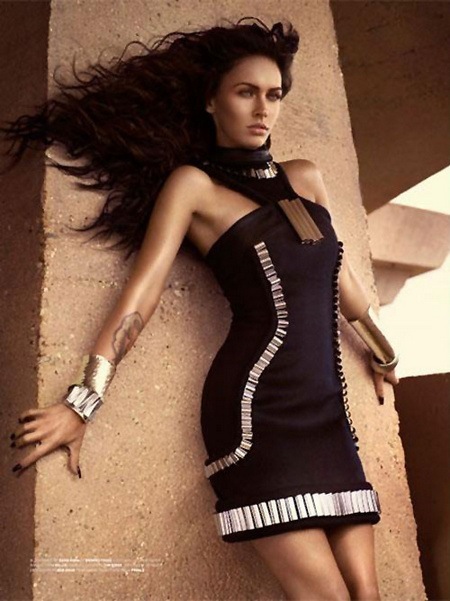 Alright, there's a lot of information to cover, just because there seems to be something going on between Megan Fox and her Transformers director Michael Bay. "Something" being "an endless war of attrition between two brats". Back when Megan Fox was on her neverending publicity tour for Transformers: Revenge of the Fallen, Megan gave an interview to Entertainment Weekly. In it, she was asked about the possibility of a third film for the franchise, to which Megan replied: "Sure. I mean, I can't sh-t on this movie because it did give me a career and open all these doors for me. But I don't want to blow smoke up people's ass. People are well aware that this is not a movie about acting. And once you realize that, it becomes almost fun because you can be in the moment and go, 'All right, I know that when he calls Action! I'm either going to be running or screaming, or both.'"
After that snottiness (I liken it to sh-tting on the hand that feeds her), Michael Bay got a question about Megan's criticisms while being interviewed by the Wall Street Journal. Michael replied: "Well, that's Megan Fox for you. She says some very ridiculous things because she's 23 years old and she still has a lot of growing to do. You roll your eyes when you see statements like that and think, "Okay Megan, you can do whatever you want. I got it." But I 100% disagree with her… Nobody in the world knew about Megan Fox until I found her and put her in Transformers. I like to think that I've had some luck in building actors' careers with my films."
Megan's next move? Revealing a story about how she was cast in Transformers – she told a British newspaper that Michael Bay had her come over to his house and he "made her wash his Ferrari while he filmed her." Megan also told the journalist that she didn't know what happened to that footage. Michael Bay had to publicly admit he had no idea where the footage went either (yeah, right).
So the new battle in the Fox v. Bay war is Megan's new interview in Wonderland Magazine. This is the same interview where Megan claimed she was "schizophrenic" – and now the Wonderland site has released more of the interview. Megan was asked about Michael Bay and she uses these words to describe him: Napoleon, Hitler, insane, nightmare, awkward, fragile and tyrant. Oh, God.
We are stuck in a trailer with the many people who are involved in producing the shoot (stylists, publicist, assistants, etc.) but we take over one side of the trailer and they stay out of our way.

Megan, who doesn't take off her sunglasses for the entire interview, picks up a copy of Interview Magazine. One with a dewy cover photograph of Zac Efron, an individual she likes to make fun of, she says, with some regularity.

Megan Fox: "He's beautiful. He's the next Elizabeth Taylor. I'm just kidding. I just like to make fun of him. I know Zac. He knows that I make fun of him out of love. Everything I say in interviews I say to his face in person. I try it on him and get his reaction and then I say it publicly.

Marshall Heyman: So you've told him he's the male Elizabeth Taylor?
MF: I just came up with that, but I'll tell him that in the future. This picture made me think of it. It was like White Diamonds.

[Megan speaks nasally, like she has a chronic sinus infection. Her statements are often spoken in the form of a question. They tend to lilt upwards.]

MH: I'm going to start with some questions my brother has for you. The first one: what are your most favourite and least favourite things about working with Michael Bay?
MF: God, I really wish I could go loose on this one. He's like Napoleon and he wants to create this insane, infamous mad-man reputation. He wants to be like Hitler on his sets, and he is. So he's a nightmare to work for but when you get him away from set, and he's not in director mode, I kind of really enjoy his personality because he's so awkward, so hopelessly awkward. He has no social skills at all. And it's endearing to watch him. He's vulnerable and fragile in real life and then on set he's a tyrant. Shia and I almost die when we make a Transformers movie. He has you do some really insane things that insurance would never let you do.

MH: So it's a big difference from your television series, Hope And Faith?
Megan laughs. The first of many big guffaws during our interview. It pleases me no end that I can make one of the hottest women in the world laugh. Repeatedly.
MF: It's a big difference from that.

MH: Is there anything about Hope And Faith that's the same?
MF: Other than there's always a tiny blonde around?

MH: Here's another one from Andrew. How did you feel about presenting with Michael Bay at the MTV Movie Awards?
MF: I hate being looked at. And when I'm on stage it's clear that I'm being stared at by everyone and that's my worst nightmare. My only goals when I go on stage are to not vomit, trip or have uncontrollable diarrhea. If I accomplish those three things, I don't care what else happens.

MH: Have you ever been in a situation when you vomit, trip or have uncontrollable diarrhea?
MF (Laughing): No but I get really paranoid that something horrible is going to happen.
[From Wonderland]
Why does this girl still have a career? Seriously, fanboys, her boobs aren't that awesome. And her personality is ridiculous. I have a honest-to-God question for all of the people who like Megan… doesn't her stupidity and asinine behavior just destroy whatever fantasy you have about this girl?
Thanks to CoverAwards for these photos