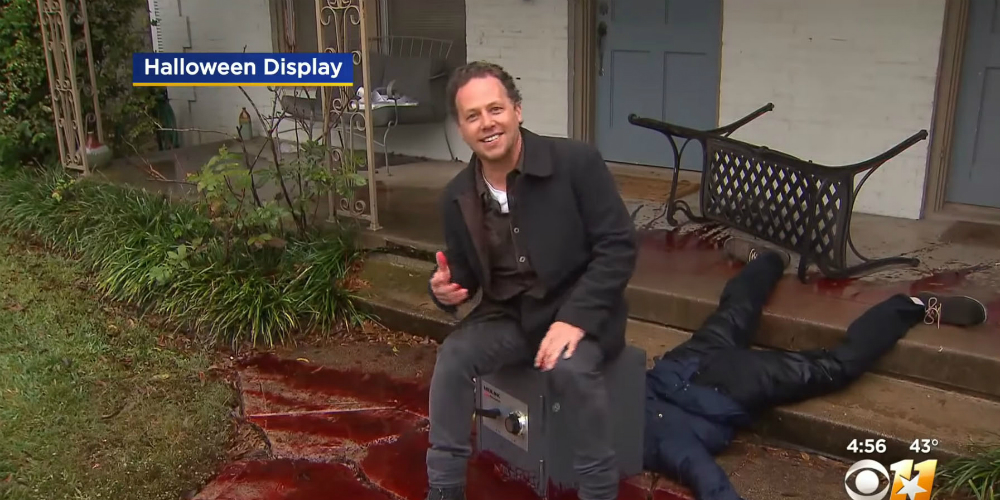 How was everyone's Halloween? I know, it feels like a lifetime ago already, but I haven't had a chance to ask you yet. We at Hecate Temple ended up having a great time. It was just our family but because we had no guests this year, it allowed us to have a proper Ancestors Feast, We ate, lit the altar candles, had a nice fire in the hearth and played old, scary radio shows on vinyl. Plus, our socially distant spider web with candy and non-food treats that we hung outside proved popular and was far enough away that I could walk on my front step and wave to the trick-or-treaters selecting from it. Many of them roamed around our front lawn looking at the various spooky décor we'd set up for them to enjoy. No one, however, ran screaming or called the cops on us like they did on Steven Novak in Dallas, Texas. Steve went full slasher on his Halloween front yard look this year. Too far, some thought. He created a rather gory scene with body bags, a great deal of blood and body parts and enough realism to make concerned citizens act on their civic duties. Just a warning, I will post some of Steve's IG videos at the bottom, in case that kind of thing gives you the willies.
Local artist Steven Novak finds himself comfortably at the "horrifying" end of the scale, as his East Dallas neighbors and the Dallas Police Department will surely attest.
"I've always been up to hijinks like flying ghosts or 7-foot tall snow sculptures of myself, so if I was gonna do Halloween, it was obvious that it should be hyperreal," Novak says. "No lights, fog machine, or camp … something that would really freak people out walking by in the dark. So I whipped up some dummies and slung 20 gallons of blood all over."

"I'm most proud of the wheelbarrow tipped over by the street full of Hefty bags, looking like a failed attempt to dispose of the dismembered bodies in the middle of the night." Novak says. "A kid walked by and asked me what happened to them; I said they ate too many Skittles."

Novak's decorations have brought the police to his house multiple times.

"Neighbors told me cop cars were in front of my house a lot during the day," he says. "I was only home twice to receive them. They told me they thought it was cool and that they were only there because they were required to reply to complaints from the sergeant."

Novak continues, while laughing, "They were in formation at the door and when I opened it they asked me if it was all mine. I asked, 'You mean the blood and the bodies? Yeah, that's me."
This reminds me of a story we had here in California of a couple who did Pirates of the Caribbean themed décor so realistic, they had to alert the fire department when they turned them on so they didn't respond to the called in reports. In the news clip, posted below, though, Steve said he suspected it was his neighbor across the street who called the cops because she simply didn't care for the decorations. I think he might be right because although, yes, there is gobs of blood, the bodies are very clearly fake, nobody would mistake this for a real crime scene. He said his neighbors get that too. When he comes out to replenish the blood, his neighbors walking by ask him if he's "watering the bodies" so everyone's having fun with it. Or at least almost everyone is having fun with it.
Steve also said he'd intended to do more and that next year he would really go all out. What do you guys think, is this too much? This is right on the street, for all to see, even very young kids. I have mentioned before I used to live in a very Halloween production rich neighborhood, like FX designers' homes production. It got competitive among them and some of those homes got really scary, but none this graphic. We always saw it as our responsibility to steer our kids away from those houses that would scare them. Although this one is kind of unavoidable, maybe? In the end, Steve himself dressed up as Beetlejuice. His costume was great, and he does a good impression, but what's the theme here – zombies in the house, a fallen safe on the front step, a chainsaw massacre, a body bag – points for dedication but where's the continuity, man?
Here is the clip in which Steve is interviewed and claimed he "doesn't like Halloween but I like gore." I'm having a hard time believing he doesn't like Halloween a little bit: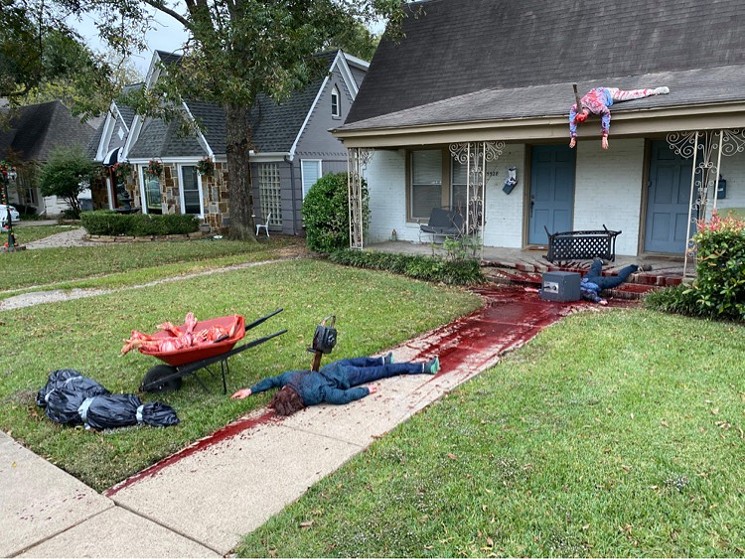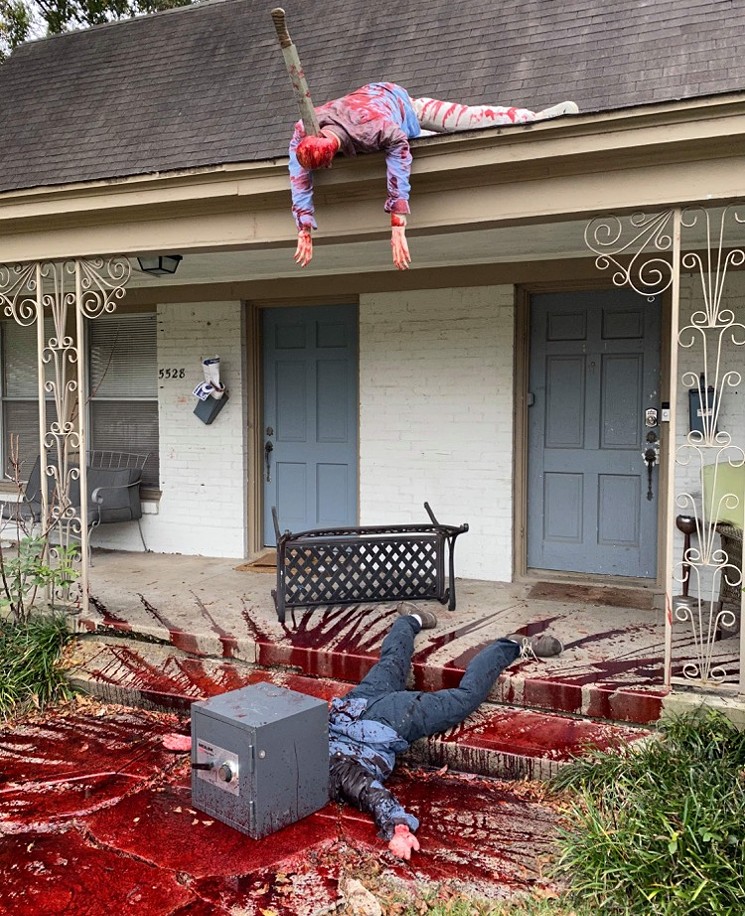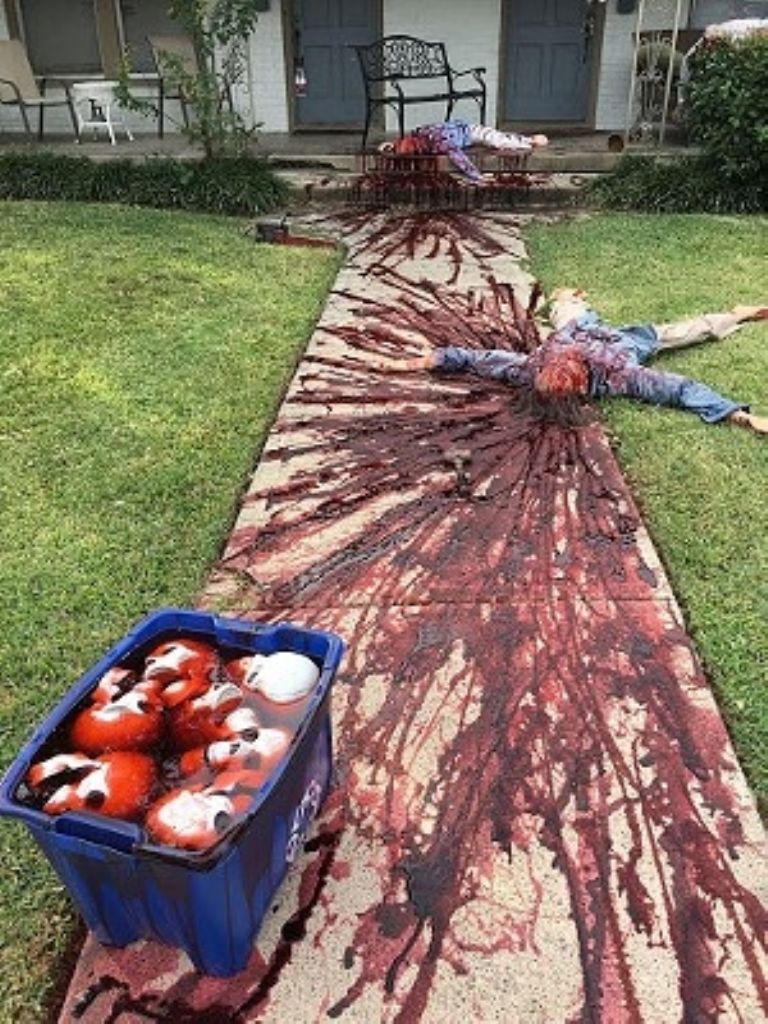 Photo credit: CBS, Instagram and YouTube