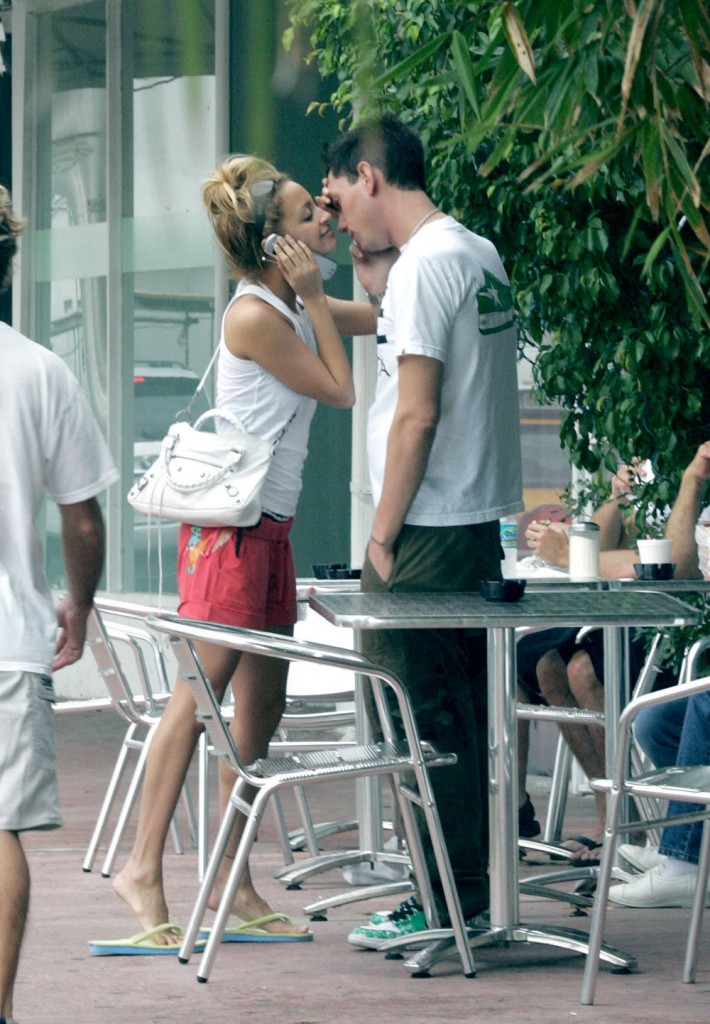 Nicole Richie's second baby is due any day now, and her family and friends are worried that her health has taken a serious blow. Nicole was left devastated by her ex-boyfriend Adam Goldstein/DJ AM's death on Friday. Star Magazine claims that Nicole "almost collapsed in grief" when she was told the news, and that she "felt like her heart stopped for a few minutes." According to Star's sources, Nic's doctor made a house call to check on her, that's how fearful people were about her health. Star also claims (I think accurately) and Nicole and Adam had shared a joint commitment to beat their addiction while together, and that Nic is devastated at the thought that she didn't do enough to "reach out" to him.
The National Enquirer has a much more hardcore version of this story too – but they're making it about how Joel Madden and Nicole got into some huge fight about Adam. They claim Joel interrogated Nic about whether she was still in love with Adam, and that Nicole was so distraught she almost went into premature labor:
Ex-love Nicole Richie crushed by death and autopsy results which suggest suicide.

Pregnant Nicole Richie was devastated after her ex-fiance DJ AM's sudden death, and her meltdown caused a huge blowup between her and current fiance Joel Madden.

The former Simple Life star took the news of his death so hard that her pals feared she was going into premature labor. The body of DJ AM – aka Adam Goldstein – was found in his pricey SoHo loft apartment on Aug. 28.

The two dated for two years before splitting up in 2006 and remained friends. But her emotional reaction after he died made Joel wonder if Nicole had been hiding deep feelings for Adam, said a source.

"It ended up in a big fight, with Joel demanding, 'Were you still in love with him?'

"Nicole was angry that Joel would even ask that – during her time of grief – AND when she was so close to giving birth!"

Nicole, who has a 19-month-old daughter, Harlow with Joel, was more than eight months into her second pregnancy when she learned the tragic news.

"She broke down, cried uncontrollably and thought that she was having contractions," said the source. "She was devastated to think that Adam's life came to such a terrible end after his years struggling to stay sober.

"She was crushed."

Police at the scene of Adam's death found a half-empty bag of crack and a glass crack pipe near his body. They also found more than a dozen bottles of prescription medicine including the anti-anxiety drug Xanax and the painkiller Vicodin in the kitchen. Undigested Oxycontin pills were found in his stomach and a still undissolved tab lingered in his mouth, the autopsy reported, suggesting suicide from painkillers OD.

A former crack addict, Adam appeared to have turned his life around and claimed to have been sober for more than a decade. His close pals now blame his deadly relapse on the pain medication he was prescribed after being injured in a plane crash with Blink-182 drummer Travis Barker last September.

Despite being badly hurt, sources say Adam was able to pull a severely burned Travis from the wreckage. The remaining four people aboard the plane perished.

"It appears he was having a real tough time dealing with the physical pain and stress from the crash and got addicted to the painkillers he was on," a police source told The ENQUIRER.

Learning that Adam died of an apparent overdose made his death even more painful for Nicole. A former drug user herself, she has been clean for more than two years – thanks to the love and support of Joel. Nicole's publicist denied that Goldstein's death caused any problems between her and Joel.
[From the National Enquirer]
Well… my guess is that Nicole was probably very distraught with Adam's death, and I think there could be a possibility Joel Madden wondered to himself whether Nicole still had feelings for Adam. But I don't see them getting into some kind of screaming fight about it. I sometimes think Joel gives off a whiff of douche, but I don't see him as the kind of guy who, when hearing about a tragic death of someone the pregnant mother of his children once loved, would get into a huge, narcissistic fight making it all about him.
Nicole Richie is shown at the launch of her maternity clothing line for Pea in a Pod, "Nicole," on 8/6/09. She's also shown out with AM in file photos taken in 2004 and 2005. Credit: Fame Pictures