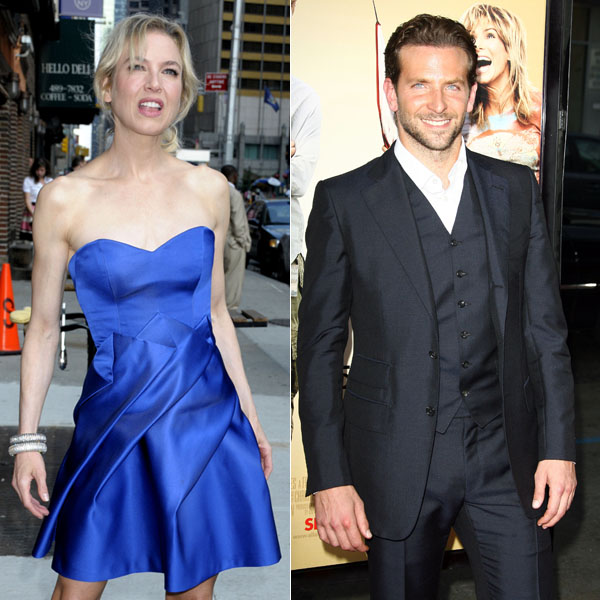 Star Magazine has never been the paragon of truth. But there are parts of this story that I totally buy. It's about how fast Bradley Cooper and Renee Zellweger are moving since getting together back in June. After unequivocally quashing rumors of a Jennifer Aniston romance, Bradley and Renee seem to have been enjoying a pretty low-key summer fling. Sources rushed to the tabloids to tell the world that Bradley "likes the speed of everything. He likes that Reneé is low-key." Bradley and Renee "just clicked" but they are not "ready for red carpets. They don't want to be public just yet."
Now Star is reporting that Renee and Bradley have already "moved in" together – except, not so much. The story is that Renee stays with Bradley in his place in Venice Beach when they're both in town and that Bradley gave her a bathroom – with a toothbrush! In my book, that's not really moving in. Until you change the closet situation and you actually have boxes of crap laying around, you're not "moved in". But anyway:
That was fast! They've only been dating since the end of June but Renée Zellweger and hunky Bradley Cooper are already moving in together!

"Renee and Bradley have both been traveling a lot lately promoting their movies, but when he finally gets to go home to L.A., she'll live with him at his place in Venice Beach," an insider tells Star.

"Bradley set up a bathroom in the house that Renée can call her own. It's stocked with her favorite candles, perfumes and makeup — even pajamas and an electric toothbrush."

The couple, who co-star in the upcoming Case 39, went public with their romance during dinner at Antonucci's in NYC on June 30. Renée also accompanied Bradley on a press trip to Barcelona for The Hangover, and shared a romantic getaway at San Ysidro Ranch in Santa Barbara on August 28.

"They were all over each other," a source at the resort's Stonehouse restaurant tells Star. But until they move in to Bradley's West Coast pad, Renée will be joining her man in Vancouver, where he landed on August 31 to start filming The A-Team.

"She's putting everything on hold to solidify her relationship with him," says a source.
[From Star Magazine]
The last part is what I buy – I think Renee is totally prepared to put everything on hold to have Bradley as a boyfriend. While some might call that pathetic or terribly un-feminist, I just think that's where Renee is in her life. She's not working as much as she did in her thirties, so she has more time to put into a relationship. And I do think she actually cares for Bradley, and she knows that this relationship will probably help boost her image. I hope Bradley really cares for her – he really might, you know?
Renee Zellweger is shown on 8/20/09. Bradley Cooper is shown on 8/28/09. Credit: Girlie/Fame Pictures; Juan Rico/Fame Pictures