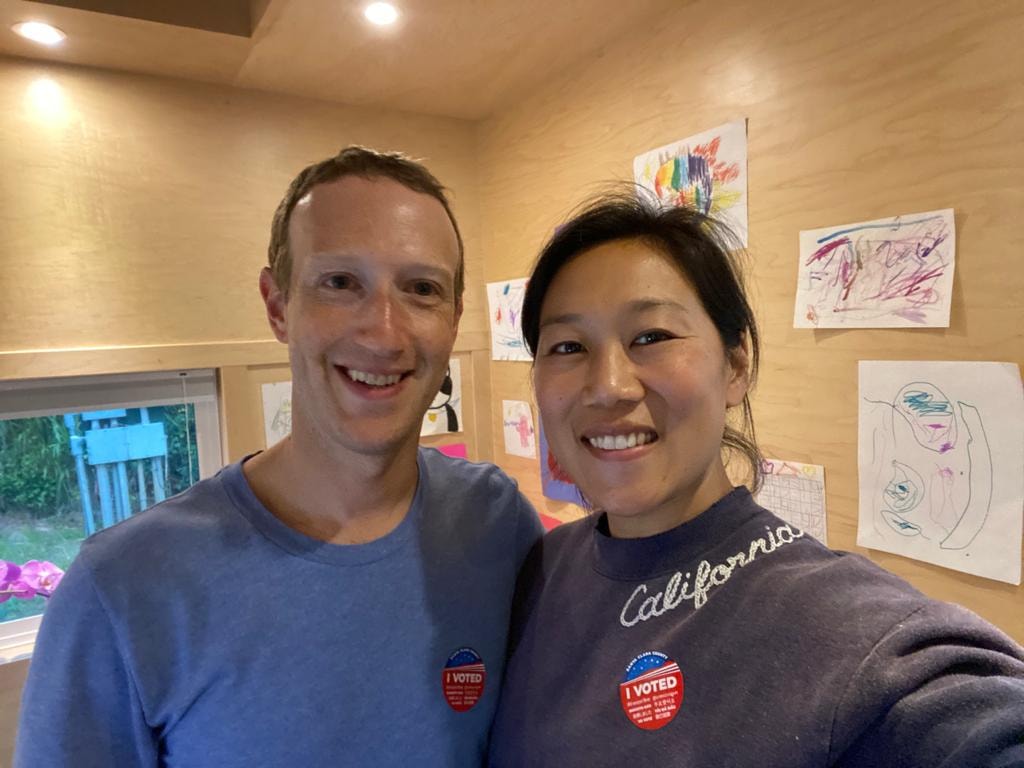 Fox News called the election for Biden on Saturday. They were deferential to Trump, according to reports, and were the last major news network to do it. I wasn't paying much attention to them but this clip went viral of one of their anchors getting caught on a hot mic disagreeing with a maga talking head saying that the race wasn't decided yet. Fox News also refused to air Kayleigh McEnany's full press conference repeating Trump's false claims of voter fraud. So there are maga people now refusing to watch Fox News, imagine that. There will likely be an even worse news network that steps in to fill that void sometime, which I don't want to think about (note by Kaiser: OANN, correct? It's OANN).
In the meantime, there's always Facebook, which has spread disinformation and hate more than Fox could ever dream of. Mark Zuckerberg has made some ineffective concessions to try to stop the spread of hate groups, but he's been mostly toothless against Trump and multiple employees have quit in disgust. Plus Facebook is still accepting ads claiming election fraud. It's notable then that Mark has not commented on the election results or congratulated Biden. (Facebook itself has Biden as the projected winner though.) Mark did make a post saying he voted on October 26, but his last post on the 29th was one defending Facebook's actions around the election.
Mark Zuckerberg has still not publicly acknowledged that Biden won the election.

— Christopher Wylie 🏳️‍🌈 (@chrisinsilico) November 10, 2020
Zuckerberg should have been replaced as Facebook CEO at least two years ago when it came out that he so egregiously mishandled the Cambridge Analytica data breach. (Christopher Wylie, who made the tweet above, is the former whistleblower at Cambridge Analytica.) Instead he's stayed on, made broken promises, and built enormous wealth off hate and white supremacy. Facebook exists to keep people on Facebook. They've helped prop up dictators, they've caused countless deaths and suffering, and they're responsible for inciting violence and hatred among a particular segment of the US population. I only hope that Democrats take control of the Senate and come up with a solution to regulate social networks. It's absolutely despicable that Facebook has been allowed to proliferate hate and false information unchecked. This should be Zuckerberg's legacy just like it will be Trump's.
One thing I can say for Facebook is that they came through on their policy to put a notification on any candidate trying "to declare victory before the final results are called." Trump made this post to Facebook right before 9am EST today, November 10, 2020. As of publication time Twitter is just letting Trump's recent idiocy stand.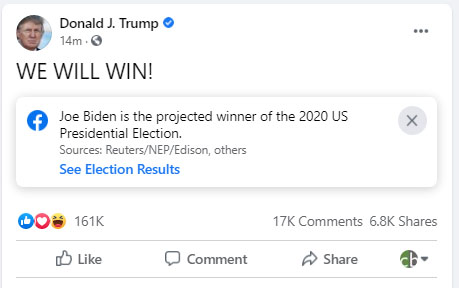 Also, Sacha Baron Cohen called out Zuckerberg. Cohen isn't my favorite person but I agree with him.
One down. One to go. pic.twitter.com/eQYi1pBqku

— Sacha Baron Cohen (@SachaBaronCohen) November 7, 2020