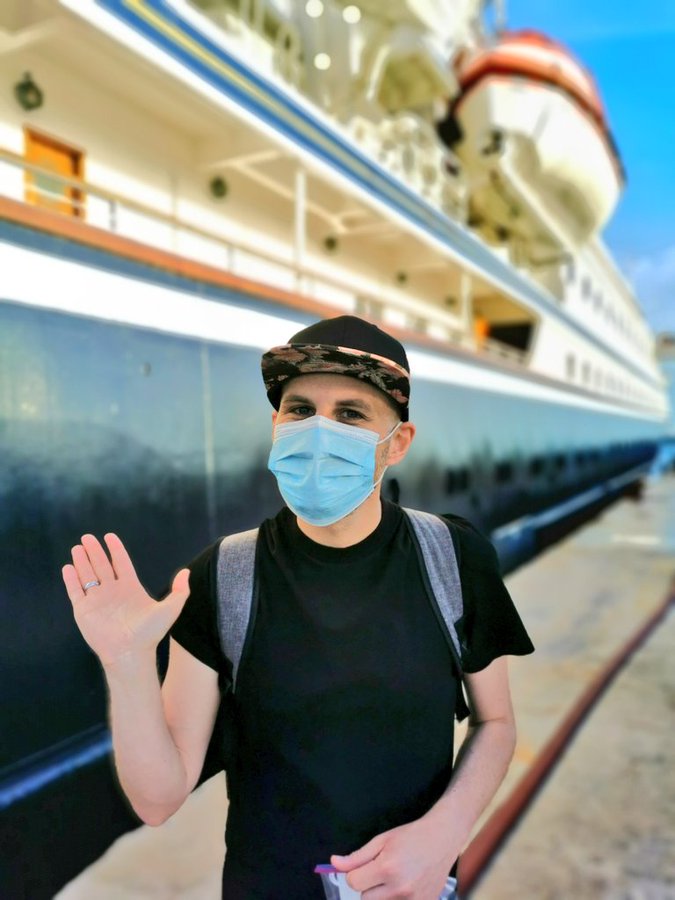 Early in the pandemic there were so many cruise ships stuck at port, unable to disembark due to rising numbers of coronavirus cases among the guests and crew. For weeks afterwards, crew members were practically abandoned on the ships, with no idea how or when they would get home. They recorded videos and spoke to news outlets begging to be let off so they could return to their families. That wasn't that long ago and the cruise industry is in no position to return at this stage in the pandemic, when cases are at an all time high. The CDC under Trump has given them the go-ahead for a phased return so of course they're trying. One of the first cruise to return to the Caribbean, where cruising is still allowed, had at least seven cases among a little over 50 passengers plus crew. We know the number because cruise enthusiasts on that ship Tweeted about it. The cruise company, SeaDream, has not revealed the number to the press. It was supposed to be a seven day cruise but it got cut short and the ship was returned to Barbados. People who tested negative were let off on Saturday.
Ben Hewitt and David McDonald are quarantining on board SeaDream Yacht Club's SeaDream I, a cruise ship that has had at least seven COVID-19 cases on board, according to an announcement from the ship's captain, and is currently docked in Barbados.

"We were surprised when we heard the news that the virus was on board," Hewitt told USA TODAY Friday, noting that passengers were required to have two negative COVID-19 tests prior to boarding and had their temperatures checked daily. The ship, they said, was also cleaned daily.

The ship was one of the first cruise ships to sail in Caribbean waters since the pandemic began and ended its trip early after multiple passengers tested positive for COVID-19, officials said Thursday.

USA TODAY has reached out to SeaDream for updates.

The married couple, who create YouTube videos about cruises and have nearly 70,000 subscribers on the video platform, have been providing updates on the situation via Twitter. They have been on the ship for about three weeks after embarking in Portsmouth, in the United Kingdom, they said.

"Now 7 cases onboard as a the other half of a couple who tested positive yesterday has also tested positive," they wrote on Twitter Friday. "Everyone else has tested negative Apparently all negative passengers will all be free to leave the ship and travel and fly home tomorrow."

Hewitt and McDonald have each had six tests since their journey began.

"Before boarding, we had one full PCR antigen lab test, then one using the ships abbot rapid testing machine," Hewitt explained. "Whilst on board we have also had one full PCR test in Portugal and two full PCR tests in Barbados as well as another rapid test on board the ship yesterday."

The SeaDream I was carrying 66 crew and more than 50 passengers, with the majority of passengers hailing from the U.S. according to Sue Bryant, who is aboard the ship and is a cruise editor for The Times and The Sunday Times in Britain.

Bryant told The Associated Press that one passenger became sick on Wednesday and forced the ship to turn back to Barbados, where it had departed from on Saturday.

"New passengers from the U.S. and Canada arrived on Saturday – the passengers who have the virus boarded that day," Hewitt told USA TODAY, noting those passengers boarded in Barbados. "They had to have at least two tests before boarding."
The couple interviewed by USA Today, who run the Cruise with Ben and David Twitter account, have since returned to England. They were on that ship for about three weeks, which left for a seven day cruise about a week ago. They seemed to have been taking back-to-back cruises without incident until now. As USA Today mentioned, the people boarding the last trip brought it onboard after having false negative tests. Ben and David defended the cruise company's preventative measures, but made it clear that masks were not required or enforced on board. Of course they weren't.
Meanwhile Democratic members of Congress are requesting that the CDC reinstate the "No Sail Order" for US waters that expired at the beginning of the month. You know how far that's going to get under this administration.
But do we still think masks should be worn? – yes we do, when social distancing is not possible – anything to prevent further transmission is vital is slowing down an outbreak. Were we lulled into a false sense of security because of all the tests – yes we were somewhat.

— Cruise with Ben & David (@CruiseWithBD) November 14, 2020
Read this tweet. Even after a covid outbreak people were still not wearing masks.
We had a quick walk around, it was lovely to grab a little sunshine but sad to see the ship so empty. It was slightly concerning to see a bunch of passengers congregating with no social distancing…you wouldn't have thought we had a #Covid outbreak on the ship or anything! 🙄 pic.twitter.com/6x9mVtRknq

— Cruise with Ben & David (@CruiseWithBD) November 13, 2020
Things SeaDream did to protect us:
- 2 x the tests that the CDC will require for cruise
- 3 state of the art rapid testing machines
- The 1st fogging machine on a ship
- Social Distancing
- Sanitizer stations everywhere
- Rigorous daily health checks & strenuous cleaning
& more.. pic.twitter.com/zjb5rgaecY

— Cruise with Ben & David (@CruiseWithBD) November 14, 2020
It's time to leave the SeaDream I after 26 nights onboard. It's a bittersweet moment after such s fantastic voyage on a wonderful ship until Covid hit. We thank the crew so much for trying to keep us safe. pic.twitter.com/V0hvI6GQaf

— Cruise with Ben & David (@CruiseWithBD) November 14, 2020