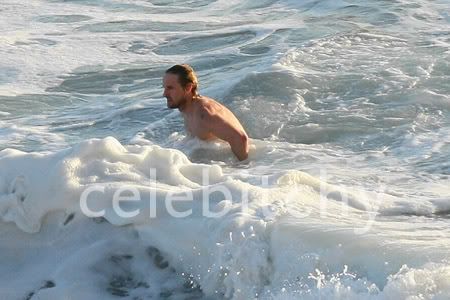 Owen Wilson seems to have changed his life after an unsuccessful suicide attempt. He's been seeking holistic and alternative therapies and has hired a sober companion to help him stay away from drugs and alcohol. Owen moved into a new home, and even took a healing journey to Arizona and The Grand Canyon in a spiritual quest for sobriety.
There may be a lot of positive changes for Owen recently, but he wants at least one thing back from his old life – his ex-girlfriend, dancer Caroline Cerisola. Owen has asked the 20-something Buenos Aires native to move into his new mansion with him. She is said to be a great influence on Owen, along with being an excellent cook:
Owen Wilson, 38, has asked twentysomething Carolina Cerisola, an ex-girlfriend who has been at his side since he was released from L.A.'s Cedars-Sinai Medical Center, to move into his recently completed Malibu mansion!

"Owen is back with the woman he never should have left," a friend of the actor tells Star. "The whole time he was with Carolina, he was sober and happy. I don't know what made him split from her, but I am glad they are back together…"

Carolina [is] a terrific cook who "buys all these organic foods and whips them into some gourmet wonders," adds the pal. "Owen is eating well these days!"

Owen first met the Buenos Aires beauty, who has been dancing at Hollywood's burlesque club 40 Deuce for the past year, in 2003. But the romance fizzled out by that December.
[From Star Magazine, print edition, October 29, 2007]
Owen's brothers Andrew and Luke approve of Carolina and are glad she's back in his life, according to Star.
The recovering actor took part in a lawn mower race near Austin, Texas last week. It was filmed for Willie Nelson's new music video "You Don't Think I'm Funny Anymore," and included appearances by Jessica Simpson, Dan Rather, Woody Harrelson, and Owen's brothers Luke and Andrew. Willie Nelson Fan site Still is Still Moving has photos of the event.
Owen is shown swimming on 9/23/07, thanks to Splash News.