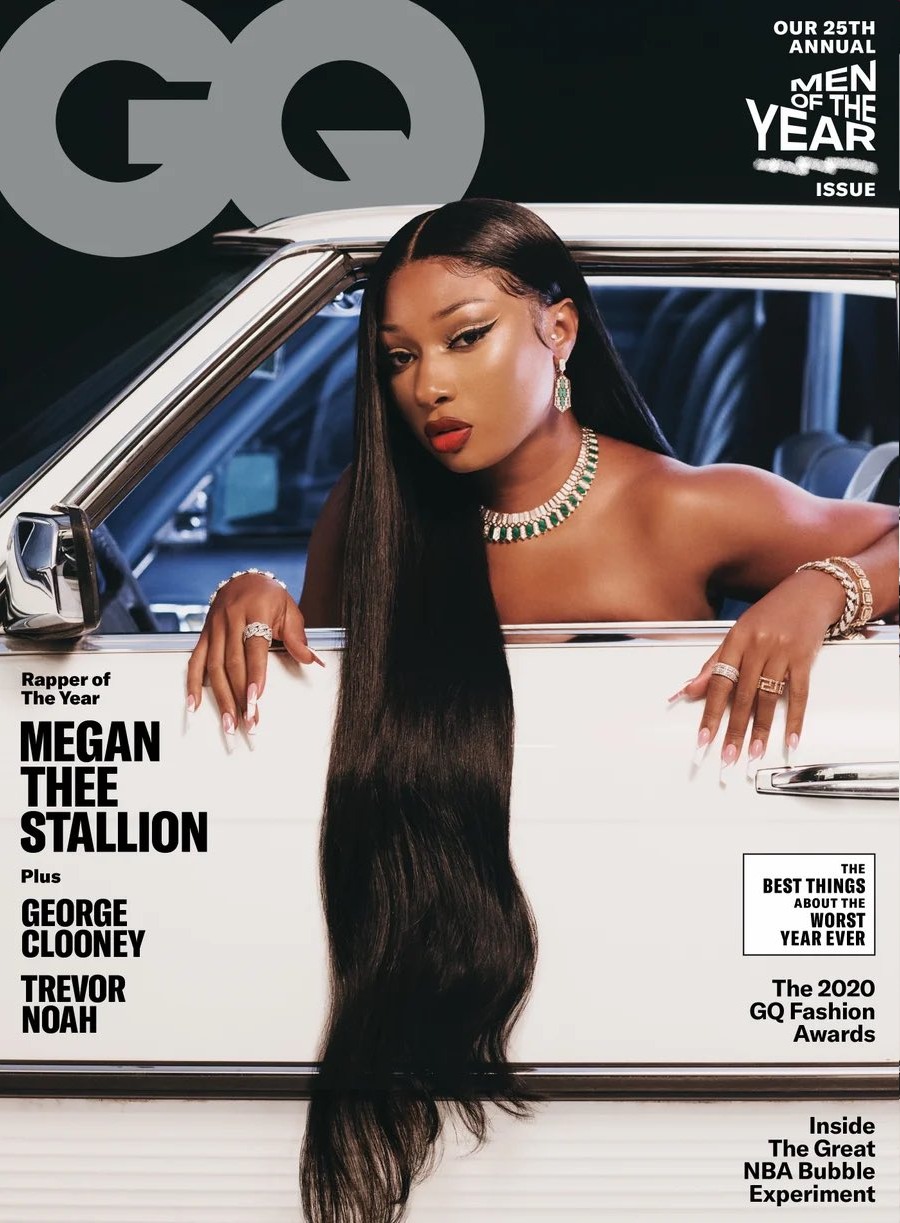 Megan Thee Stallion has been named GQ's Rapper of the Year, as part of their people-of-the-year series. They gave her a cover and a nice editorial and tons of space to talk about all of the sh-t she's been through this year, whether it was the success of "WAP," her career going into overdrive, her performance on SNL, and of course, Lory Lanez shooting her over the summer. GQ devoted a large chunk of their interview to that assault, and they basically give Megan the space to speak about it in her own way, in her own time (which is how it should be done). The full GQ piece is worth a read. Some highlights:
Tory shot her when she was trying to get out of the car: "Like, I never put my hands on nobody. I barely even said anything to the man who shot me when I was walking away. We were literally like five minutes away from the house." After he shot, she says, Lanez begged her not to say anything. She says he offered Megan and her friend money to stay quiet. "[At this point] I'm really scared. because this is like right in the middle of all the protesting. Police are just killing everybody for no reason, and I'm thinking, 'I can't believe you even think I want to take some money. Like, you just shot me.' "

She felt like she was expected to project strength throughout the ordeal. "Like damn. I have to be tough through all this? All the time? It was like, who really checks on us or who protected us? You just go your whole life with that mentality. And then when something actually happens to you, when you properly should have protected yourself, your first instinct was not to protect yourself, it was protecting other people.… So it was like, 'What do I do?' 'What do I say?' Like, 'Is anybody going to believe what I'm saying?' "

Her friends should have checked on her. "I saw something that said, 'Check on your strong friends.' And, like, a lot of people, they don't do that because they think, Oh, this person is just so strong, so I know they got their stuff together.… I feel like I have to be strong for everybody, and I don't want my friends or anybody around me to feel like it's a pressure on me, 'cause I feel like they all start freaking out."

On the conservative reaction to WAP: "I saw somebody…some Republican lady, you know how they be. Some goddamn Republican lady, like, 'This is a terrible example.' And I was like, 'Girl, you literally had to go to YouTube or to your Apple Music to go listen to this song in its entirety. How are you in your Republican world even finding your way over here to talk about this? You must not have noooo WAP if you're mad at this song.' Sometimes people are really not comfortable enough with themselves, and I don't think they like to watch other people be comfortable with themselves. And I don't think they want anybody to teach other people how to be comfortable with themselves."

On women's sexuality: "I feel like a lot of men just get scared when they see women teaching other women to own sex for themselves. Sex is something that it should be good on both ends, but a lot of times it feels like it's something that men use as a weapon or like a threat. I feel like men think that they own sex, and I feel like it scares them when women own sex."

On Black women: "I want Black women to be louder. I want us to be sassier. I want us to demand more, be more outspoken, keep speaking and just keep demanding what you deserve. Don't change—just get better. Grow from these situations. Don't be beating yourself up about these situations, because that'd be a lot of problems too. I feel we keep this stuff in and there's some kind of way we flip it on ourselves. We didn't f–k up—We didn't do something wrong, and it's like, 'No, girl, relax. You just needed somebody to come stir the Kool-Aid.' "
There's such a good aside as Megan is recounting what happened that night when Tory shot her, which is that at first, she didn't think anything of jumping into Tory's car at the end of a pool party. She was in a bikini and heading home. But she also had a radar that something was happening while she was in the car. As GQ writes, "Megan often tells herself, 'Always trust your first mind'—her way of saying, 'Listen to your gut.' That night, her first mind told her to get out of the car and find another way home. She tried exiting the vehicle to call for a different ride." But people told her to get back in the car, etc, so she pushed down those thoughts. I appreciate that she can talk about that – she felt like something about about to go sideways – but still not blame herself, because IT IS NOT HER FAULT. Even if you have a bad feeling and you don't listen to your gut, what happened is not your damn fault.
Cover & IG courtesy of GQ.