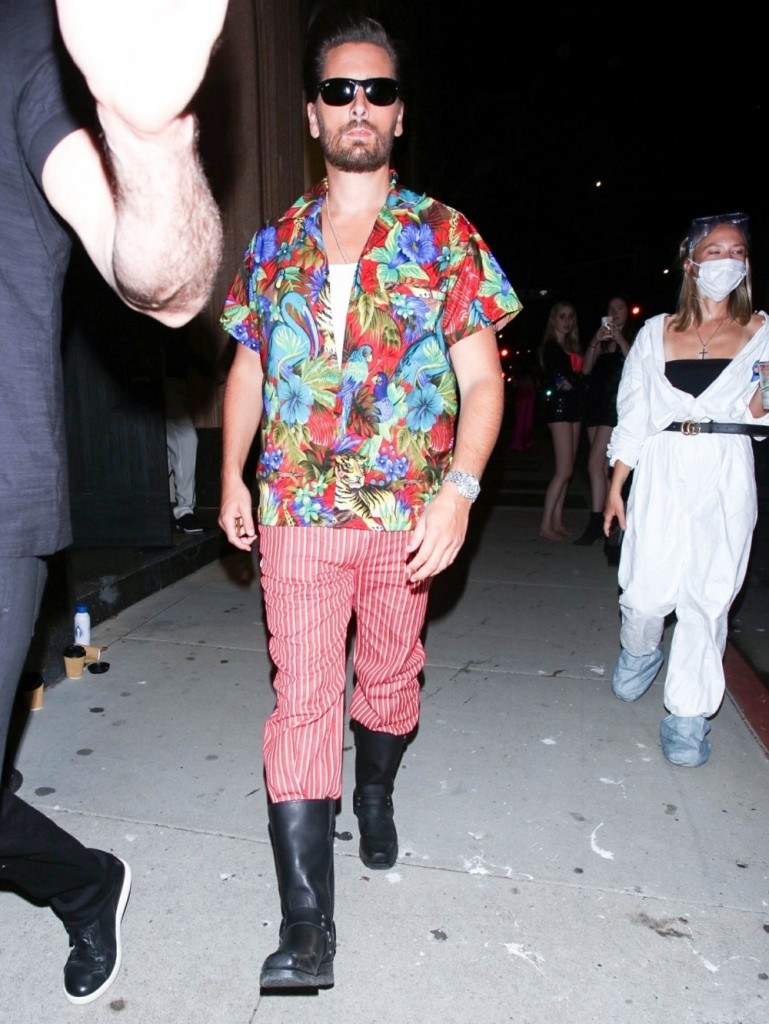 Famous Kardashian-adjacent Scott Disick, 37, began dating his latest teenage girlfriend, Amelia Hamlin, 19, sometime around last Halloween. Amelia is, of course, the daughter of Harry Hamlin and Lisa Rinna, and hustles almost as hard for her career as a model as her mother does. Even though they make very little sense as a couple, Scott and Amelia are still together. Just how serious is this romance? The pair were seen shopping together in swanky LA neighborhoods for million dollar properties.
Scott Disick and Amelia Hamlin recently toured several spectacular homes currently listed for sale in Los Angeles, PEOPLE confirms.

The reality star, 37, "is a known real estate connoisseur," a source tells PEOPLE, and visited the properties with his agent Tomer Fridman, who also works with many members of the Kardashian-Jenner family. The source notes that Disick was looking "for his next buying opportunity" but did not disclose who that property might be for.

Hamlin, the daughter of Lisa Rinna and Harry Hamlin, joined the father of three for the outing. The pair have been spotted together several times since October when they walked arm-in-arm on the beach in Santa Barbara. They were also seen leaving Kendall Jenner's controversial Halloween party together. Disick split from girlfriend Sophia Richie in August after three years of dating.

House hunting is not an uncommon date activity for Disick. In a September 2019 episode of his house-flipping show Flip It Like Disick, he and Richie toured a $20 million home in Malibu, where he noted the greenery-shrouded property would allow him to "walk around naked all day! I could make my own nudist colony here," he joked.

In addition to their outings together, Disick also recently popped up on Hamlin's social media. In a Thanksgiving post, she noted the Keeping Up with the Kardashians star was one of the things she was "thankful for."

In November, however, a source told PEOPLE that Disick is not in a rush to start dating again. "Scott is single, having fun and enjoying life. He is doing well and staying healthy," the source said, adding, "He hangs out with friends, including girls. He is not interested in dating anyone right now though."
Yeah… no. Scott's shopping for his next investment project and asked Amelia if she'd like to tag along. It sounds like looking at crazy expensive mansions is one of his go-to dates. I'll bet it wows the young'uns, too. I can just hear Scott dropping all this real estate and renovation lingo as his agent cringes every time he misidentifies a light fixture. So I don't think Lisa needs to worry about this relationship being anything more serious than a phase just yet. I can't blame Amelia for going either, I love checking out Open Houses. And the homes they toured, like the $65M manse being sold by Mr. Chow founder, Michael Chow, aren't open to the public. You have to show proper intent to get in to see places like that. Hell, if Amelia can't make the next date, I'm available, Lord Disick. I don't look quite as good in a bikini, but that doesn't mean I won't wear one… over my yoga pants and sweatshirt.
Like I said, though, these places aren't public, so they weren't just randomly spotted. Someone likely leaked this information and chose to leave out that it was for business. So someone wanted us talking about their relationship possibly heating up. Maybe it was Scott, and his camp, which is sick, because his "camp" is his kids' grandmother. But my guess is her side. Lisa may say she's weary of this pairing but I think she knows full well the value Scott's profile will give Amelia. I don't usually get too worked up about May/December romances but in Scott's case, I think he should stay away from the teen-nepo model pool and focus on himself and his biological kids for a bit. Maybe learn how to actually sell some of these houses he's buying.
For those who are interested, there are not many shots, but some nice house pr0n description in the link. It's actually hotter than this couple is.
Photo credit: Backgrid and Instagram