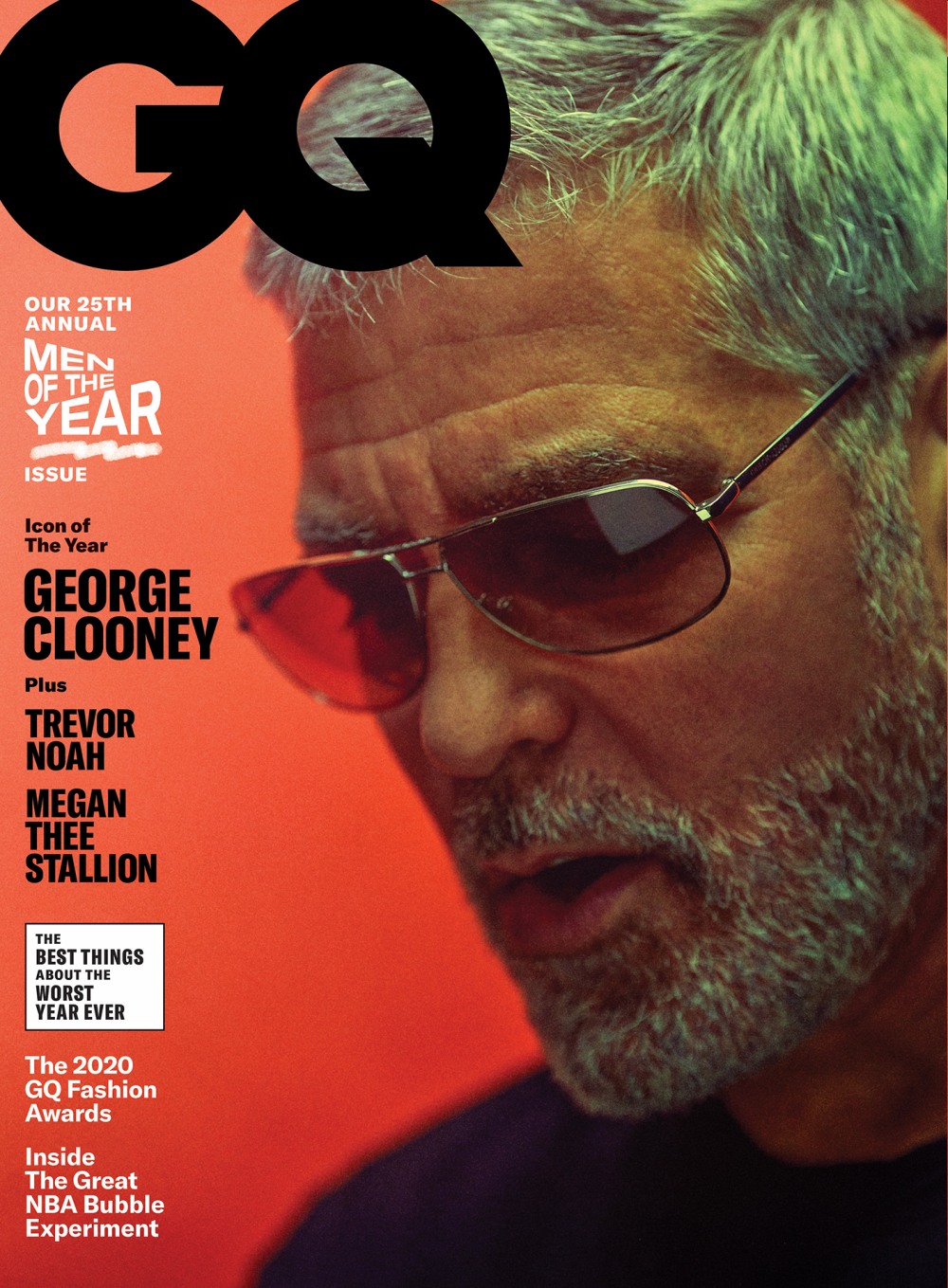 George Clooney is GQ's Man of the Year. Which I thought was weird because… George has barely been around this year. He hasn't had some big hit movie, he didn't run for office, and he didn't even make a major business deal this year. As it turns out, GQ basically just gave him MOTY because he's promoting his movie, The Midnight Sky, which he directed and stars in. I mean, that and he's George Clooney, arguably still a Cool Guy. The GQ profile leans heavily into George Clooney: Forever A Cool Guy, even though he clearly admits that he's spent the pandemic year in the same three-bedroom LA home he's owned since the '90s, and he's been with Amal and their twins the whole time. You can read the full piece here. Some highlights:
He has neck & back issues: The neck surgery was relatively minor, for a disk problem, but when the doctors got in there, they found all kinds of other stuff too. "It looks like arthritis, unfortunately. Which: Hey, isn't it nice getting older?"

His motorcycle accident last year: "He literally turned directly in front of me. I launched. I go head over heels. But I landed on my hands and knees. If you did it 100 times, maybe once you land on your hands and knees, and any other version you land, you're toast. It knocked me out of my shoes. When I hit the ground, my mouth—I thought all my teeth were broken out. But it was glass from the windshield." He also knew, just from years of riding motorcycles, that any injury that involves ramming your neck into someone else's car generally results in paralysis, so he lay there "waiting for the switch to turn off." But it didn't turn off. He was more or less fine, aside from whatever he did to his neck and his knees when he landed.

Whether his life flashed before his eyes: "You know, not really. Although my kids were like a year old, and mostly it was just the thought that this was it and that I wasn't gonna see them again." He says his wife, Amal, has since forbidden him to ride again, which he has accepted.

Domestic life in a pandemic: "I cut my own hair and I cut my kids' hair and I'm mopping it and vacuuming and doing the laundry and doing the dishes every day. I feel like my mother in 1964. You know, I understand why she burned her bra…. It kills me that I can't go see Bruce Springsteen in concert. It kills me that I can't go see Bono, can't go see U2 in concert right now. But…you know, there's a lot worse things in the world. People are dealing with a lot bigger problems."

Becoming a father: "I was like, 'I'm never getting married. I'm not gonna have kids… I'm gonna work, I've got great friends, my life is full, I'm doing well.' And I didn't know how un-full it was until I met Amal. And then everything changed. And I was like, 'Oh, actually, this has been a huge empty space.' " Marriage changed him in the simplest way, he says, "because I'd never been in the position where someone else's life was infinitely more important to me than my own. You know? And then tack on two more individuals, who are small and have to be fed.…"

On Breonna Taylor: "I can't believe it. There's not even a manslaughter charge for a woman who was lying in bed and got shot to death… Imagine if those were three Black officers and they kicked in the door of a white person's home and shot and killed the woman, the wife, in bed. Imagine that. F–king ridiculous. You know, it's just infuriating." He says he hopes that the protests in his home state remain peaceful tonight. Then, he says, actually: "You know, they talk about looting and stuff. Well, there have been an awful lot of Black bodies that have been looted for 400 f–king years. And…"

He has an Enemies List: The list of former Clooney enemies—though not particularly long—is extremely deserving: TV Guide, for its habit of omitting Eriq La Salle, ER's most prominent Black cast member, from its covers back in the day; Russell Crowe ("Just out of the blue, he's like, 'I'm not some sellout like Robert De Niro and Harrison Ford and George Clooney.' I'm like, 'Where the f-ck did that come from?' "); a Washington Post film critic, for suggesting that Clooney's Confessions of a Dangerous Mind was actually directed by Clooney's friend Steven Soderbergh ("At the end of the letter, I said, 'Letter actually written by George Clooney' "). But, he says, these days he's mostly ceded the fights to other people. "I have much more fun watching Chrissy Teigen. Somebody steps into her world and you go, 'Oh, I wouldn't do that, dude.' It's so much fun. Like somebody who thinks they're really smart, and you just go, 'Ugh, dude. You brought a knife to a gunfight.' "
I'm sure Chrissy Teigen loved the shout-out (although I disagree with him). And I love that Russell Crowe is on his Enemies List, OMG. There are a million other stories and interesting parts in the interview, like when his son Alexander joins the Zoom call and George coaxes him into speaking Italian. George also confirms a widely reported gossip item, which is that he presented 14 friends with bags of $1 million in cash EACH, and George explained at length about how he got his hands on that kind of cash. He also pointed out that he handed out that cash almost a year to the day before he married Amal. Now he's even richer, because he sold a controlling interest in Casamigos for buckets of money too. Also: if you had the choice between spending a year in lockdown in a small LA home versus a spacious English country estate versus a beautiful mansion in Como, Italy, where would you go? RIGHT??
Cover and IG courtesy of GQ.