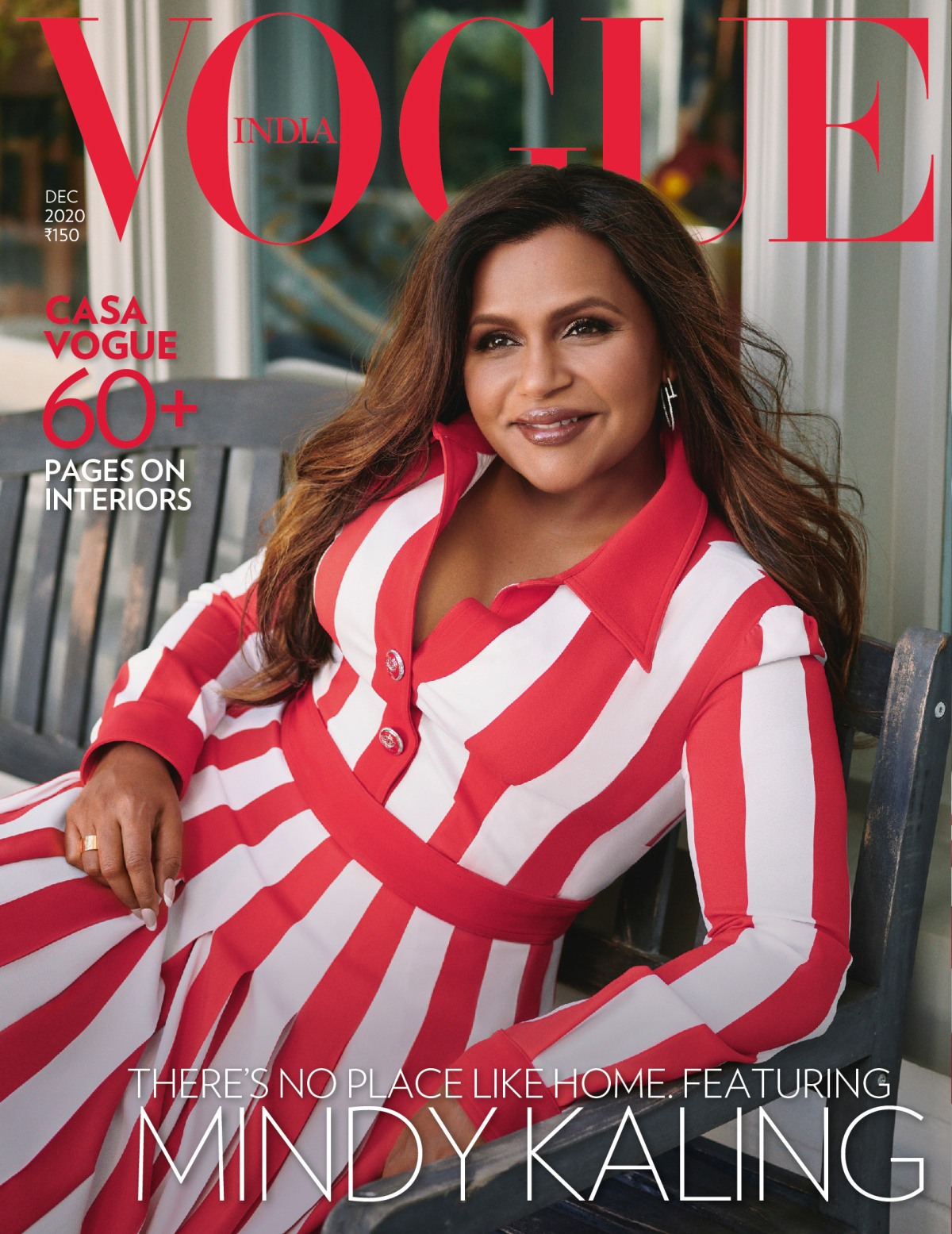 Mindy Kaling covers the latest issue of Vogue India, in a photoshoot which was done just six weeks after she gave birth to her son Spencer. That was her second pregnancy, the one she didn't announce. She was just like "hey, I had a baby" one day and I was shook. Anyway, Mindy said that she was "not feeling body confident, and even considered saying no" to Vogue India but she's glad she did the shoot anyway, and she looks lovely. Mindy is promoting all of her many projects, from a new book, to Never Have I Ever (which she writes and produces) to several film projects she's working on, including the script for Legally Blonde 3. Some highlights from the Vogue piece:
She's crazy busy, but she hardly feels like she's working. "You know, it's so trite, but I love my job so much. I feel so lucky that it's so easy to do all the time." She says she sleeps just five or six hours a night.

How she's dealt with isolation during the pandemic: "Not great. I'm very hard-working, but I'm also very social. It was a lot of growing pains at the beginning of the pandemic. It made it easier that my daughter was here because she's so fun and funny. In the beginning, it was a lot of just us staring at each other, but I got to know her better."

Her dad lives nearby: When the lockdowns were announced, he didn't come into the house for three months, but, "Every day he would drive by and wear a mask and gloves and talk to Katherine through the car window."

She invites her writers out on socially distanced walks around the neighbourhood. "I love my house, but it feels so small to me now. Doing everything, like writing in my bedroom and also sleeping there, and exercising—the house feels much smaller."

On Kamala Harris: "I understand now what representation means. To see her up there, to see someone who looks like her."

How the characters she writes are very rarely identified solely by ethnicity: "It's hard because it has to mean so much to so many people. The Mindy Project wasn't ethnicity-driven. For a lot of white executives at the TV networks, they kind of wanted it to be. They felt more comfortable with it being about an Indian woman who felt out of place in America educating white people. And it's not that I haven't felt out of place in America as a dark-skinned Indian woman, but it was not the most interesting thing, coming from The Office. Had I had different training it might have been. I love those kinds of stories, and I think there should be more of them, and I might even do a show like that, but I do think people are surprised and put off that I didn't embrace those kinds of stories early on in my career."
I know a lot of people love her for The Office – where she was a writer and supporting character – but I'm still waiting for a revival interest in The Mindy Project. Sure, there were some uneven episodes and plotlines, but no more so than any other sitcom. And Mindy dealt with the character's Indian-ness in a really great way, while still mining a million other things about the character. Anyway, I love her and I love that she's her own industry now, a mega-producer/writer, show runner, director, mom. *heart emoji*
Cover courtesy of Vogue India.