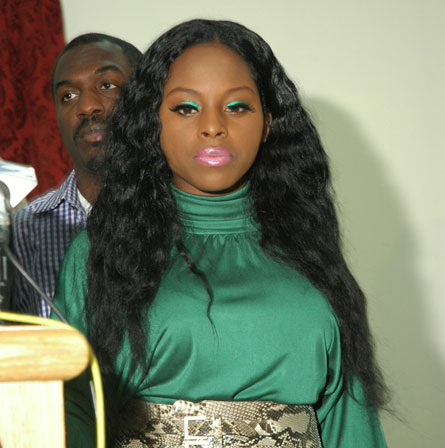 Foxy Brown is never one of those ladies to stay under the radar, on account of the fact that she likes to keep classy. And how do you keep classy in jail? Well a brawl, of course! Foxy's been managing to stir up a fair bit of trouble for a woman who promised to get her act together and use her time in jail to meditate, think about her life, and become a better person. Maybe she thinks the best way to do that is to take that bitch Erica three cells over down a peg? Probably.
Rapper Foxy Brown has received 76 days in punitive segregation after she scuffled with another inmate at Rikers Island jail, authorities said Tuesday. Brown was separated from other inmates on Oct. 16, said Stephen Morello, deputy commissioner for public information for the city's correction department. Brown, 28, and another inmate got into a shoving match earlier this month, said Morello, adding he didn't know why the two were fighting. Neither inmate was injured. Following that incident, Morello said Brown was abusive toward correction guards and then refused to take a random drug test. The combined violations, Morello said, earned Brown more than two months in punitive segregation, where an inmate can spend up to 23 hours a day in isolation. A message left with Brown's lawyer was not immediately returned. Brown is serving a year at Rikers for violating her probation in a case stemming from a Manhattan fight she had with manicurists in a nail salon.
[From Yahoo News!]
That seems like a really good idea. Considering Foxy has repeatedly proven that she's unwilling to follow the rules or listen to her judge, I think it's a really, really smart idea for her to get into a fight, then refuse to take a drug test and abuse guards. I'm pretty sure the guards are the ones with the clubs… and the ones who can be bribed… so being a jerk to them probably isn't the best way to make your time fly by.
In addition to the fight, Foxy refused to get in the van to take her to Brooklyn for a hearing on October 12th. The hearing related to her throwing a cell phone at a neighbor (which is why her probation was revoked and she was sent to jail). I have to say, if I were stuck at Riker's Island, where my only stimulation was watching the planes leaving from La Guardia (they're practically right next to each other… I don't think it was great NYC planning to put the largest jail community practically next to an airport, but that's just me), I'd be pretty happy to get in a van and have my ass chauffeured to Brooklyn. It adds a little bit of variety to your day, and the odds are pretty good you'll hear people with funny Brooklyn accents tawlking about cawfee. And that's worth throwing a cell phone in and of itself.