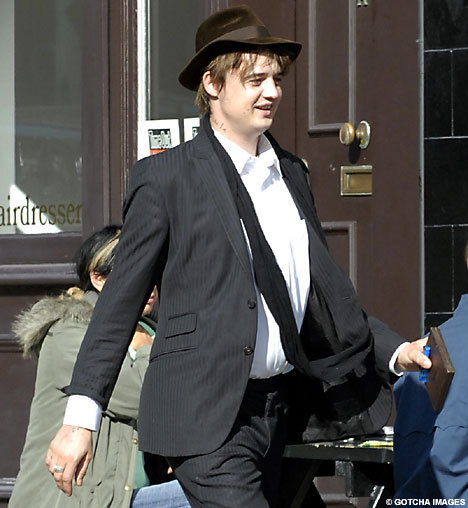 It's been a little while since we've heard from Pete Doherty. Last we heard, he was engaged to another model – because what beauty doesn't crave a pockmark-ridden dumpy dirty little toothless guy? That's right, none of them! Pete is all done with his 283,484,283,498,283 visit to rehab, and he's so confident in his success this time around that he's told the courts they no longer need to monitor him – and they believe him. In other news, the British justice system apparently truly is blind.
Pete Doherty is vowing to stay off drugs, and an English court no longer feels the need to monitor that promise. Doherty, 28, a musician best known as Kate Moss's ex-boyfriend, was released on Wednesday from a drug treatment order in the U.K., ending 18 months of court supervision, the Associated Press reports.

Outside the courtroom, Doherty, who has run afoul of the law with numerous drug offenses, told reporters he intends to stay clean. "It's just the beginning, you know what I mean? My life has changed," he said. A close friend of the rocker told PEOPLE, "He's really really got his s— together. His is a dry tour and he hasn't got his beer goggles on."

Doherty, who checked into rehab in August, recently got engaged to singer-model Irina Lazareanu, according to reports.
[From People]
Well that's a whole lot of bull I'm not inclined to believe. You? No? Really? Huh. Wonder why it's just us that think Pete Doherty is already on the pipe again. Oh, you say he never stopped? Really, that's crazy! He just seems like one of those "tough it out" stone cold sober types, you know. Though I will give him a little credit – he got all poufy/bloated/fat when he was done with rehab, and most people do tend to put on some weight. That has happened after his other 283,484,283,498,282 visits, so maybe he really did manage to quit this time. I mean I'm sure he's started up again – not to be pessimistic, but come on, let's also not be gullible here – but if he stopped even for 2 seconds, that'd be more than he's done before. So congrats, Pete. The British justice system has so much confidence in you. We… do… too? I can't say it. I'm counting down the days Pete.