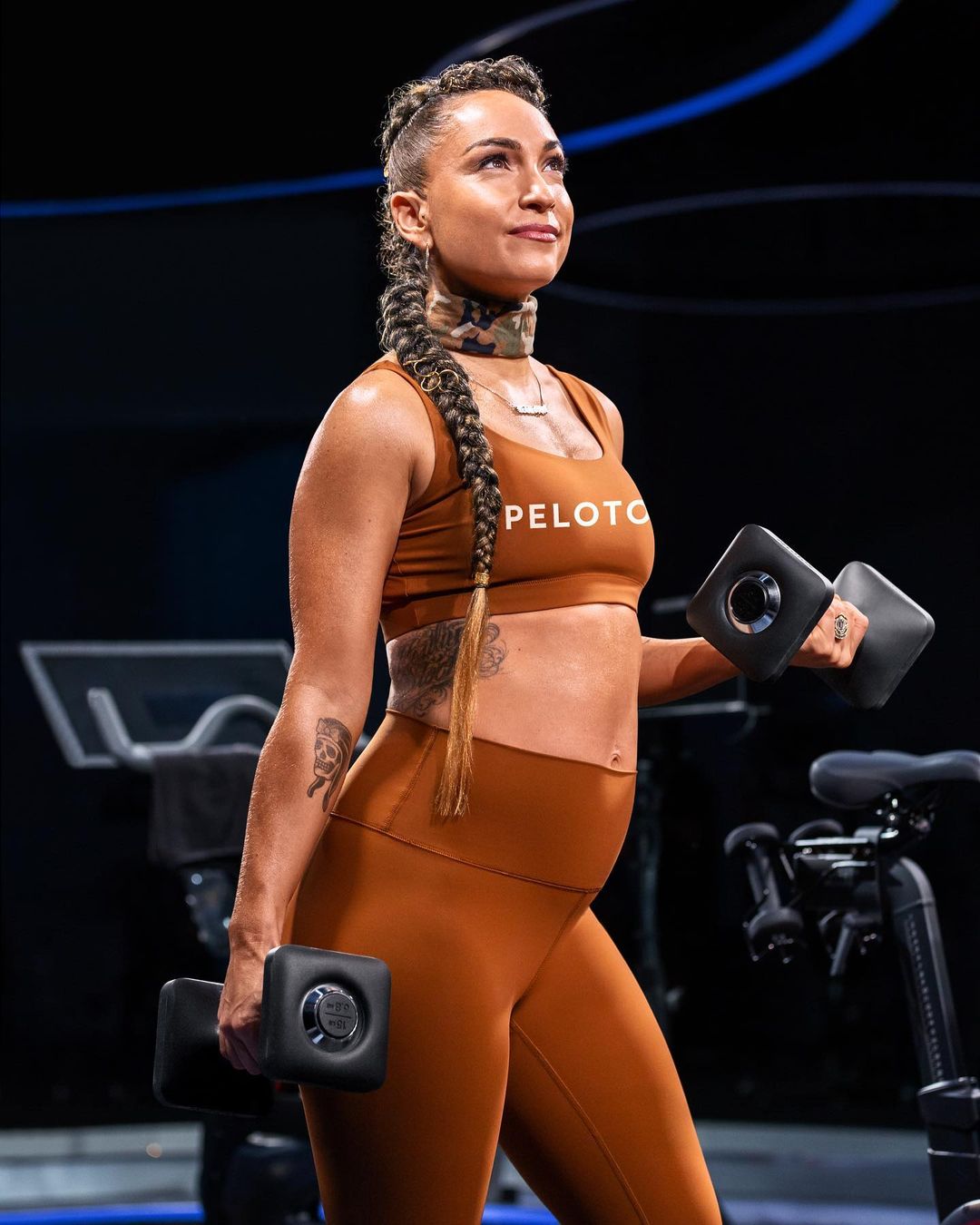 Robin Arzon is the head Peloton instructor, I've written about her before and do her classes about once a week. I usually pick instructors based on how hard I want to work out. Her spin and arm classes are moderate and I like them because I don't get super sore afterwards. (Last night I did my first "bike bootcamp" class with Jess Sims. I know I'm going to be feeling that.)
A couple of weeks ago, I did Robin's live DJ class with DJ John Michaels. I noticed she'd gained a little weight, which made me feel better about my pandemic weight gain honestly. I looked her up and realized that she's pregnant! She's now in her third trimester and announced it in September. Like a lot of athletic women, she's barely showing. Of course people are criticizing Robin for working out while pregnant, because public women always get nitpicked, especially around pregnancy and motherhood. Robin isn't here for that. She told Today that she's an athlete and that hasn't changed because she's expecting.
Occasionally, mom-to-be [Robin Arzon] will read a comment that makes her head spin.

"It's usually about how I shouldn't be working out so hard," Arzón, 39, told TODAY Health. "Any time I receive something like that, it lights a fire in me to stand in my power and to show the strength of a pregnant body. I didn't relinquish being an athlete when I became pregnant…"

She's sticking to her usual schedule of six workouts a week, two hours at a time, as she heads towards her third trimester.

"Vigorous exercise is actually beneficial for both mother and baby," she said. "I was never going to kick back."

When Arzón was struggling with fatigue during her first trimester, she drew on her experiences training for 100-mile races.

"I'd tell myself, 'Just do 10 minutes and you can always hit the eject button if it's not working,'" Arzón explained. "But often times, once you get moving without any preconceived notions as to how far, how fast or heavy — you might do more than you anticipated initially."
She went on to say "I have blinders on and I don't receive the fear. I don't engage with it. I'm gonna rock this." That's how Robin and all of the Peloton instructors talk. They give little motivational speeches and for the most part they sound genuine. Robin seems like the kind of person who talks like that normally and I bet she sets the standard for the other instructors. While I sometimes find it cheesy there are often sayings I find helpful. Last night Jess said that she tells her anxieties "thank you for protecting me, I don't need you right now." I was blown away by that because I never thought of anxiety like that. It's there to help us except when it controls us.
Getting back to Robin, I'm glad she's still teaching while pregnant. Two hours a day six days a week sounds like a lot to me, but I don't even work out that much now. She's way fitter than me and that's between her and her doctor. Doctors say exercising while pregnant is safe as long as you listen to your body. My Zumba instructor continued to teach into her third trimester. She was still working out harder than I was and I found it motivating. Pregnant athletic women should do what's comfortable for them.