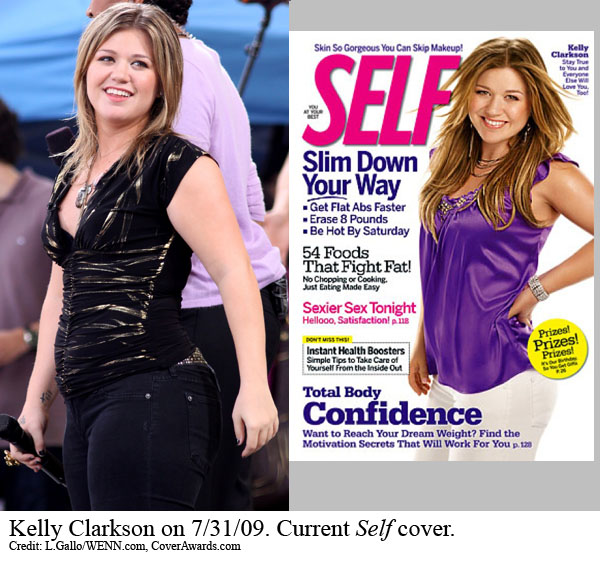 Kelly Clarkson appeared on the cover of the September issue of Self in a photo that was so altered it looked nothing like her. She was very obviously Photoshopped thinner, and Self editor Lucy Danzinger wrote a haughty blog entry in response to the criticism saying that they'd only made Clarkson "look her personal best." Danzinger also offered an anecdote about how she even had her own hips Photoshopped thinner – after running the marathon for goodness sake! Well if even you needed to get some airbrushing help, Lucy, we'll forgive you for having your graphic artists make Clarkson look like a different person.
Clarkson talked to UK's Heat magazine, and said that the controversy didn't bother her exactly, but that she thought the photo looked like someone else. I've read Heat and they do run celebrity interviews that are legitimate and not cobbled-together pieces from other sources, as British magazine occasionally do. These look like new quotes, although without seeing the original article it's hard to tell:
Now Clarkson has opened up about the controversy, admitting she was shocked by the pictures, but accepts all photo shoots inevitably involve the airbrush.

She tells Britain's Heat magazine, "The whole airbrushing thing has gone crazy. I was like, 'Who is that on the cover of the magazine?' They were obviously not happy with what I look like. I'm not being mean about myself, but I just found it funny. I think it's just one of those things that people have got so used to doing that they don't even think twice about it."
[From SFGate]
Kelly is right – they usually just make everyone look homogeneous and think that's what the public expects. At least Self was forced to think twice about it when it became such a controversy in the media. Do you think Self will take some of the criticism to heart at all and start to feature larger models, as Glamour has done with size 12 model Lizzie Miller? I would bet that all Self does is decide never to use a cover model again that isn't a thin, super-fit woman that they still airbrush to Barbie-level proportions. Editor Danzinger said that the Clarkson issue "the truest we have ever put out there on the newsstand." Self's idea of "true" is having to use a few extra keystrokes to achieve the illusion of perfection.