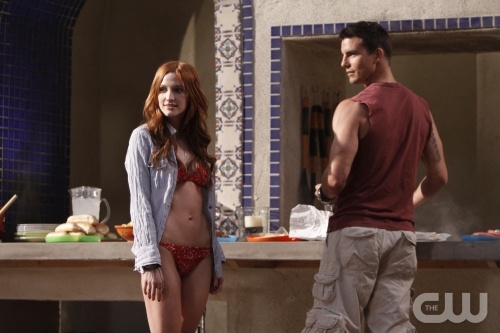 The Melrose Place remake premiered on CW last night, and some critics loved it and some say it paled in comparison to the 90s original. I had the chance to watch it, and I thought it was fun and trashy in spots, but over the top. Of course that's what people loved about the original version. The music was very heavy-handed and the characters seemed like stereotypes. The dialogue was forced at times and the ending of this first episode seemed contrived. Still, I would watch it again I have to admit. There's plenty of eye candy and drama. Whether I would stick through the whole season depends on what happens in the next few episodes.
While most of these critics quoted in a recap by the LA Times are on one side of the fence or the other, I'm just a firm "maybe." It was decent entertainment, I'll give it that, but I don't yet particularly care what happens to these characters and I doubt I ever will. Maybe that's a plus for the show, because it sets up a kind of "anything goes" situation.
Mary McNamara of the Los Angeles Times admits, "I was a fan of the original 'Melrose Place' though I can't for the life of me remember exactly why." However, she was unimpressed with the new version noting, "Nothing is said that hasn't been said, nothing is done that hasn't been done and as the group of friends who share little save a shoe size and an address gather poolside, even the sunlight looks fake, as if the complex were in a dome, a captive ecosystem on another planet where scientists are attempting an experiment in social regeneration."

Linda Stasi of the New York Post had the opposite reaction: "The new 'Melrose Place' is as good and sometimes better than the old 'Melrose Place.' Think of it as a renovation, or in L.A. terms, a face-lift. In fact, the new tenants actually made me forget the old tenants rather quickly. Well, I didn't forget all of them, because two of them are back but in a new format. Now the series is an ongoing whodunit."

Said Matthew Gilbert of the Boston Globe, "I 'like' the new 'Melrose Place' in that I think it has the potential to be as addictive, and phony, as a can of Pringles potato crisps. The trashy CW series has none of the hokey moral quandaries of the show that precedes it, '90210,' no lesson-learning unless you're a student of chicanery and double-dealing. The new 'Melrose Place' is just a mess of gossipy plotlines about adultery, murder, and secrets. If it has a moral compass, the arrow is stuck pointing down, to hell."

In his mixed review David Hinckley of the New York Daily News wrote, "It does, however, wisely retain some of the elements that worked in the original, like characters who are interesting without being deep. We watch them because of what they do, not because we think there's a lot there."

Maureen Ryan of the Chicago Tribune said, "Given that I was never a big fan of the original 'Melrose,' which ran on Fox 1992-'99, I can't say whether this one is better or worse. I just know that in a fall season that's about to get very crowded indeed, this remake will have to work harder than this to keep my attention."

And for James Poniewozik of Time, "The problem isn't that the new version – which dives right into the pool (literally) with a murder mystery and re-introduces several characters from the original – is bad, exactly. It's competent. It also seems a little familiar and unnecessary. The luridly lit nightclub scenes, for instance, by now seem familiar from the CW playbook of 'Gossip Girl' and '90210.' "
[From The LA Times]
Mild spoilers for first episode below
Ashlee Simpson plays the new arrival at Melrose Place, a sweet naive girl named Violet who seems even more one dimensional than the rest of the characters. Her main scene takes place with doctoral student Lauren, when Violet encounters Lauren after she comes back from a date. Lauren tells Violet that she had a great date but that her date propositioned her for money in exchange for sex. Violet kind of makes Lauren question why she turned down the offer, but then concedes that she wouldn't do that, either, saying "You and me, we're good girls. It's just not as fun." Ashlee isn't that accomplished of an actress, but with lines like that she certainly doesn't need to be.
So is it worth watching Melrose Place? I guess you'd have to judge for yourself. There were definitely some good moments, but I wasn't hooked from the start.
[The CW and Melrose Place are one of our advertisers, but we were not contacted or encouraged to review this series.] Photos from CWtv.com