Tilda Swinton is a poem. She poses in red, against an autumnal backdrop of burnt sienna, rust and goldenrod-shaded leaves, and she does it while holding a lovely hen, who is happy to be in the photo with Tilda. Tilda is a poem, but she can speak in prose if she so chooses. She chose to do so with British Vogue in an nice little feature about her career and what some of her performances mean within the queer cinematic canon. As it turns out, Tilda says that she's "always felt queer." Probably in the LGBTQ sense and in the British-descriptor sense for someone who strays from the beaten path. Some quotes:
No ambition as an artist: "I've never had any ambition as an artist. That may sound crazy and transgressive, but it's a fact. If you'd asked me when I was 10 or 20, I would have said my only ambitions were to live in a family, to have friends that made me laugh and laughed at my jokes, and to live in the Highlands of Scotland, by the sea with a lot of dogs and a kitchen garden. Seriously. And I have been really blessed to be able to achieve them. Everything else is a bonus. Everything else is just icing and candles and flowers alongside."

She had writer's block at Cambridge as she tried to study Social and Political Sciences: "I just became overwhelmed, I think. A few years ago, I re-met one of my tutors when I went back to Cambridge to open the film and media school – I was so envious because there were no courses in cinema when I was at Cambridge – and I told her this in hushed tones. She said, 'Oh, this happens to lots of people. You just dry up the second you start academia.' Fortunately, I got back into my own pool nice and quickly. I didn't have to spend too long with the red herrings."

Her friendship with the late Karl Lagerfeld. "I did have this beautiful connection with Karl Largerfeld, which was kind of mysterious to me because I was a jumbo shrimp, as my friend once called me, and he was working in this whole different exotic empire. That's what brought me into my relationship with Chanel, which continues to be really inspiring for me."

Her friendship with the late Derek Jarman: "I'm very clear that queer is actually, for me anyway, to do with sensibility. I always felt I was queer – I was just looking for my queer circus, and I found it. And having found it, it's my world. Now I have a family with Wes Anderson, I have a family with Bong Joon-ho, I have a family with Jim Jarmusch, I have a family with Luca Guadagnino, with Lynne Ramsay, with Joanna Hogg."
I don't think that's how the kids define queer these days, but I'll keep my mouth shut – the last thing I need is to try to heterosplain how this kind of terminology is defined. My guess is that the larger point Tilda was trying to make was that she's spent a chunk of her life collaborating with queer artists and playing important queer icons on film and she's saying that she was drawn to those people and those projects because she has queer sensibilities. Sure.
Tilda Swinton for Vogue UK #editorial pic.twitter.com/hSOXUqwouT

— Magazine Covers (@_MagazineCovers) January 9, 2021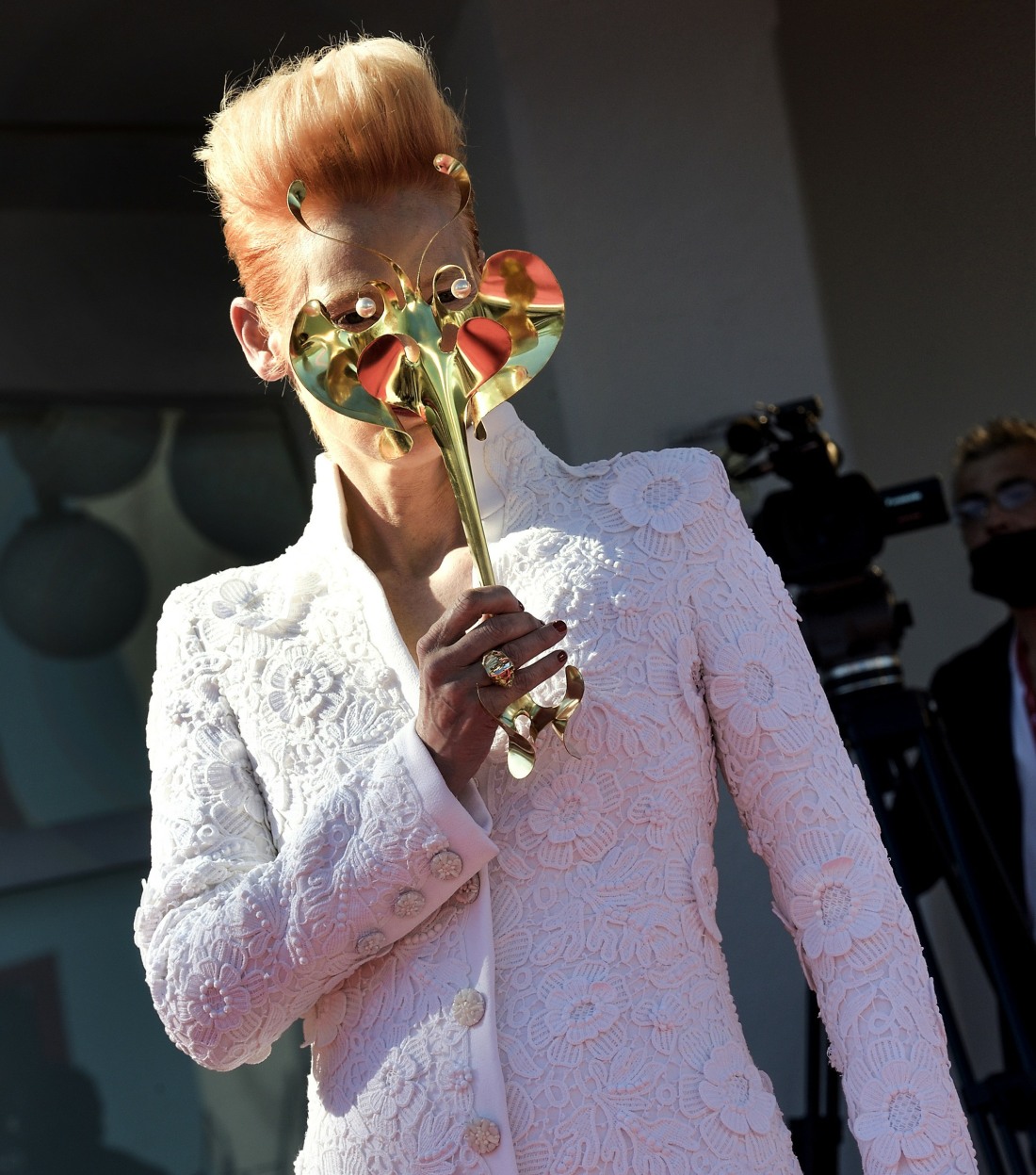 Photos courtesy of Avalon Red.