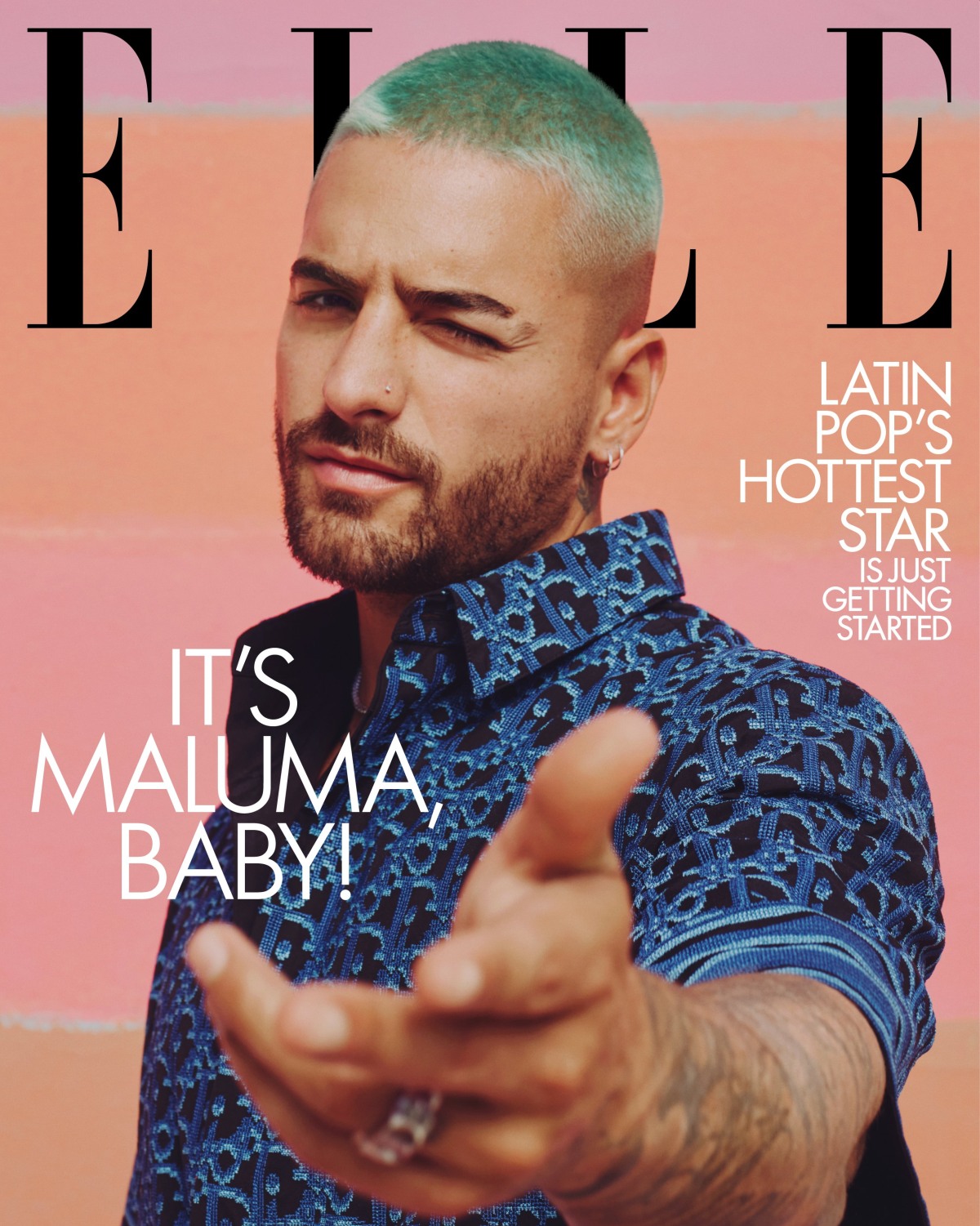 Maluma is a big deal. He's 27 years old, Colombian, one of the most popular Latin American artists in the world, and his career is en fuego, as Hilaria Baldwin would say. Maluma is also muy caliente, meaning that he's f–king gorgeous and sexy and men and women want him. He's sort of like if Ricky Martin and George Michael had a baby. Elle Magazine made Maluma one of their February covers, and he talks about his latest album, Papi Juancho, and his big Hollywood film debut in Marry Me, where he plays Jennifer Lopez's character's fiance. You can read the full piece here (plus, the photos are hot). Some highlights:
On spending the pandemic year at home with his parents: "Of course 2020 has been a very difficult year for all of us, but I feel like this was my best year so far, musically, artistically, and personally. I feel like I was reborn… I was talking the other day with my parents, and they were very happy because I've stayed a long time in Colombia, but they were also a little bit worried because they didn't know what was going to happen with my work. My job is being on tour, but for me this has been very positive, being here in Colombia. I feel very connected again with myself."

Working with Jennifer Lopez on Marry Me: "Jennifer, she's not only a work partner—I would say she is my friend. She is someone I admire, and she is someone I've followed since I was a little kid. So for me, being part of this movie was almost surreal. It was a big surprise when they called me, but I was ready for it."

Working with Madonna: "Madonna loves doing things in an organic way—she is very spiritual. When we were doing the 'Medellín' video, it was almost 48 hours working nonstop, and I was surprised, because Madonna, she was 60 years old, but she looks like she is younger than me."

He's not a bad-boy Lothario, he's a man of faith: "I feel like the artists right now, the modern artists, are losing their spirituality, and that's kind of sad. I don't feel like they pray or meditate, and that's why I feel connected with artists like Madonna, Shakira, and Jennifer. Sometimes people tell me that I'm an old soul because of that, but at the end of the day, you can be the biggest star in the world, but if you are not spiritual, you are empty inside."

Growing up in Medellín, Colombia: "My family, we were not rich. We had what we needed, but then my dad lost everything, and my parents got divorced….It's what made me realize I had to work super hard so my family could have food and a house to live in. But between everything, I was a very happy child."

He spends a lot of time with his parents & his two Siberian Huskies, Bonnie & Clyde: "Medellín is chill. Of course, people know Medellín around the world as a very violent city, but it's not anymore. We are more than that. [Drug kingpin] Pablo Escobar is not Medellín. There are so many beautiful things to tell about it. In the States, I was surprised to discover that when you are 16 years old, it is almost like you forget that you have parents—you go out and work for your things, you move out, live alone. My sister, she is grown, but she is still living with my mom. It's not because she doesn't have money to go and live alone. It's because she loves being with my mom."
At certain points in the interview, he suggests that he doesn't have much in common with many artists of his generation because of their superficiality, their materialism and their lack of spirituality. Which makes sense, because he really does come across as an "old soul" type of guy, happier to hang out with people twice his age. Some people are just built that way. But yeah… I'd love to travel to Medellin to spend some time banging him on a Colombian farm.
Photos and cover courtesy of Elle.