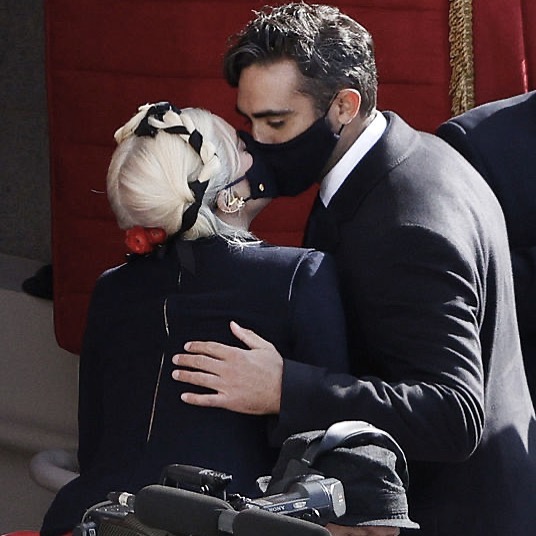 After coming off two very public relationships with Taylor Kinney and Christian Carino, Lady Gaga seems to have found real love. Gaga, 34, debuted her new relationship with tech investor Michael Polansky, 37, last year during Super Bowl weekend in Miami. She posted a photo of them cuddled up on a boat. Gaga met Polansky while doing charity work and despite their external differences (she's an over the top pop star and he's a tech investor) they really hit it off. They even spent quarantine together in 2020. If that didn't sour the relationship then this might be a keeper.
Another awesome thing about Gaga's new beau is he doesn't seem to compete for the spotlight like her last two relationships. Polansky is said to love standing on the sidelines cheering Gaga on and blending in with the crowd. He demonstrated that at the Inauguration last week. As Gaga performed Michael just blended into the audience and cheered her on proudly. Afterwards Gaga could be heard introducing Polansky as her boyfriend to everyone. How adorable is that? Below is more on the story from People:
An insider tells PEOPLE in this week's issue, on newsstands Friday, that the pop star, 34, is "crazy about" her tech investor boyfriend of one year.

Last week, Gaga and Polansky, 37, put their love on display when they attended President Joe Biden's inauguration in Washington, D.C, together. After Gaga delivered a high-spirited performance of "The Star-Spangled Banner" during the event, the couple were captured exchanging a sweet kiss — with their masks on! — before watching Biden and Vice President Kamala Harris get sworn in.

"Gaga had a blast at the Inauguration and was in the best spirits," says a source close to the singer. "She's very happy with Michael and feels grateful for his support."

Polansky, meanwhile, was more than happy to cheer on Gaga from the wings.

"He was content to hang in the background and blended in," says an attendee. "To the few people Gaga encountered backstage inside the Capitol, she'd say, 'This is my boyfriend.'

"On the outside, Gaga and Michael seem very different," says the insider. "When they step out together, he always looks casual in jeans and a cap, while Gaga is usually more noticeable."

Over the last year, though, sources say they've formed a deep bond as they focus on making positive changes in the world through their professions.

"They are both hard working and love working together on charity projects," says the insider. "They have not been sitting around during the lockdown and instead focused on where they can do good. They want to help out where they can."
I am so happy for Gaga. I knew Gaga would need to find someone not in the business to keep her grounded. I love Polansky for her because it seems that he is ok with her stardom, doesn't feel a need to make her feel she has to dull her shine, and just simply supports her. It also seems like they have real chemistry.
I think it is so adorable that Gaga invited Polansky into her world and was proudly declaring him as her person. I also loved that because Gaga felt Polansky went unnoticed at the Inauguration, she posted a picture of them mask kissing at the performance. Gaga just seem so very happy and GROUNDED. I have been hoping that Gaga would find something solid because the last few years have been tough on her. I know she talked about feeling drained and burnt out having to fight sexism and the boys club in the industry so this relationship is so beautiful to me. I know it's sappy, but I am a ridiculous romantic and as a fan of Gaga since her first album, I have just wanted to see her loved and protected. Also, her new man ain't bad looking either, I'm just saying. Anyways, I hope this relationship goes the distance and I feel that it will. Many relationships that have longevity started when people bonded over their shared love of philanthropy. Good luck to Gaga, it is good to see her smiling.
Photos credit: Avalon.red and via Instagram