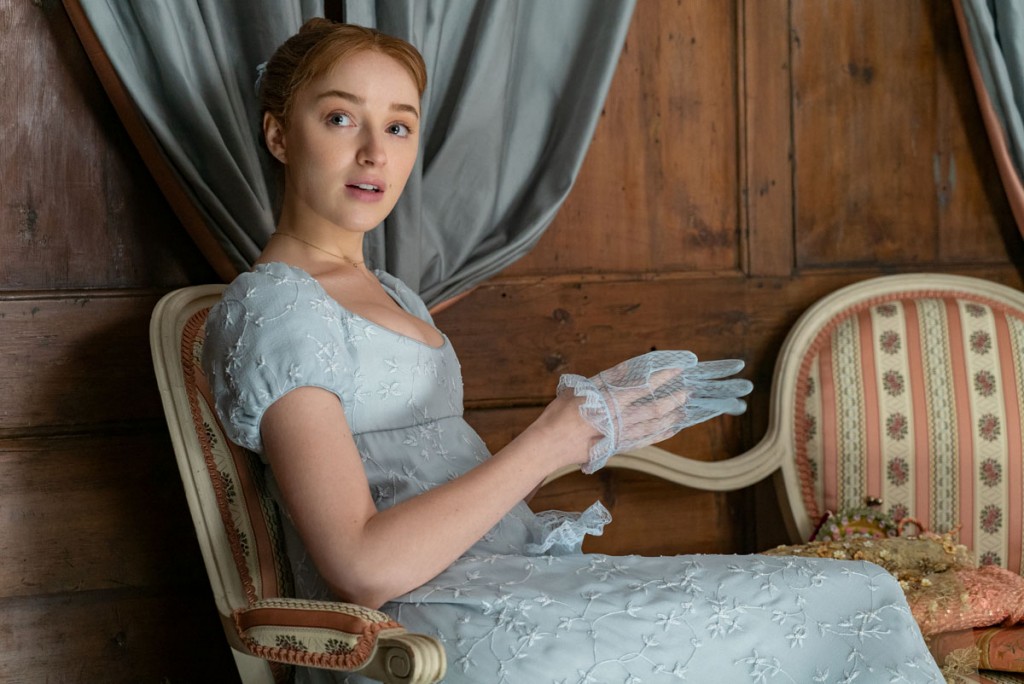 Netflix announced this week that my favorite naughty obsession, Bridgerton, has become their number one streamed original series in its history. Bridgerton has reached over 82 million households in its first month beating out The Witcher series which reached over 76 million households in a month. Of course we all know that one of the major draw to Bridgerton was not only its modern approach to period dramas (they cast several BIPOC in major roles), but its casting of Rege-Jean Page as the duke of Hastings. Well, at least, Rege was what drew ME to the series. The man is gorgeous. I won't mention how sexy the intimate scenes were or the conveyance of desire through the merest touch or gaze. Which leaves me to wonder if I am a sexually repressed Regency maiden deep down.
Anyways, Phoebe Dynevor, who plays Daphne Bridgerton, is often asked odd questions about her scene mate Rege. Daphne says many people ask her how does Rege kiss and how he smells. I know it may be weird to some but I like a full sensory experience when it comes to my crushes. I don't care about how he kisses but I do need Phoebe to spill the beans on how he smells. Does he smell like Cool Water or Jupe? Or fresh and clean like CK One (I know I am dating myself here, don't judge me)? Or does he have a nice earthy scent? Phoebe answers our most ludicrous question in a new interview while giving us insight into how she approached bringing Daphne Bridgerton to life. Below are a few excerpts via Glamour:
On what she wanted to bring to Daphne
I really played with the idea of her having anxiety. It was something that connected me to her because I also have anxiety. I wanted to bring everything that was bubbling inside that she couldn't show. She's portraying something very different on the outside at all times from what she's feeling inside. It's a challenge to be able to express that in a way that obviously no one else can see. It was a lot about the inner workings of what she's feeling and going through.

I think we're really good at hiding [anxiety]. Or at least, I'm quite good at hiding it. There were a couple of moments on set where I did have to breathe. I was feeling the pressure of playing that role and being the lead. It was interesting, because I could use that real feeling and put it into the character. But, yeah, I'm glad you picked up on that because so often you see…in a lot of the Regency stuff we've seen in the past, we see a very composed woman. There's not much sexuality there. It's very much the male gaze. I wanted to make her feel modern and have sexual desires, as women do, and have a lot going on that isn't surface level.

On the mast-rbation scene, overseen by intimacy coordinator
That was the hardest scene to shoot. That's saying something, because there were a lot of difficult scenes to shoot. You feel very vulnerable in those scenes. We did the intimate scenes like stunts—we blocked them out, so you have yoga balls in between you and all sorts of things that never make you feel exposed in any way. You always feel safe. I'd rehearse with Regé so much that we both knew what we were doing. It felt very practical.

But on my own, it's a different thing. The stage directions are very specific: You have to [perform having] an orgasm. It's a difficult thing to rehearse, which means you don't. You just do it. I always get back to the fact that Lizzy was on set for that scene. If we didn't have an intimacy coordinator, it would be our director, who was a male, coming up to me and telling me what to do. That would have been awkward. I felt so safe in the knowledge that Lizzy was there, so that if something went wrong or the director wanted something different he could speak to her first. I think it would have been a very difficult experience if Lizzy hadn't been on set protecting me and looking after me. No one wants to be told how to perform orgasm [on set] by a man. [Laughs.]

On what Regé smells like.
Oh, my God. Why have so many people asked me that? He smells really, really nice. He never, ever had bad breath, and he doesn't smoke or anything like that. We both drink a lot of coffee, so sometimes we both smell like that, which was fine. He's unscented in a good way.
Listen I know my obsession with Rege-Jean Page is outrageous. I don't care ya'll. A sister has been cooped up for over a year and my fantasy world is all I have. I am glad I am not the only weirdo wondering how Rege smells. He just looks like he smells delicious even if he was knee deep in mud. Reading Phoebe's interviews makes me appreciate her as Daphne more. Daphne has grown on me and I have come to like her character.
What was one of the most interesting tidbits in this interview is how the intimacy coach protected Phoebe on set and helped her finesse scenes. One of the sexiest scene of Bridgerton to me was when Rege explained to her how to touch herself. The way that Phoebe conveyed that sensory experience was beautifully done and very different from what we usually see in film. I also love that Phoebe reiterated that those scenes were all from the female gaze which is also rare in film and television. Now that my curiosity has been fed, there is nothing left for me to know about Bridgerton nor Rege-Jean that will enhance my imaginary world. I look forward to season two of Bridgerton. I also look forward to more stories as it pertains to romance and intimacy written from a woman's POV. I believe that writing from a woman's POV is the next movement in womxn's liberation and expression as it pertains to the arts. Now, I must go off to imagine what "unscented in a good way" smells like.
com/embed.js">
Photos via Instagram and also credit Avlon.red and Liam Daniel/Netflix