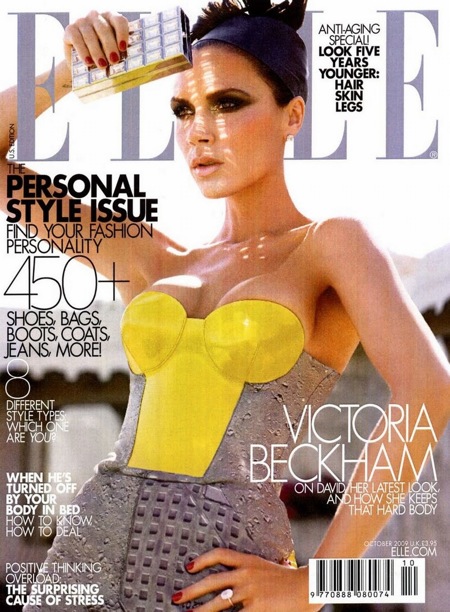 We've already seen the cover shot from Victoria Beckham's not-so-triumphant return to the October issue of Elle Magazine. Poor girl wants the cover of American Vogue so badly, but it's just not happening. Anyway… now we have some new images, as well as some somewhat funny interview excerpts. I know a lot of people are very "meh" on Victoria, but she's growing on me more and more. She tries so hard, it makes me look at her with a mix of pity and amusement. Which is totally wrong, considering she's nailing David Beckham every chance she gets – she should own it more and not try so hard.
The Elle interview is pretty funny. Posh talks about how everyone thinks she's a "moody bitch" – and she talks about walking the red carpet as her "job". Ha! She also says that she loves America and living in America. Oh… what's that, Anna Wintour? Still no Vogue cover? But she loves America? Too bad! My favorite part is where she will neither confirm nor deny whether she had her horrible, ghastly, nasty-looking implants taken out:
On being perceived as a cold person:
"People think I'm a moody bitch. I do have my insecurities. Maybe that is why I look a little bit serious. The kind of person who's going to stand on the red carpet and love the attention and have the big grin—I'm just not like that. I want to get in there, do what I've got to do, and get home to my kids."

On adjusting to life in America:
"You know, I love America. It's such a positive country. When people say to me, 'How long did it take for you to adjust? Poor you, it must've been really difficult' – poor me? I'm living in Beverly Hills. I'm very, very lucky. I wake up every morning and I recognize that I'm blessed."

On being separated from husband David Beckham for six months while he was playing soccer in Milan:"I felt like someone had chopped my arm off, to be completely honest. Everything we do, we do together. I very rarely go out on my own, unless it's a work commitment."

On keeping herself busy with TV while David was away:
"I've done Nip/Tuck, Brothers & Sisters, Grey's Anatomy, Private Practice. Then I got into Gossip Girl. I'm beyond obsessed with that show."

On the Los Angeles style of dress:
"I find it odd that people will go to a nice restaurant or to theater in jeans and T-shirts. You know, it's great, David loves it. But it's very different to my personal style."

On her ever changing personal style: "There are celebrities who always look great, always look pretty, but it's always the same hair, the same makeup, and I find that quite boring. I want to change it up, do something really creative. I think that might be why women like me."

On whether her look has changed since moving from England to Beverly Hills:
"I haven't changed the way that I dress at all, which is probably why people stare a lot."

On her rumored recent breast augmentation to a smaller size:
"We should just not talk about each other's boobs."

On her private family life:"David and I have a working relationship together, and we also have a private life together. Someone used the example recently of Brad and Angelina. They might be in a movie together, but that doesn't mean they're going to let someone film them at home. I don't do 'at homes' with my family. I don't march my kids down red carpets. It's just not how we choose to do things."

On the prices of her own dresses:
"Would I think twice about buying a dress that costs $2,000? Yeah! Of course I would. I'd try it on and go home and think about it before I bought it."

On raising her children:"[They] bloody well will work. Same as myself, same as David. They're not going to be the kind of kids that just hang about. I want them to be able to fulfill their passions, but I think it's important that the children grow up and have respect for themselves."
[From Elle]
I'm pretty sure Posh had her implants taken out, so I don't know why she won't just admit it. Perhaps because she doesn't want to admit she had them in the first place? There were rumors Posh had multiple procedures over the course of the past five years or so – why not come and out and talk about it? I wonder if David likes bigger boobs – he probably does. He's probably trying to talk her into getting the implants again.
Thanks to Cover Awards for the pictures!