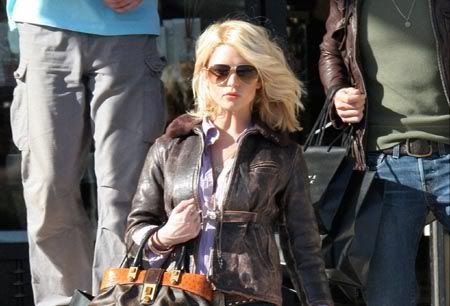 Jessica Simpson is so juvenile that she can come up with no better way to exact revenge than to crank call the woman who used to date her ex husband.
Simpson reportedly hates Kristin Cavallari and Star reports that she has been crank calling her!
"Jessica got hold of Kristin's cell-phone number and got a real kick out of making crank calls to it."
Though a rep for Jess denies the story, the source claims: "She'll ring Kristin up and just say nothing or try to order pizza or Chinese food and talk in different accents! She's even gotten some of her friends in on it. The pranks are harmless, but I think Jessica likes knowing that she's irritating Kristin in some way."
We did this shit in seventh grade, remember? The fact that she tries to do accents makes it even lamer. Jessica you're supposed to do real damage to the woman who's dating your estranged husband. But he's with MTV VJ Vanessa Minnillo this week, so you didn't even pick the right target.
Here's Simpson at Barneys in LA today with her ever-present hairdresser, who is either carrying most of her bags for her or was more successful at shopping today.
Pictures [via]