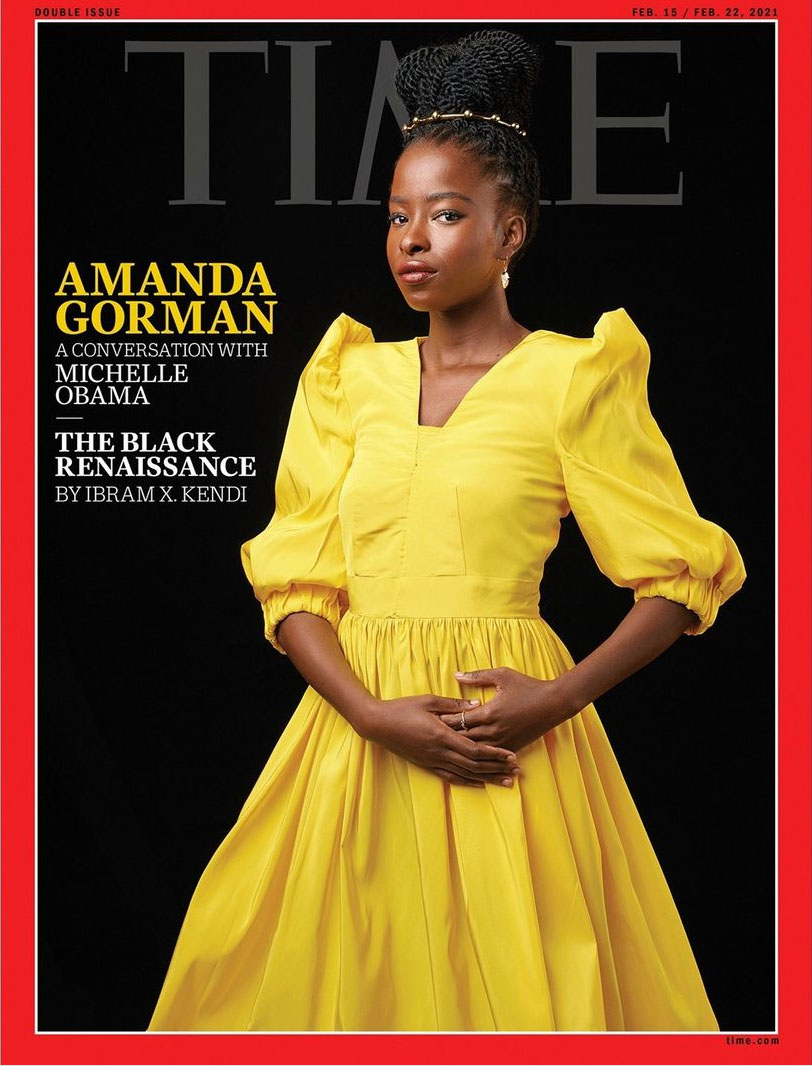 Who could forget the moving words spoken by poet Amanda Gorman at the Inauguration on January 20th? Her words were felt by so many. In fact, when Amanda was interviewed by seasoned journalist Anderson Cooper, Anderson became flummoxed by Amanda's brilliance. Amanda's upcoming three books are now topping Amazon's best-sellers list and she is slated to recite an original poem for Super Bowl LV.
The beautiful thing about Amanda, a 22 year old Harvard graduate, is how she is bringing a refreshingly 21st century take to poetry. By being so young and dynamic, Amanda's ability to twist words into new meanings rivals any old or new school lyricist (read rapper). Amanda has basically made poetry cool again. Now Amanda sat down with forever First Lady Michelle Obama for an interview to accompany her cover on Time. Michelle seems to be gushing over Amanda throughout the interview. And Michelle never gushes. Amanda talks about what inspires her poetry, what mantra she uses before going on stage and how educators should reframe poetry. It's typically been about stuffy old rich white men but Amanda wants poetry education to highlight POC who have transformed the art:
Michelle Obama: We're here to talk about the current renaissance in Black art—this surge of creativity we've seen over the past six years or so. What do you make of calling this period a "renaissance"? And where do you see yourself within it?
Amanda Gorman: We're living in an important moment in Black art because we're living in an important moment in Black life. Whether that's looking at what it means politically to have an African-American President before Trump, or looking at what it means to have the Black Lives movement become the largest social movement in the United States. What's been exciting for me is I get to absorb and to live in that creation I see from other African-American artists that I look up to. But then I also get to create art and participate in that historical record. We're seeing it in fashion, we're seeing it in the visual arts. We're seeing it in dance, we're seeing it in music. In all the forms of expression of human life, we're seeing that artistry be informed by the Black experience. I can't imagine anything more exciting than that.

You are part of a rising generation that isn't afraid to call out racism and injustice when you see it. Your generation was out front at the Black Lives Matter protests last summer, and you were using your voices long before that to demand change. How do you think art fits into these larger social movements? Do you think about these things as you write?
Absolutely. Poetry and language are often at the heartbeat of movements for change. If we look to the Black Lives Matter protests, you see banners that say, They buried us but they didn't know we were seeds. That's poetry being marshaled to speak of racial justice. If you analyze Martin Luther King's "I Have a Dream" speech, it's a great document of rhetoric that's also a great document of poetry, of imagery, of song. Never underestimate the power of art as the language of the people.

Poetry sometimes gets a bad rap—people think it's all stuffy. How do you think we can make poetry accessible and cool, especially for a young audience?
Poetry is already cool. Where we run into trouble is often we are looking through such a tight pinhole of what poems can be. Specifically we're looking at dead white men. Those are the poems that are taught in school and referred to as classics. We really need to break out of the pathology that poetry is only owned by certain elites. Where we can start is highlighting and celebrating poets who reflect humanity in all of its diverse colors and breadth.

Tell me about the poets who came before you. Where do you draw inspiration—and do you draw inspiration from artists working in other forms?
I love Black poets. I love that as a Black girl, I get to participate in that legacy. So that's Yusef Komunyakaa, Sonia Sanchez, Tracy K. Smith, Phillis Wheatley. And then I look to artists who aren't just poets. While I was writing the Inaugural poem, I was reading a lot of Frederick Douglass, a lot of Winston Churchill, a lot of Abraham Lincoln. I was also listening to the composers who I feel are great storytellers, but they don't use words so I try to fill in that rhetoric myself. A lot of Hans Zimmer, Dario Marianelli, Michael Giacchino.

You have a mantra you recite to yourself before performing—can you share it here, and tell me how you came to choose these words?
This mantra I'm about to say is actually in part inspired by Lin-Manuel Miranda's lyrics in Moana in the song, "Song of the Ancestors." Whenever I listen to songs, I rewrite them in my head. That song goes: "I'm the daughter of the village chief. We're descended from voyagers who made the way across the world." Something like that. Sorry Lin. I really wanted something that I could repeat because I get so terrified whenever I perform. So my mantra is: "I'm the daughter of Black writers who are descended from Freedom Fighters who broke their chains and changed the world. They call me." I say that to remind myself of ancestors that are all around me whenever I'm performing.

"The Hill We Climb" mentions your being a descendant of slaves. What role does poetry have to play in helping you make sense of our history?
I wanted to give the American people some access to myself. A lot of the inspiration for that came from your speech at the DNC in which you said, "I wake up every morning in a house that was built by slaves." Poetry is the lens we use to interrogate the history we stand on and the future we stand for. It's no coincidence that at the base of the Statue of Liberty, there is a poem. Our instinct is to turn to poetry when we're looking to communicate a spirit that is larger than ourselves. Whenever I'm writing, I'm looking at the history of words. The specific history of words in the Inaugural poem was: We have seen the ways in which language has been violated and used to dehumanize. How can I reclaim English so we can see it as a source of hope, purification and consciousness?
Amanda is an absolute supernova. A brilliant light showing the hope of Gen Z. I normally do not put so much on any generation because as a Gen Xer I remember the pressure my generation felt to be something bigger and better. In many ways we were and in others we were a disappointment. However, the younger millennials and Gen Z's first wave are something amazing to behold. Their fearlessness in the face of a system that has trampled over so many inspires me. It took me several days before I actually watched Amanda Gorman deliver her poem, "The Hill We Climb" at the Inauguration because of all of the hype around it. But when I did, I was amazed because I heard Maya, Langston, Martin, Harriet and Lin and all of the ancestors that came before Amanda, but most importantly, I heard Amanda. Amanda's voice, the voice of her generation, the voice of change and the seed of hope planted so many generations ago, watered by every generation after but blooming now. I must tell you, I am moved and joyous.
Anyways, Amanda will not be soon forgotten and despite my loving the poems of those old crusty white men, I also love the poems from the Harlem Renaissance and the poetry of music and rap and Maya and Terry. I am glad that poetry is experiencing a sort of renaissance. I do hope that going forward that poetry written by people from the 20th and 21st centuries will be honored and studied. I hope educators spotlight the cadence of poetry and how it is rooted in the experiences of BIPOC The last thing I will say is this, if Amanda is a prophecy that is foretelling the future, then the future is very bright. I hope I live long enough to see some of it.
As an aside – Our little sis Amanda looks amazing in yellowa.
What an honor to be on @TIME 's new cover. From the interview: "In all the forms of expression of human life, we're seeing that artistry be informed by the Black experience. I can't imagine anything more exciting than that." https://t.co/SKC3rreA4x

— Amanda Gorman (@TheAmandaGorman) February 4, 2021
This 99 year old woman was moved by The Hill We Climb: