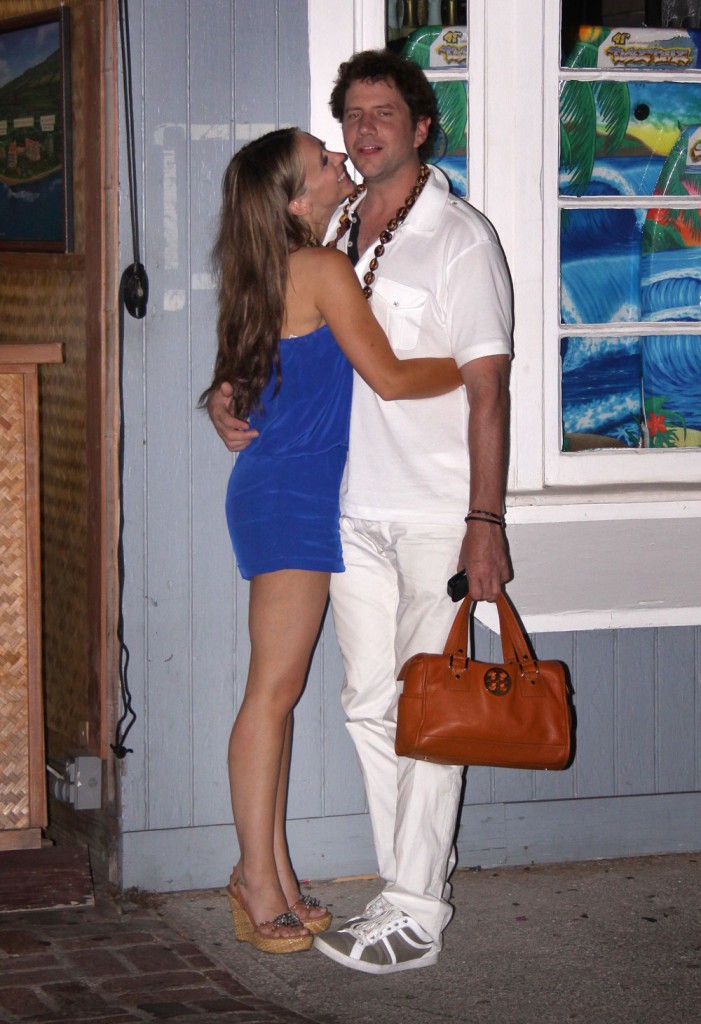 At times, Jennifer Love Hewitt seems to give off a Jessica Simpson vibe, doesn't she? Hewitt and Simpson are basically cut out of the same cloth – both are in love with love, both date men who seem douchey, like John Mayer, and both seem completely unable to not bring the epic overshare when discussing their relationships. Where Jessica Simpson has perfected this into an art, I sometimes feel that Jennifer Love Hewitt's whole deal has a more significant whiff of desperation. Granted, Jennifer Love is on a hit show (The Ghost Whisperer), and has a better acting career than Jessica, so she should be less desperate. But Love wants the kind of attention Jessica gets – and she needs it now! She needs us to see her play tennis in a bikini! She needs us to believe she's a size two. She needs us to believe that she's so desirable, she's literally always in some sort of state of engagement. But I digress…
So Jennifer Love's latest relationship is with Jamie Kennedy. Jamie and Love have brought the overshare before, but this story from In Touch Weekly takes it to a new level. In this episode, we get to hear what Jamie Kennedy said to Love the first time he saw her naked. Guess what? It wasn't as sweet as you'd imagine!
Jennifer Love Hewitt recently shared a few intimate details about her romance with Jamie Kennedy – specifically, that he once accidentally insulted her naked body!

While performing his improv show in Brea, California on August 23, Jamie brought Jennifer onstage, where she showed off her sense of humor.

"The first time Jamie saw me with nothing on was special and I wanted to look hot. I had all my hair pulled over one shoulder off my back," she said. "When Jamie saw me, he said, 'Hey, pear ass!'"

Jennifer noted that the ladies in the audience would understand that wasn't a good thing. "You know, some guys have said my body is a wonderland," she laughed, jokingly referring to the hit song her ex John Mayer was rumored to have written about her 2001. "Now I get called a pear!"

But later in the set, Jamie explained it was a compliment and made up for it by gushing that she is "amazing, talented and has a great body" that he loves.
[From In Touch Weekly, print edition, September 21 2009]
Am I being too judgy and high maintenance if I said that I would totally freak out if a guy called me "pear ass"? I do sort of have a pear ass – no one notices because my enormous rack evens my pear ass out. Actually, I have more of a shelf ass. It's the kind of ass that men seem to want to balance their beer on. It sticks out perpendicular to my body. But for a guy to call me out on that – much less publicly – I would freak.
Jamie Kennedy and Jennifer Love Hewitt are shown out playing bikini basketball on 8/1/09 while on vacation in Hawaii and then out at a restaurant later that day. Credit: Fame Pictures