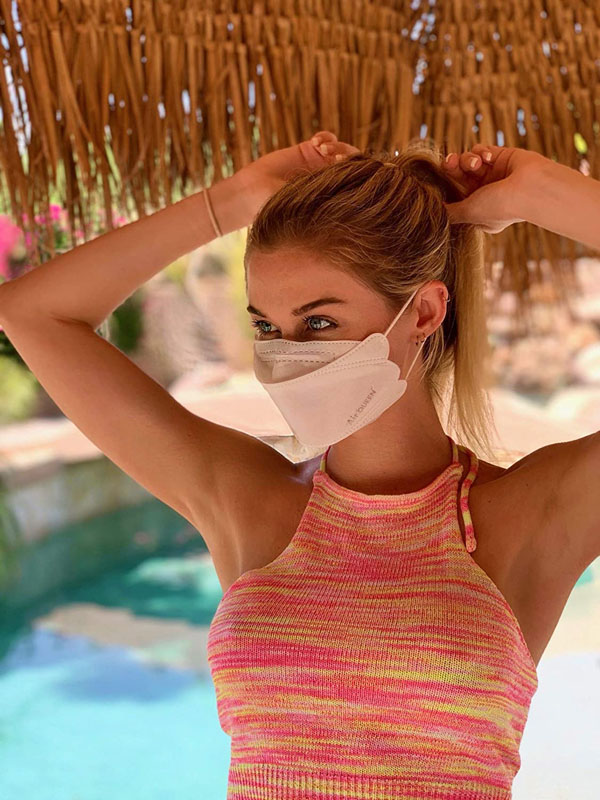 I got the KF94 breathable face masks we talked about a couple of weeks ago that I keep seeing everywhere. While they're said to be slightly less protective than the KN95 masks, they still seem really good. My family and friends who got them really like them too. They definitely feel lighter and are easier to wear. Here are some more things Hecate and I are looking at!
Shoe inserts with arch support to help treat and avoid plantar fasciitis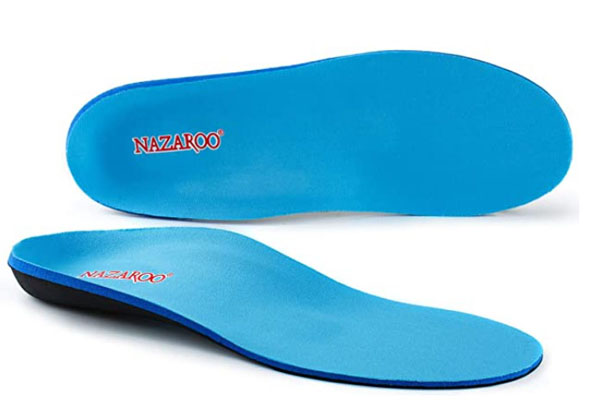 From CB: My mom has plantar fasciitis and she swears by these shoe inserts. She even uses them in her slippers. These shoe inserts by Nazaroo have 4,600 ratings, 4.6 stars and an A on Fakespot. My mom said you have to remove your insoles to insert these, which is what reviewers say too. "I bought a pair at the podiatrist that cost a fortune. I found these and they are the same quality for 1/4 of the doctor's office price. They fit perfectly and they feel great!" "I have plantar faccitis in both feet along with fallen arches. These inserts have helped tremendously with my overall foot / heel pain during the day." "These are the best insoles I've ever used. Nothing I have ever tried comes close to helping as much as they do."
A liquid exfoliator with 2% BHA that smoothes and clears skin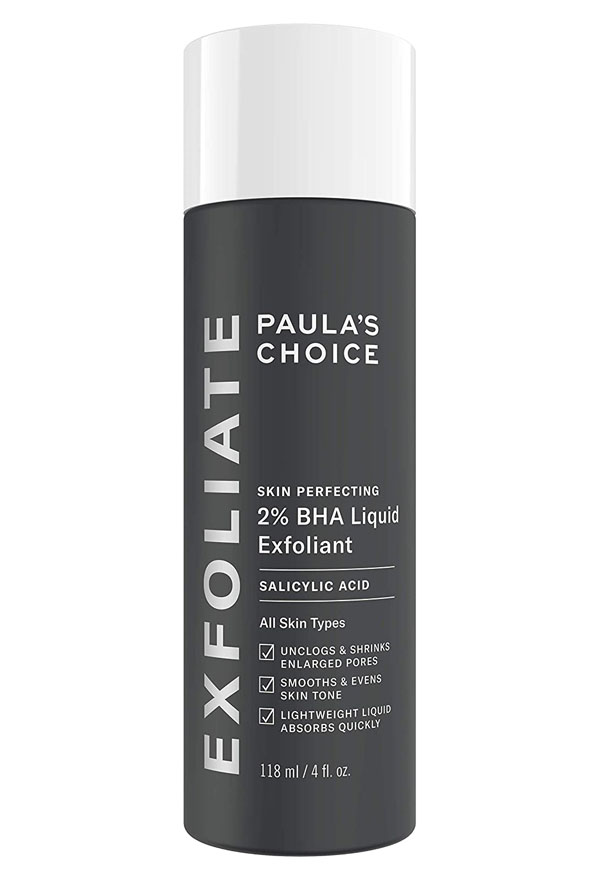 From CB: Paula's Choice Skin Perfecting 2% BHA Liquid Salicylic Acid is among the top twenty bestsellers on Amazon in beauty and personal care. You can get five ounces for $36.50 in both a 4 ounce and 1 ounce bottle or 4 ounces for $29.50. Please be aware that the $10 product is just one ounce. This has 4.7 stars, 356 ratings and an A on Fakespot. Women say it really works to clear their skin, that it doesn't bother sensitive skin and that it has a soothing effect. "I was struggling with what I thought was milia on my forehead. I have tried exfoliating with all sorts of different products. I read a review on reddit and though I would give it a try. So glad I did. I put this on and saw results in on night." "This has revolutionized my skin, my skincare and my self-confidence. I swear by this product!! I have repurchased 3 times and tell everyone I know about this." "I first ordered the small to test and it worked wonders for my skin! Visibly reducing texture, and making my skin smooth!"
A fume free drain clog dissolver that really works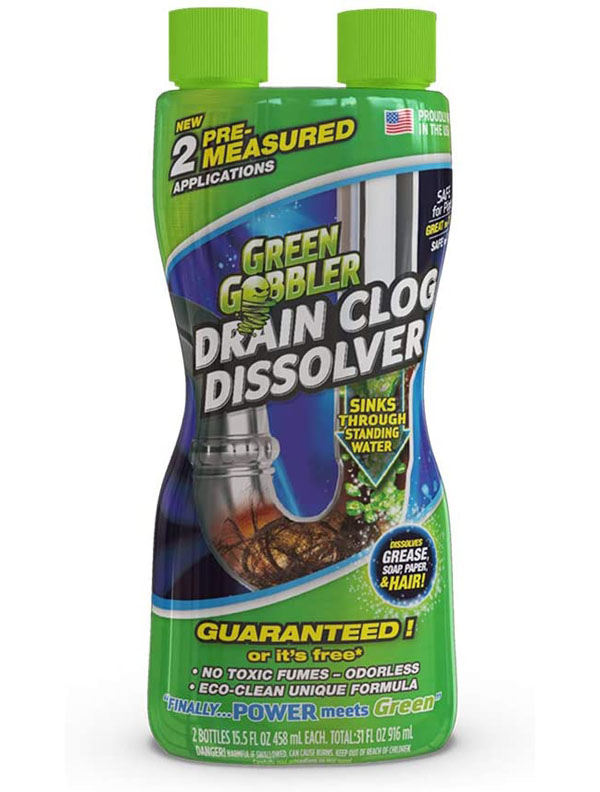 From CB: We have a lot of clogged sinks in my house, I think the stopper type makes the hair get stuck in them easier. I've had to use Draino gel every few weeks because they get stopped up again. This odorless, eco-friendly drain cleaner by Green Gobbler has over 48,000 ratings, 4.2 stars and an A on Fakespot. People say it works on showers, sinks and even in toilets that get stopped up frequently. "My bathtub was so bad that when I showered I would be standing in almost a foot of water. I used other products all to no avail and was to the point of calling a plumber when I came across this product… I used half the bottle and within a couple hours the clog was totally gone and no evil odor." "Works fast, without any horrible chemical smell and 1 application (I think I used a half bottle) has lasted for 2 months without any additional applications!"
A slim RFID blocking card wallet for under $3.50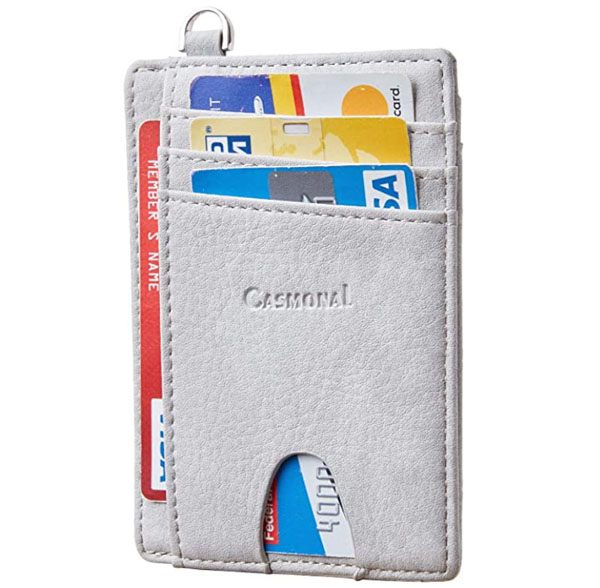 From CB: This little RFID blocking card wallet has room for 7 cards plus your driver's license and there's also a slot for cash. It comes in 14 different colors, all under $3.50, and has 4.6 stars, over 2,000 ratings and a B on Fakespot. It would be a great option for when you don't feel like carrying a full wallet. These are so affordable you could get some as gifts to have on hand. Reviewers say they're surprisingly durable and that they're excellent wallets. People also like that it has a loop where you can attach it to your key chain. "It's like really nice! It has a great leathery feel not like cheap crap, everything fits perfectly, it's super thin, it's easy to get cards in and out but nothing falls out accidentally and seems just very well made." "This works perfectly. I like the clear pocket for my license with a hole to easily slide it in and out when needed. I also like the finger grove where I keep my credit card to easily remove it."
Lipcolor with extra gloss that lasts all day


From Hecate: This Revlon gloss boasts a 16 hour wear time for its 27 colors, practically all of which I love. But it also comes with an extra clear gloss overlay for extra drama. Now I know that as a woman over a certain age, some stylists would tell me to stay away from a glossy lip but guess what, I rarely do what I'm told. These tubes are normally about $10.50 for a one time purchase (you can also do Amazon's subscription if you want) but they are on sale this week for $7.99. It's Revlon so of course it has a ton of reviews, over 11,000 and has 4.5 stars, that ReviewMeta confirmed. Customers said the color really does stay on all day, one even said, " This is pretty damn good. I have yet to find a product that stays on like this." And once you apply it, it doesn't get on everything else, "It's not sticky and it does not transfer to other things like your glass or napkin." I think I'm going to start with the Non Stop Cherry and Bare Maximum and work my way through them from there. Prepare for drama lips.
A snakeskin bomber jacket to update your look for spring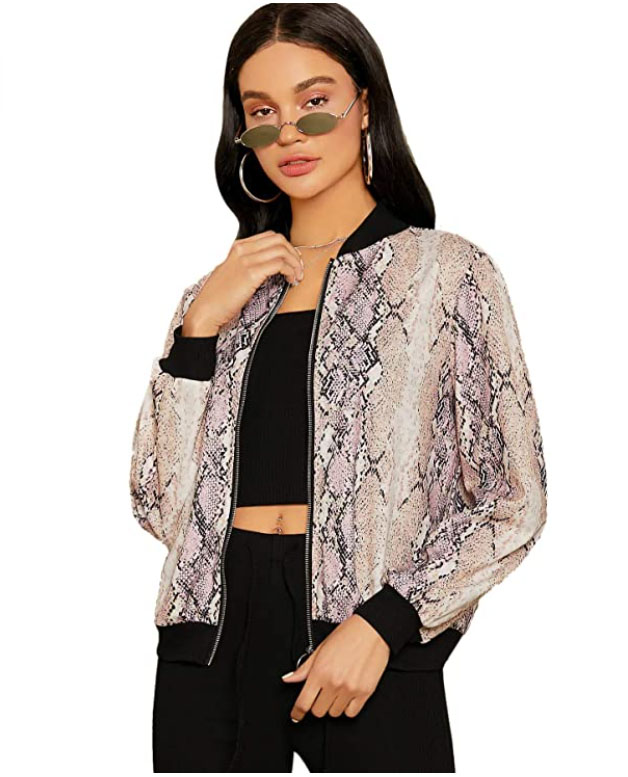 From Hecate: I saw this on Buzzfeed over the weekend and thought it was so cute, so I thought I'd share. This lightweight print snakeskin bomber jacket comes in three colors, light and dark amber versions and a pink version, each for only $28. The sizes run XS-XL and run true to size, according to Amazon. It has already gotten 154 reviews and earned 4.4 stars according to ReviewMeta. One reviewer said to get ready for others to acknowledge how cute you look, "walking into work today I received numerous compliments on the jacket." Another said it's good for being on the go, "Great great silky fabric that seems like it's wrinkle free! Would be great for travel!" Now I just have to decide which color (hint: I'm thinking the pink).
An adjustable light that sits on your neck for reading, studying and crafting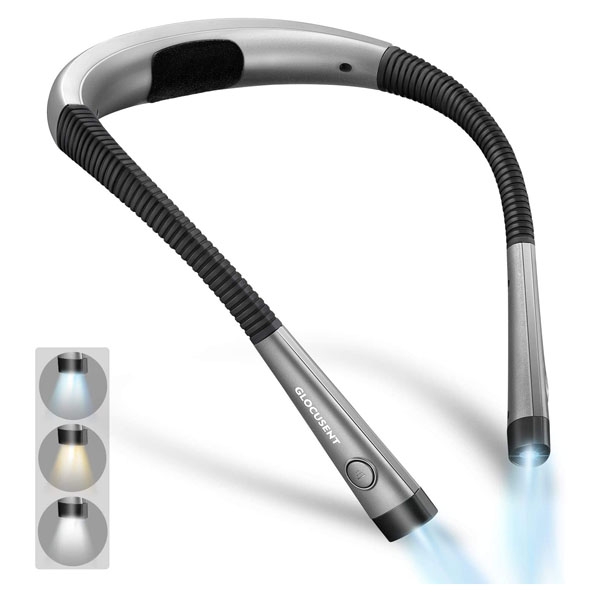 From Hecate: I usually read my physical books during the afternoon because 1) I am too tired at night to hold up a book and 2) I have terrible lighting in all my normal reading spots. I'm thinking about this neck light so I can make my way through some of my bedside stack. It comes in three different colors, grey, blue and pink, each for $19. This rechargeable light has three light modes and six brightness settings. Plus, the beam focuses on what it's directed so it won't disturb those around you. Bonus: they are rechargeable. These got 4.7 stars, that ReviewMeta confirmed, from over 23,000 reviews. A lot of knitters and embroiderers use these because the arm length doesn't get in their way, "The arms are of the appropriate length, they are very easy to manipulate, and the unit is well made and lightweight." Others really like how flexible the design is, "It is flexible, you can bent it, twist it to different direction and fit to different size and head (for kids)."
A bracelet with inspirational sayings to help motivate you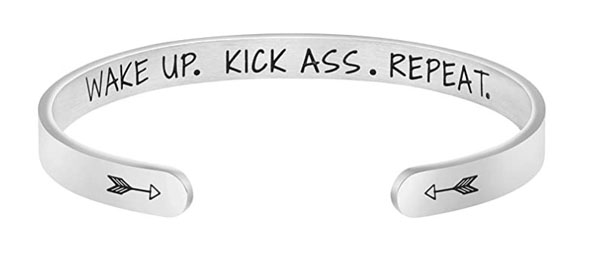 From Hecate: I don't know if this is just a me thing, but I thought these were great. I love cuffs, so I like the design of this bracelet. But it comes with these awesome sayings engraved inside, like "Wake Up. Kick @ss. Repeat." and "You're A Bad@ss" and I love this one, "Whenever you are feeling overwhelmed… remember whose daughter you are and straighten your crown" In all, there are about 90 different fun sayings for you to choose from. These would make amazing bridesmaids gifts when we get back to bridal parties. They are about $15 each so you can get a couple phrases that work for you. Plus they are adjustable so they'll fit a variety of wrists. The bracelets got over 18,000 reviewers, earning 4.8 stars and Fakespot gave them a B. Apparently they hold up really well, "I am a preschool teacher and I wear it every day. I wash my hands a million times a day. I have had it for over a month. It has not scuffed or scratched." A bunch of customers bought them for someone going through a tough time that needed something to pick them up. Especially if you find just the right person, "This bracelet may not be appropriate for some, but it sums up my life perfectly."