Fans of Activision's Guitar Hero game can master enough songs to unlock the likeness of Kurt Cobain to help them shred on songs that are way beneath Nirvana. Granted, Nirvana tunes weren't exactly complex symphonies but do you think Cobain really wanted to be seen jamming on Bon Jovi's "You Give Love A Bad Name?" Kurt's sense of irony notwithstanding, me neither. And Krist Novaselic and Dave Grohl (Kurt's bandmates in the seminal band) agree.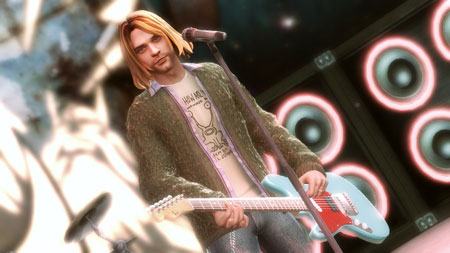 "This is a statement regarding Nirvana, Guitar Hero and the likeness of the late Kurt Cobain.

We want people to know that we are dismayed and very disappointed in the way a facsimile of Kurt is used in the Guitar Hero game. The name and likeness of Kurt Cobain are the sole property of his estate – we have no control whatsoever in that area.While we were aware of Kurt's image being used with two Nirvana songs, we didn't know players have the ability to unlock the character. This feature allows the character to be used with any kind of song the player wants. We urge Activision to do the right thing in "re-locking" Kurt's character so that this won't continue in the future.

It's hard to watch an image of Kurt pantomiming other artists' music alongside cartoon characters. Kurt Cobain wrote songs that hold a lot of meaning to people all over the world. We feel he deserves better.

Krist Novoselic and Dave Grohl
I mentioned Bon Jovi specifically for a reason. The Widow Love's lawyer has also released a statement declaring that the New Jersey rockers' songs are way beneath even Kurt's videogame likeness to have to play.
Love's lawyer told us, "Activision is exploiting Kurt's image in a manner anathema to the very essence of his music, spirit and essence.

I along with Ms. Cobain hope those who love Kurt's music strongly voice their sentiments to Activision and demand his image not be debased by singing the songs of Bon Jovi.
[TMZ]
Players on all gaming platforms for Guitar Hero 5 can unlock Kurt's avatar when they reach the Nirvana songs. The other dismaying aspect of this for all Nirvana defenders against cheesiness is that once Cobain is unlocked, you can have him jumping around like an idiot while performing other people's songs. Picture Kurt Cobain grrrl-powering around acting like Gwen Stefani singing "Just A Girl".
Novoseloc and Grohl have been pretty strict on how Nirvana's tunes are marketed and such, much to Cobain's widow Courtney Love's dismay. They have one thing in common, though. Disdain for Activision. Courtney's official statement comes after she's made plenty of batsh*t crazy tweets about the matter, including comparing playing the game with Kurt's avatar to necrophilia and rape of her family. Love most recently tweeted that she met with the nerds over at Activision and was fairly blunt about how she felt about her dead husband's likeness.
@sheruinsyou i think g hero is vile due to this "partner" he demanded i consider it i met with them i told them their avatar was a joke

im really grossed out that the people who forced me to do a "deal Memo:" withthese assholes at activision would lie well wait for my esq.

@sway5150 oh thank you and the rest of you, thois has really hurt and embarassed my teenager, he looks goofy and gross and he wasnt.
If you get a chance, subscribe to Courtney's Tweets for a pretty interesting look at a woman on the edge. She types everything that is on her mind. Love apparently signed off on this, so the blame lies at her door. I feel for Frances Bean, though. Bad enough that her dad died in that manner and now he's lame fodder for video games.